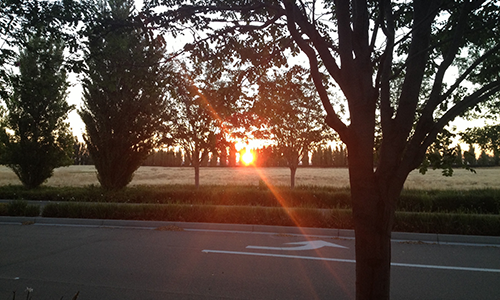 I've had two false starts this week in my two runs. Needless to say, I'm not doing good with my training.
On Monday, me and both my running buddies all simultaneously felt horrible at the same time. That meant our five-mile run got cut into a two-mile walk. At least we got a nice view, see above photo.
Today, I missed my alarm for the five-mile run completely. I was even awake at 4:45 a.m. But the alarm didn't go off. Or I didn't hear it. At 5:40 a.m. I woke up to a text message asking me where I was.
When I recommitted to the run this afternoon, I decided I would push myself to eight miles.
I got two and felt like I was falling apart.
Maybe it's because it is hot again here. Or because I've been busy with website work all day. But I can't get motivated.
And school goes back into session next Tuesday. We hit the ground running with the first of seven issues for the semester coming out on Sept. 13. I know things are just going to get more and more hectic.
I wonder if yoga is really doing a number on me. I hurt more than I used to. It's a good hurt, but still a hurt.
Or maybe I need new shoes?
Whatever it is, I need to find answers. I need to get out of this rut.
I just want a good run.