Favorites
Since I began running in Dec. 2009, I've developed quick a long list of the things I absolutely love to run with/use while running/use after running. Here are some of my favorite things:
GARMIN 405CX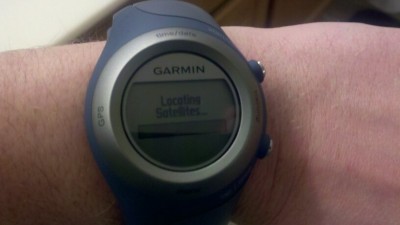 I'd been running a year before I made the investment and bought a Garmin Forerunner. The 405CX was on sale at Costco.com and I had our yearly dividend from shopping their so frequently. As far as I can discern, there are two schools of thought for Garmin Forerunners. People either like the ones with the big screens (205, 305) or the smaller ones that look like watches, like mine. I adore the 405CX. It does everything I need it to and it's only once been wrong (calorie error).  The photo is from my inaugural wearing of it, before it got a nice front-face scar on it. It's a small mark, but it's annoying knowing how well I take care of it.
NIKE LUNARECLIPSE +2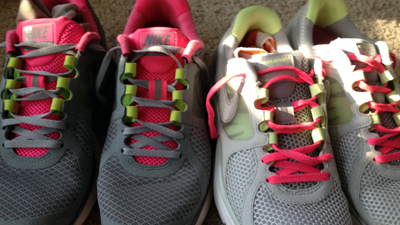 My Equalon's were the loves of my running life. I tried the Saucony Hurricane 14s when Nike stopped making them. And my running went downhill so fast. I bonked my second marathon specifically because of the Sauconys. I didn't want to do that again So I went back to my local Fleet Feet and was fitted in these. Now I run without any pain. At all. Not even calf strain when my shoes start getting old and worn. These shoes saved my running.
NIKE ELITE RUNNING SOCKS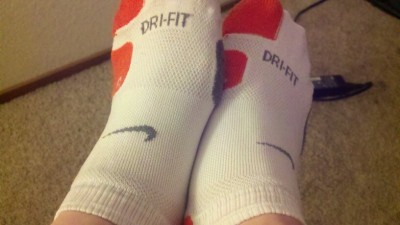 After a disastrous run at the See Jane Run Half Marathon where my socks rode up and moved around so much that I ended up with a blister the size of my entire foot, I invested a little more money in my socks. A pair of these retail at $12. I once thought that was expensive for a pair of socks. But now, I realize its a small price to pay for comfort. I own about eight or nine pairs of these now. I also have the $25 compression socks that are very similar and work really well for shin splints.
THE GRID FOAM ROLLER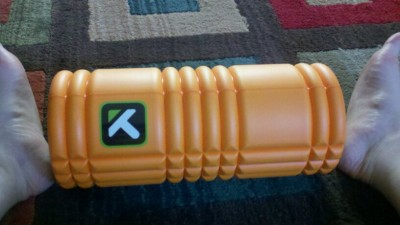 When I started running longer distances in early 2011, I began noticing some pretty nasty pain in my thigh area. It was Iliotibial band syndrome. It raged on for about three weeks before I finally started rubbing my muscles out before and after each run. And I started using a small ball to roll my leg out. It wasn't until I started having a problem with calve tightness that I bought this roller on recommendation from a friend. I ordered it from REI.com (they now sell them at my local Fleet Feet). It actually had a solid core, which makes it nearly indestructible. It also means I can push down harder on the roller and really work my muscles with the different textures – which are designed to imitate the palm of a hand, finger and finger tips.
NIKE DRI-FIT COTTON SHIRTS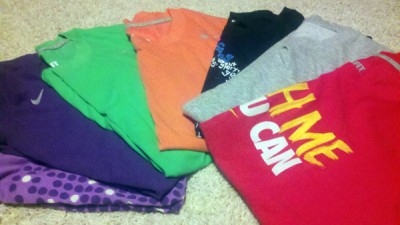 Sure, it's cotton. But it's also dri-fit, which makes it the best type of cotton ever. I spent my first year running rotating three running outfits and just hoping nothing started smelling too bad if I missed a wash day. I started putting some more money into my closest when I started running half marathon. Let's face it, if I'm running for two-plus hours, I want to be comfortable and dry. These cotton shirts are by far my favorite. Not only do they come in nearly every color and style, they are also snug. I hate loose workout clothes. By the way, this is only about half my stock of these.
LULULEMON RUN:SWIFTLY TECH SHORT SLEEVE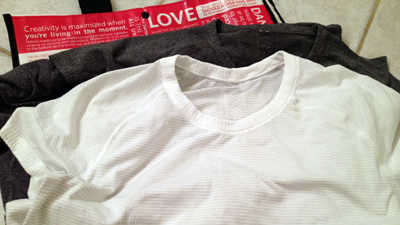 I'm really late to the Lululemon obsession, but these shirts are comfortable enough that I've made them my primary racing shirts. I train in my Nike Dri-Fit Cotton shirts, I race in my Run:Swiftlys. These shirts are long enough to cover any extra baggage in the stomach and light enough to keep the body cool. I typically order what I consider a size over me and that gives me enough room to be comfortable. My first Run:Switftly opened me up to my newfound Lululemon love.
ROAD ID: WRIST ID SPORT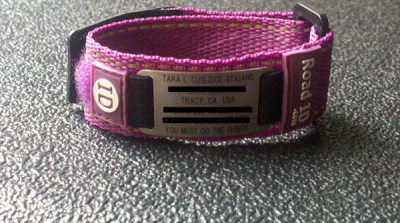 When I started running, I had a fancy MedicAlert with information about who I was and which medical condition I had. When I kicked the diabetes medication, there was no need for it anymore. That was midway through 2010. So I started running my longer runs with my identification on me. That became impractical when I forgot to remove it from my running capris and left it at home more than once. I discovered RoadID by accident when participating in a Super Bowl Sunday relay in Modesto, Calif. One of the door prizes was a gift certificate for $15 toward one. I ordered the purple model (I'm partial to purple for my running gear and, obviously, for this blog color). I've been wearing it ever since, on every outdoor run. Added bonus: It fits nicely on my wrist above or below my Garmin.
BODYGLIDE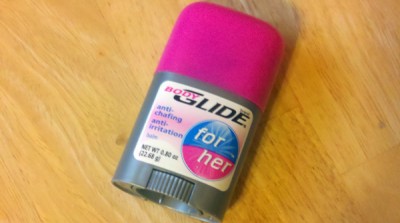 I didn't think chafing would ever really be a problem because I was never running long enough for it to be a problem. Then I started running longer distances I noticed a problem with my right underarm. I have fat little arms and they were rubbing against my shirt and leaving me with some severe road rash. And then it got hot during the summer and I started wearing shorts more and more and I needed Body Glide. It was recommended to me by a Fleet Feet employee. It really helps keep me moving on runs more than 10K and keeps me happy and comfortable.
BODYGLIDE SKIN GLIDE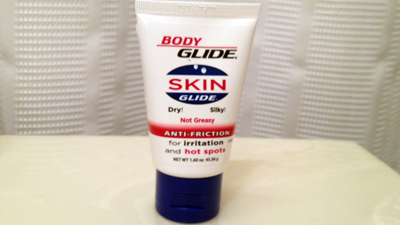 This is a relatively new product, but definitely a must have for runners. It's for "hot spots" or places that are hard to reach. Case in point? The area in between my toes. I go in cycles for getting blisters between my toes. Sometimes I can run for miles and miles without it bothering me, others I need to stop and bandage my toes half way through a run. So far I'm loving the Skin Glide, even with my heels for work.
AMPHIPOD HAND-HELD WATER BOTTLE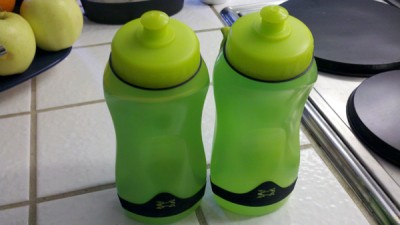 First off, I love Amphipod bottles. They are very ergo for your hand and body. My first one was a 16-ounce belt. I moved away from that, but still love the concept. I then bought a 12-ounce bottle to wear with the pack. When I ran my first half marathon in March 2011, I picked up a bigger one because I figured a longer run meant more water. I haven't looked back since I got the larger one. I now own three. For the most part, I don't even know I'm wearing them. I've used them for all my long runs, including the marathon.
IFITNESS DOUBLE BELT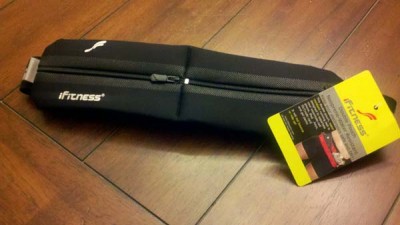 Finding a comfort zone as a runner is a little hard. I bought an Amphipod belt initially with a 16 ounce bottle. It slipped. And then I stopped using the 16 ounce bottle because I didn't like grabbing behind me to get it. That's part of the reason I run with hand-held bottles now. It's also the reason I finally got around to buying a personal-item belt. The pockets in my running pants/shorts weren't cutting it anymore. I read up on this and another type of belt and decided, as someone who liked to carry stuff, this would be perfect. And it has been. I've only had it for a couple races, but it doesn't slip and slide. And I don't even know it's there for the most part.
ZENSAH COMPRESSION SLEEVES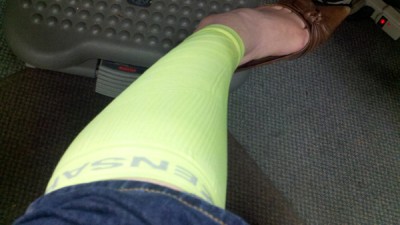 Compression socks aren't just for old ladies. I've worn them before, during and after long runs. And I LOVE them. I'm a true believer that a good compression sleeve can make your body feel whole again in little time after a run. I slip on a pair as soon as I finish a long run. My florescent green ones are my favorites, right next to my purple ones. I'm kind of hoping for a pair of orange ones at some point. I have another pair, but my Zenzah ones are my absolutely most comfortable and favorite.
NIKE AIR EQUALON +4 (RETIRED MAY 2012)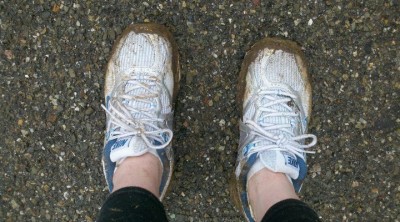 The experts (at Fleet Feet, RoadRunner or wherever else you go) are not kidding when they tell you that a good pair of running shoes make a world of difference. I was considering giving up because of frequent back pain when I started running. I visited the Fleet Feet store in Stockton and was fitted in a purple-adorned pair of these.