This week
If I ever thought I'd have more time to myself after trading full-time employment for freelancing and a part-time job, I was crazy. This week has proved that I will likely not have any more free time, especially during my student's production weeks.
My newspaper staff has nearly double this semester. I'm having to create spreadsheets and sign ups for lab and one-on-ones. It's amazing and a little overwhelming. We held three stories this issue because we sold out on ads weeks before. Sold out. On ads. As in, we can't take anymore because we have too much content.
That's a great problem for a college newspaper. That's a great problem for any newspaper.
So between freelancing and my students this week, I probably worked 50 hours. Meaning little time for running.
Here's a look at what I've been doing:
SUNDAY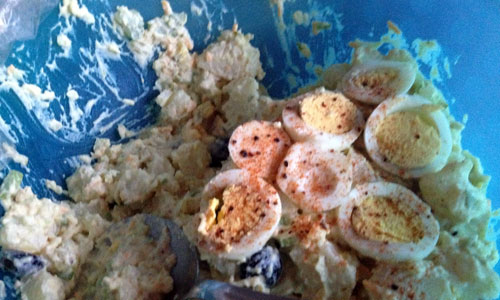 Mega Super Bowl party day. With lots of food.
I'm not a fan of any specific football team. I appreciate a good game for a good game. So I was kind of bored the first half. But then, when it got interesting, I was invested. I love games that go down to the wire.
But really, I go to the party for the food.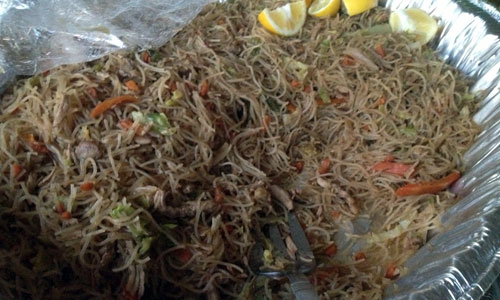 Oh hey pansit, where is your homeboy adobo? Oh, right next to you? Don't mind if I do?
Wait… what's that?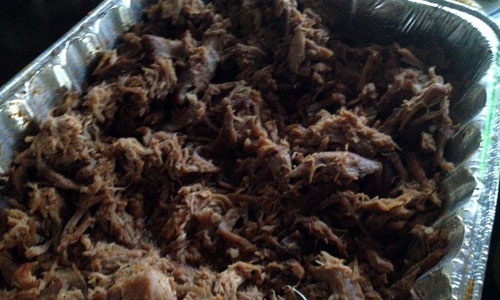 Pulled pork! This photo doesn't do it justice. My friend's husband is a culinary genius with the pulled pork. But really, the potato salad up top was the amazing part. I didn't know she made such a great potato salad. (I'm a bit of a potato salad aficionado, really.) I took home a ton of it too. And ate it for two days. I'm not even going to lie.
And I bet your Super Bowl party didn't feature animals.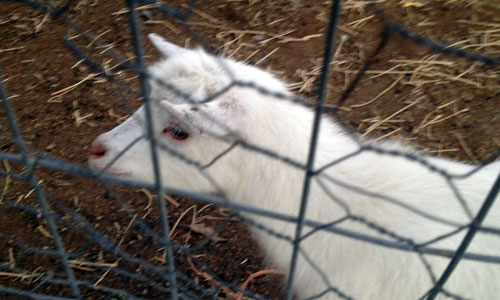 Our friends live in the country. Sorry about the blur, Joleen the goat didn't like the paparazzi.
WEDNESDAY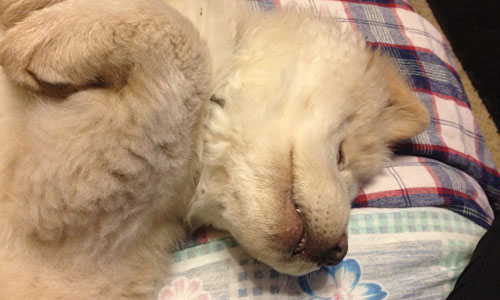 We were still thinking of names for this little pup. Last night, we finally agreed on one: Cassiopeia.
We're calling her Cassie for short. And her name fits our theme. We name our dogs after songs. Our oldest female is Sky Midnight Blue after Peter Gabriel's Sky Blue. Our male is Hey Beau Diddley after the song Hey Bo Diddley.
Cassiopeia's full name will be Winter Star Cassiopeia. If you love Third Eye Blind as much as I do, you know the line comes from the original version of Campfire, a song that made it to Ursa Major with a lot of tweaking. It was retitled Bonfire.
It's appropriate, for many reasons.
These lines:
And there's all these winter stars still flying

Cassiopeia

Everything's changing now
And:
Into one thousand pieces

I had broke into over you

Nightshade will soon be gone

But I keep burning on and on and on
I'm a bigger fan of 3EB's less popular tracks than the band's big hits, including God of Wine. But this song seems appropriate as nearly everything in my life is changing now. And I really feel a connection to the "burning on and on and on" line right now. And lately? Into a thousand pieces I broke into over journalism. Very fitting.
I'm not sure what it says about me that my love for a band transcends all the years it's been out of the mainstream. I've seen them three times in concert, most recently at a day-long music festival where I swear I was the only one singing every word to every song. The song I most wanted to hear that night? Campfire.
We toyed with Page, for Mumford and Son's White Blank Page. I also offered up Storm for Mumford's After the Storm.
I think my husband agreed on Cassiopeia because he didn't want me to name any of our future children that. No kidding.
THURSDAY
I spent my morning clearing pages for my student's first issue of the semester.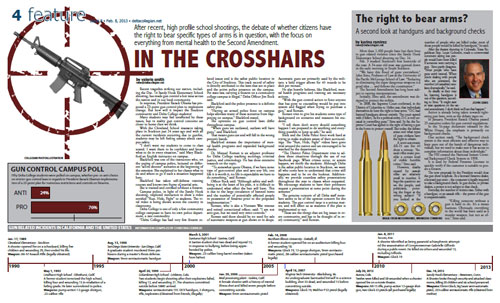 It included a spread, the first ever since I've been adviser, on gun control. The stories were well reported. The editors did a fine job on this. It looks even better in person. I'm really proud of the work they did on this issue.
But Tuesday, it's on to the next one. Always on to the next one.
FRIDAY
I had my worker's compensation evaluation that I'd been dreading for months in the morning. I took my mom. I think if I hadn't, I would have fallen into all those pieces all over again. She, at least, made me feel more comfortable as my heart sped up and I was forced to remember everything that led me to where I am right now.
The appointment lasted so long that my mom went with me to a dress fitting for my December bridesmaid duties.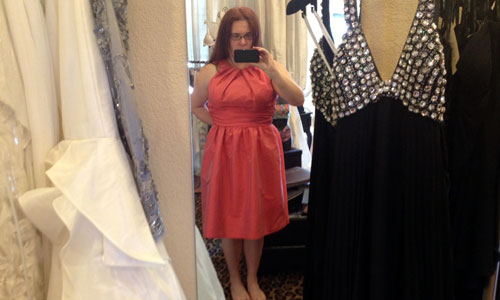 This was the first dress I tried on. They were all cute, but I think the bride now knows which one we'll all be purchasing pretty soon here. On the list of things I didn't know: Bridesmaid dresses take 10-12 weeks to get.
I knew wedding dresses took a long time, but wow.
Confession: I bought my wedding dresses at a bridal discount store in Roseville. To be fair, my sister bought it for me. I didn't have a credit card that would charge the $500, so my mom put it on hers and my sister paid her back.
My whole wedding was planned on a similar modus operandi. It cost $15,000 at the end, but was paid for over three years of engagement. To be fair, I was only 24. All my savings were pumped into my wedding. I came out of it with a husband and no money left in a savings account that one had $8,000.
Would I do it differently now? Definitely. I'd go to Las Vegas. Just saying.
My husband, though, a couple months ago said our wedding day was one of the best of his life. That makes it all worth it, since he's not a man of many sweet words.
This is the first time I've ever been a bridesmaid, so I'm learning a ton of stuff. (Jenn, if you are reading this, I promise not to mess this up.) Yesterday, the woman at the bridal store mentioned fabric swatches and making sure dye colors matched. I'm like: "Whoa, slow down." And I know the decisions are even harder for the bride.
Planning a wedding is hard business. I'm extremely fortunate that my bride friend is a really down-to-earth woman with a great sense of humor and a love for life. She doesn't even mind me sending her a ton of photos of me with awkward faces in dresses (Some of the colors were crazy!).
I treated my mom to lunch after at a sandwich place I love. So a not-so-great day actually turned out better. When I got home another friend came over and ate pizza and junk food with me.
TODAY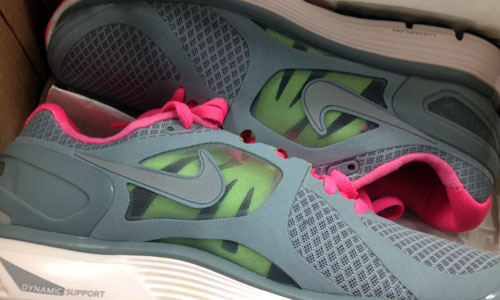 After weeks of feeling as if my legs were going to fall off, I realized I should maybe switch out my shoes, especially with a half marathon next weekend.
I've had this pair of LunarEclipes in my closet for about four months. I bought them on deep sale for about $80, marked down from $140.
I ran five miles this morning in them.
And you know what? I needed new shoes.
I had little pain. My feet felt more supported. It was like running on cushions.
Anyone who tells you that you can run 400+ miles in a pair of shoes is an idiot. Seriously. I ran 600+ on my oldest pair of shoes. They sit next to the treadmill. Now I know they are only good for walking and housework. I should have known.
But I'm been trying to preserve my shoes for a bit longer and longer each time, if just to keep down the costs.
In January, Nike launched the LunarEclipse +3. It's the same shoe, with new upper design. Now the +2's are on sale for $79.16 at Road Runner Sports. I'm considering buying two pairs, which should get me through the year before I have to buy the more expensive +3s.
The best part of all of this is that I'm excited for my 10-mile run tomorrow morning. I haven't said that in awhile. At five miles, I wanted to keep going, but I didn't.
I've been avoiding the treadmill all week (I did run six outside this week), because of the pain my legs have been in.
So, if anything, take away this tidbit for the week: If you're in pain, it's likely your shoes. Change the shoes.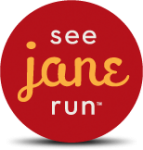 Run with me!
Save 25 percent all See Jane Run races, including the June 21 San Francisco Bay Area run, by using the code SJRAMB243. Use the code to also save 10 percent on online store discounts at seejanerun.com.