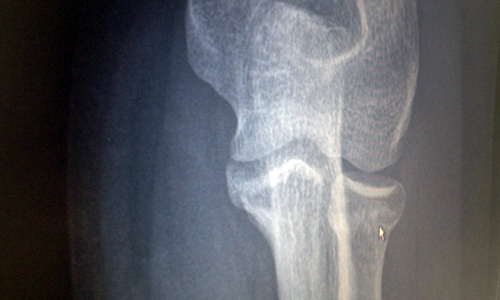 When I was in the middle of intensive counseling sessions last fall, my therapist told me to write down a list of things I couldn't control. Want a lesson in humility? Make that list.
You'll end up realizing that you can't control anything. You'll want to give up, buy a pint of Ben & Jerry's Cookie Dough ice cream and eat it while watching afternoon talk shows (Ricki Lake has a show again, who knew?). At least that's what I did. Months later, I'm not ashamed of it. The ice cream was good. And my soul needed more soothing that I realized.
I still have my list. The third item down is "time."
I can't control time. Because it keeps ticking away. Because there's always a sun up and a sun down (unless you were the dinosaurs, as one of my students pointed out to me recently). Time just moves. You either embrace the temporal moments as just that or you let some bad drag you down.
Five weeks ago today I fell hard on my left side while trying to get in my 15-mile run for this marathon training cycle. It laid me up for two weeks. Three weeks ago, I finally did that run. On my treadmill. I also ended up in the doctor's office being properly diagnosed with a fractured radial head.
This training cycle, I didn't do a 20-mile run. I didn't even do an 18-mile run.
Two half marathons, one 10K, various eight and 10 milers, but no marathon-standard runs.
And I'm running a marathon this weekend.
Time. It just kept moving.
When I ended up in the hospital in January, I wondered if I'd even make it to the start line in San Luis Obispo. My husband and I did a lot of talking in the hospital. We had conversations both of us had been avoiding, or hoping we wouldn't have to have. They concerned work. Money. Running. Happiness.
I worried more about the 10K I'd be giving up than the marathon. I'd be fine by the marathon, right? I don't even know how to define "fine" anymore.
Three weeks ago, sitting in my doctor's office, I was more concerned about the Oakland Half than SLO. I PRed in Oakland.
In that time, my arm has become stronger. I'm able to bend more, but still not put a lot of pressure on it. I'm able to do some of the things I couldn't before. And I'm grateful, because time helped that. I didn't think it would ever be better. I was convinced I was going to walk around with T-Rex arm for life.
But I was back in Modesto getting my arm looked at today. The stiffness is causing the pain. I need to regain mobility. The fracture has healed nicely so far. (See image above, where the cursor is pointing? That's where the crack was. I took the photo for my husband.) Time healed.
Runners say that by the time you get a week out from a marathon, there's really nothing you can do that will prepare you more. Taper. Stay off your legs. Get your gear assembled. But don't go crazy. This past week, I kept wishing for more time. In the middle of multi-hour meetings, looming deadlines and prep to take my students to a journalism conference out of town next week, I needed a minute or two extra. Something. Anything.
The reality is that I was wishing and wanting more time to feel better about this marathon. I guess I could just not run it. But my husband doesn't really give me that option anymore. (You know the meme that says "you had one job…" where someone messes something up even though that's all they had to do? I kind of feel like that. I have one job on race day, and that's to run my ass off.)
Nerves? Anxiety? Yes. Always now. But if I had four more weeks, two more weeks, I know I'd be better for it.
Tomorrow we hop in the car early and head the 3+ hours to San Luis Obispo. We'll be staying in Morro Bay, where my husband has family. The good news is that this course has an eight-hour limit. The bad news is that last year's finishers mostly came in well ahead of that. I'm just hoping I'm not too alone out there on the course.