About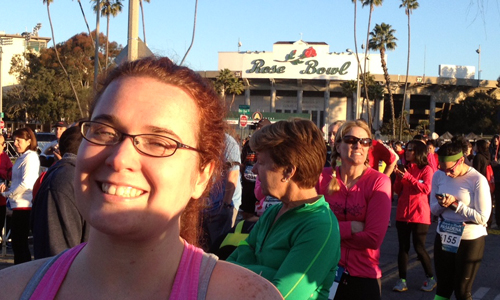 Mother. Wife. Sister. Friend. College media adviser. Web designer. WordPress Guru. Former print journalist.
Runner.
I'm Tara and all those descriptors make up who I am. I've loved running my entire life, at first through soccer, which I played for eight years.
My senior year of high school, I lost a dramatic amount of weight. I was down from a size 10 junior year to a size four in nearly six months. I thought, maybe, I was finally evening out. I was wrong.
By my freshman year of college I had gained 60 pounds. I was unhealthy and sluggish.
Something was wrong.
Multiple doctors told me to get out and exercise. I wasn't trying to be difficult when I'd ask: "How can I go out and exercise if I'm tired all the time?"
I couldn't. The pounds piled on. I didn't eat horribly. But I was working a nearly full-time job to get through college and taking 16-18 units a semester. I graduated a year early from University of the Pacific in Stockton and headed to University of California, Berkeley's Graduate School of Journalism.
It was there, at nearly 200 pounds, I'd had enough.
That began a series of blood and medication test runs that lasted nearly six months. One doctor told me just to lose the weight, I'd feel better. Another thought I had a pituitary tumor.
Finally, in April 2006 I was diagnosed with prediabetes.
It wasn't until I started seeing a particularly good endocrinologist in Stockton, Calif. that I had an "ah ha" moment. He told me, during a routine visit where he mentioned his concern about my weight, that he wanted me to be more active. I told him I was trying. And then he made a telling prediction: "One day, you'll wake up and realize that you can't live this way anymore. But you have to decide that for yourself."
That happened on Dec. 26, 2009. I had to return a size large top and get an extra large just to have something to wear to a late Christmas dinner at my sister-in-law's house.
I made a decision on the way home.
I couldn't live the way I was anymore.
The next day, I started running on the treadmill I purchased three years earlier to "get in shape" for my wedding. I haven't stopped since. That treadmill, a NordicTrack C2255, has more miles than I can count. I've gone through three drive belts on it (which, thankfully, my husband now knows how to replace).
That first year was one of huge discovery for me. I ran my fastest 5K. I ran my first 10K. I was petrified for that one. I didn't think I could make it that far.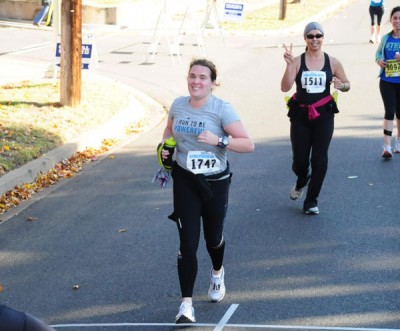 I lost 30 pounds with a combination of running and calorie counting. I've bulked up and gained muscle too.
After the 10K, I signed up for a half marathon for June 2011. By March, I was running the Oakland Running Festival's half as my first instead.
My target that year was the California International Marathon. I worked my way to a 5:20:41 marathon finish.
In my professional life community college mass communication instructor and freelance web designer. And yes, the "freelance" part means I get to wear yoga pants and sometimes interrupt my day to go on 10-mile runs.
We live in an "ex-burb" of the San Francisco Bay Area where my husband is an engineer who doubles as the best race driver/parking space finder I've ever seen. We've been together 13 years total, so he's seen the many ups and downs of my running journey.
In April 2014, we welcomed our first child. Cecilia Carine was born via C-section after I was induced at 37 weeks because of pre-eclampsia. She was a solid 8 pounds even and 19 3/4 inches long. She came out kicking with strong legs.
The name of this blog comes by way of a friend introducing me to a new acquaintance. The friend started with my name, listed my profession and other tidbits and ended with "…and she runs."
Geeky stuff
…and she runs. is published on the Linen premium WordPress theme with CSS and PHP alterations. It operates with social media plugins and SEO through Google Analytics. Prior to the move to Linen theme, the blog operated on a very altered version of the free Deep Silent theme. The move to the Linen theme came as Deep Silent hadn't been updated for more than two years and was starting to have compatibility issues with newer WordPress releases.
The site is hosted through FatCow.