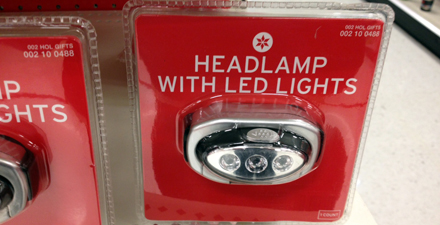 I may buy Lululemon running clothes, but I know a bargain when I see one. And, especially with money tight right now, I'm always on the lookout for one. My running buddy Jennie is the same. She has a family, including teenagers. So Jennie often lets me know about great deals (and couponing!).
I've written before about running with a headlamp. I love my Princeton Tech headlamp. And while it came with an unconditional REI guarantee, I was a little turned off by the $32 price tag.
I know some people pay a lot more for headlamps. The ones on the REI site run up to $70. I've seen them at expos for $50.
My husband, as a poor college student, paid only $14 for his. He now steals mine all the time because it's much brighter. Believe me, it gets really annoying when I get out to Mountain House for a run and my battery light starts blinking (the advantage of having a premium headlamp).
In any case, during one of my "I-only-came-to-Target-for-my-prescription-and-ended-up-buying-a-bunch-of-other-stuff" trips I found a $5 holiday deal at the end of an aisle.
Next to glass coffee mugs and gimmicky key chains, was a simple headlamp.
Jennie has been in need of a secondary headlamp for our runs, specifically since it's now darker outside because of the time change. (Though it's been pretty dark since the beginning of October in general when we run at night.)
I sent her a text with the above photo:
Hey, these are $5 at Target. I'm picking one up for you. Now sure how good it will be, but can't beat the price, right?
She responded with a thumbs up so I grabbed one.
I prepped it for her since I figured she wouldn't want to mess with a blister pack when we were trying to set out on a run.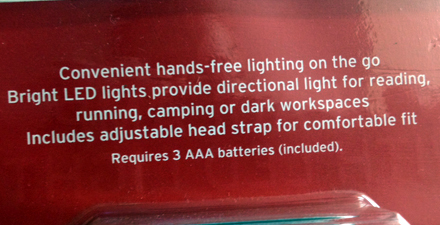 I read the back of the package and knew it was a sign when it suggested use for running. I got it home and used some creative scissor technique to get it out of the plastic.
The best part of the deal? It comes up batteries!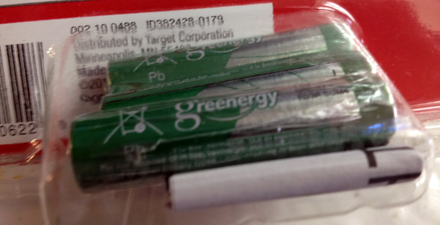 I'm not entirely sure what "Greenergy" batteries are (something environmental?) but they work all the same. I popped them in and checked out the little light.
It has two modes, one using two of the three LEDs and one using all three. It also has a flip down to point the light in whatever direction you want. In our case, that would be the sidewalk. It's not ridiculously bright, but it adds nicely to a light array with my headlamp.
Plus, it's really lightweight and has an adjustable head strap.
It's the perfect little headlamp.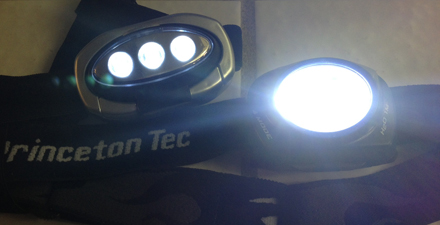 I tested it out in my closest to see how bright it was after initially seeing the vast difference between my headlamp and it. It actually was pretty good.
It works really well and provides a decent amount of light and it's pretty comfortable. There's even a little pad that keeps it stable on the forehead.
Plus, it was $27 cheaper than my headlamp. Great in a pinch. And a good deal all around.