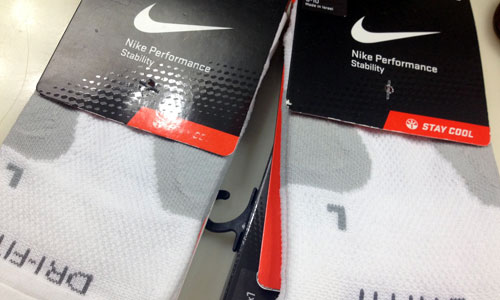 I've been in need of new socks for about a month now. Most of my original Nike collection has holes in it, right in the big toe where my nail has gone through. I'll admit, the socks have lasted a good while for as much as I wear them.
I found my favorite running socks, though, in 2012 before the Pasadena Rock 'n' Roll Half Marathon when Sam and I visited the Nike Outlet inside the Citadel Outlets in Los Angeles.
We just happened to stop by when we were checking out a ton of other places.
Those two pairs have actually been my most resilient pairs. No toe issues, still fit good, etc.
In fact, I've been relying on them more and more as my other ones start to fall apart.
On my way back from the Oakland Half Marathon expo, I stopped at a new outlet center in between Oakland and where I live. The Paragon Outlets in Livermore recently opened up. This was the first time I stopped there, so I didn't realize there was a Nike store.
But when I saw it, I immediately knew I had to track down another pair of those socks (or three, whatever).
And I found them, after some looking. For $7.99 a pair. I bought three pairs for just over $26 with tax.
These will likely last me a good while. Plus, they are soft and cushy. I wore a pair for the Oakland Half the next day. Since that run turned out good, I figured I really, really needed new socks.
Now I have a relatively close place to get them at a discount.