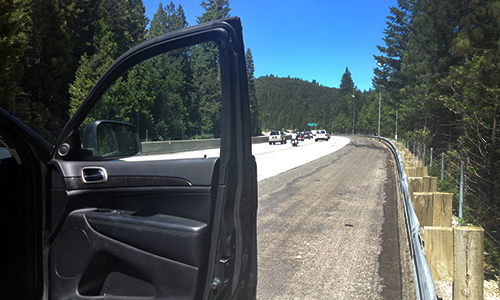 I had one of those "you know you're a runner when" moments yesterday while my husband was stranded on the side of Interstate 80 above Colfax, more than 100 miles from our home in Tracy, an exburb of the San Francisco Bay Area.
Nevermind the fact that his 1998 Toyota Camry had likely climb its last hill, I was staring down a major sloped incline and all I could do was think about how instead of running out the door as quick as possible in my running clothes with sandals on, I should have grabbed my Nikes.
Well, I did grab my Nikes.
Just not the right ones.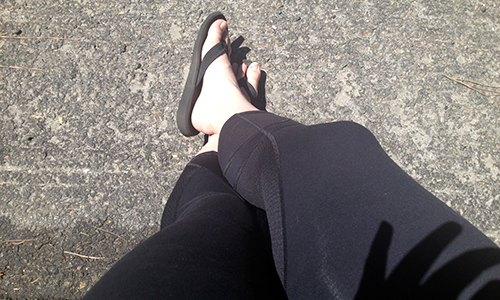 Those are not my running shoes. And lucky for everyone who reads this blog, my black toenails aren't showcased in this lovely photo.
My husband waited more than two hours for me to make the journey up to get him. I had to drop my freelance work after solving a particularly messy navigation issue with a more-complex-than-I'd-like CSS hack. I was about to celebrate when I noticed a call on my phone went straight to voicemail.
Then I had a text message from my husband that said: "Call me!"
1) My husband rarely leaves voicemail or calls twice to get me. 2) My husband doesn't text often. I'm still not quite sure he knows how. He owns an old-school Samsung flip phone. We talk about moving him to a smart phone, which I've had for about five years now, but he never seems too motivated to do so. He just usually borrows my iPhone.
It's with that knowledge that I present his poor, 1998 Camry.
He bought it five years ago. It's his commuter car. He puts roughly 120 miles on it every work day (he works 9/80s, so he gets three-day weekends every other week from his engineering job in the Bay Area). He's put 200,000 miles on it since he purchased it from a private owner.
We've known for awhile that it likely was on it's last leg. But it was a good car and measured good gas mileage.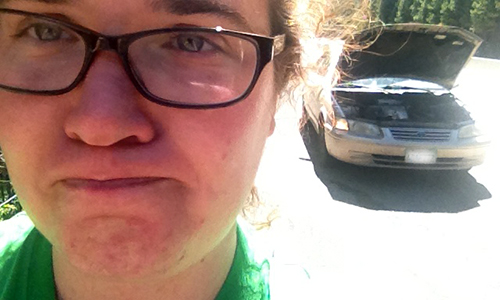 Photo editing note: I blurred the license plate. Because no one needs to see that.
It's a little heartbreaking. Not a lot, though. He's more heartbroken that he won't get to go camping this weekend like he had planned. Instead, I had to bring him and all his camping equipment home, which barely fit in our Jeep. The car is being towed to my parents' house in Stockton (closer to our AAA 100-mile tow coverage) and we're going to decide what to do with it.
But it's not going to hit the freeway again.
We bought our Jeep last fall when my Camaro started giving me problems (ever seen a V6 on fire? I had a moment, or twenty, with that car on the way back from the Bay Area after the Nike Women's Half Marathon Expotique last year, smoke, losing power, all the things that make a person freak out, on the Altamont of all places).
We ended up getting the Camaro repaired for less than we thought it would be, so we decided to "garage it" and baby it a little more.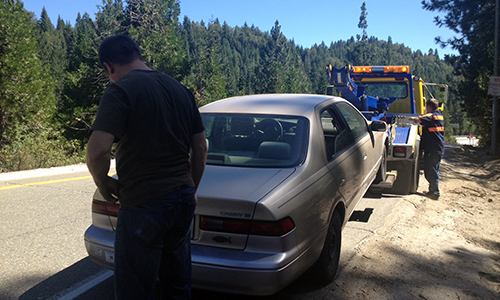 Unfortunately for me that means I'm turning over my Jeep keys to my husband for awhile. The Camaro, which gets amazing gas mileage for a 11-year-old sports car, can't handle the extra miles. It would end up in the same position as the Toyota.
We're looking for a used commuter car, but not quite in a rush to get one yet. I'll be driving my Camaro again, which won't be nearly as much as I was driving it before. My full-time job as a journalist meant that I was racking up mileage on my car every time I did an assignment.
Sure, we got paid for the gas, but the wear and tear on a car isn't compensated. Now I drive to work and am there all day. I come. I go. That's about it. I even walk to lunch because it's pointless getting in my car to go somewhere.
My husband, while sad, did make sure to grab his Chico State license plate frame from the car. To me, that marks the point where you know your vehicle is really gone.
And I'm still regretting not bringing my running shoes to get in hill repeats. For real.