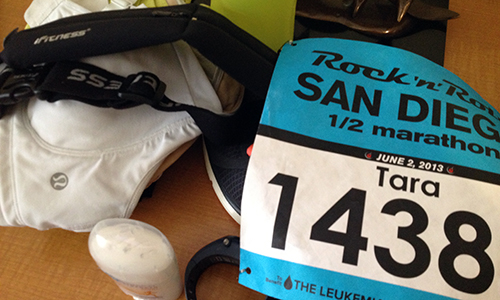 A year ago, I swore off the Rock 'n' Roll San Diego Marathon. I ran my second 26.2 on a warm, balmy day in America's Finest City with bad shoes and an attitude in need of much adjustment.
I'm admitting it: The trip, despite the destination, didn't include any of my finest moments. At the end, I collapse to the ground, threw off my running shoes and cried. It wasn't even a pretty cry. It was an ugly cry, with an ugly cry face. I hated every minute of it. On the way home, I told my running buddy Sam, who did the half marathon, that I would never do it again.
NEVER. AGAIN. BITE ME SAN DIEGO. I HATE YOUR PALM TREES. AND SCENIC VIEWS.

It's amazing what changes in a year. I ended 2012 and began 2013 going through the worst moments of my life. I was convinced 2013 would be the worst full year of my life.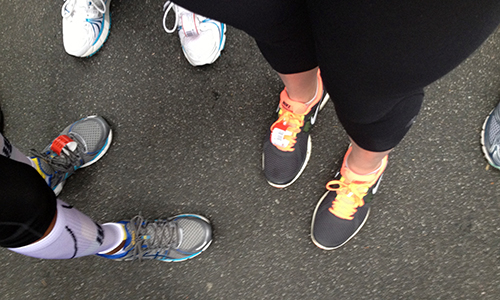 And you know what?
It actually hasn't been too bad. That's one of the reasons Sam convinced me, during our February trip to Southern California for the Rock 'n' Roll Pasadena Half Marathon, to sign up for San Diego. Not the marathon, though. At that point, I was already registered for the San Francisco Marathon (which I'm running on Sunday and crossing my fingers I'll be able to finish with the IT band issues that have flared up lately), so there was no way I'd run two marathons in a three week period.
I did run two half marathons in a two-week period, which makes me think I qualify for the Half Fanatics, which I'd gladly join if I didn't have such an aversion to groups.
Still, so much has changed. Last year, I realized something was very wrong with me. Within a month, I was on anti-depression and anxiety medication, trying to keep my more-fragile-than-I-ever-imagined self together. That didn't end well.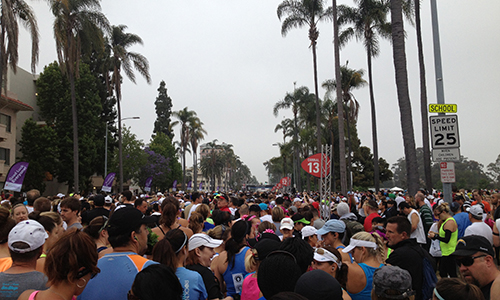 In the months leading into San Diego, I became a PR machine. I ran a half marathon five-weeks post surgery in February and knocked twenty minutes off my time from last year. In March, I ran my first ever 2:20 half marathon. In May, I PRed again at Portland with a 2:19.
In San Diego, the place where I had the worst marathon experience of my life (we'll see about this weekend and this dumb IT band), I found something in myself to push me into a runner a year ago I didn't think existed in me. I ran a 2:16:41 half marathon. And I know exactly how I did it, which made it all that much better.
Mile 1: 10:08 — We get started at 7:08 a.m. I think I finally found my footing in the 2:20 corral. That's my pace at the start and, usually consistently. I feel good. But right before the mile mark, I also realize I'm really, really warm.
Mile 2: 10:37 — That feeling of "warm" kind of stayed with me. I figured this wouldn't be the best day to race. Plus, this Rock 'n' Roll race welcomes a ton of people … so at the first aid station, I felt like I was pushing my way through people to get to the water.
Mile 3: 10:07 — We start making our way into the University Heights neighborhood. The support here was AMAZING. These people were yelling and cheering for all the runners. A real boost.
Mile 4: 10:53 — Water stop to slow me down again. Vanilla Bean Gu.
Mile 5: 10:06 — I'm starting to feel the Gu as we get to the "top" of the half marathon route.
Mile 6: 9:53 — Now the Gu is really kicking in. And I'm getting excited as we move past the relay exchange point. There's no "mini marathon" option in this race, but the half course is split in two so that people who aren't quite ready to go the full 13.1 can test out their skills on six-mile and 7.1 mile routes.
Mile 7: 10:43 — A much-needed downhill. But not a complete downhill mile. Despite what this race boasted, it was not "flat and fast." Nope. Not even close.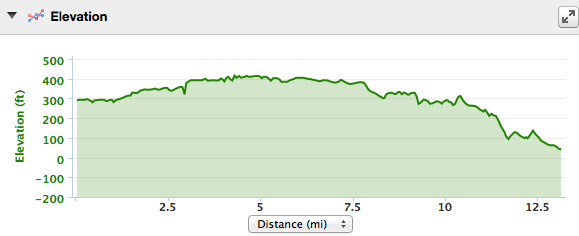 Mile 8: 10:05  — Some up and down here. I grab another Gu. I was running so fast (for me), that when I grabbed my Gu it literally felt like it was taking forever. I felt like I was clumsy and couldn't really control my iFitness band really well.
Mile 9: 11:00 — Rolling hills. NOT A FLAT COURSE.
Mile 10: 10:45 —The combination of an aid station AND the hill right at the beginning of this mile dropped me here. Plus, I was getting tired.
Mile 11: 11:17 — I nearly lost it this mile. This is when we started heading into Balboa Park. The course narrowed here, with half marathoners on one side and marathoners on another. The problem with that is this the half marathoners, which there are more of, were right on top of each other. I took an elbow to the chest at the aid station here. Then I walked for a bit to recover from that. Then, I swear, another hill popped up.
Mile 12: 10:01 — Gu. I'm finishing this thing. Downhills in sight. Let's go. Right at the mile 12 beep on the Garmin, the 2:15 pacer passed me. First thought: I RAN 12 MILES WITHOUT BEING PASSED BY THE 2:15 PACER! Second thought: CHASE. HIM. NOW.
Mile 13: 9:42 — So I literally chased the 2:15 pacer. I lost site of him as we got back into downtown, but I already knew I was on a good pace. There was no way I couldn't PR now. I HAD THIS.
Mile .18: 1:28 (8:15 average) — Right downhill into the finish chute.
Official time: 2:16:41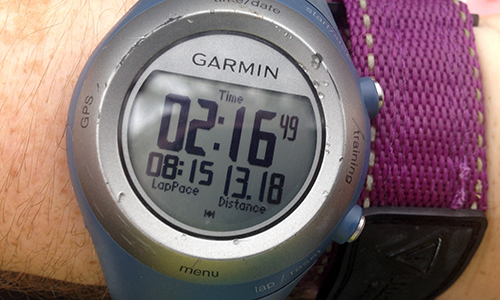 WOOOOOOOOOOOO!!!!!!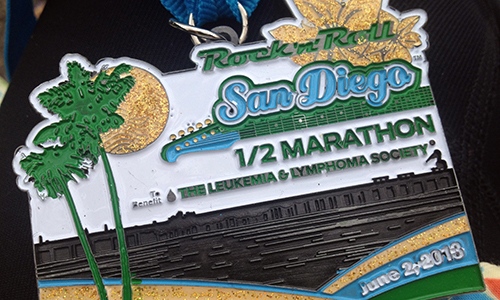 AND BLING!!!!
This time though, I wasn't stunned. I didn't cry. I held it together pretty well. I found a curb. I sat and waited for Sam, who was leading her sister into a sub-three finish. I was really proud of Sam. She helped her sister take an hour off her previous half marathon time. And Sam ran a pretty great race herself for "just getting back into it."
I hate to say "I wasn't surprised." But this time, I figured out WHY I ran well, which had been alluding me in previous races.
1) I took care of the jitters, for the most part, before hand.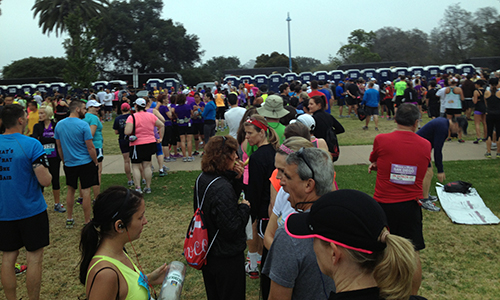 That includes the required visit to the portable toilets. But it also includes having a more "set" schedule and plan for race morning. I now do a Gu about 45 minutes before the start. I also eat a Luna Bar for breakfast. Nothing too fancy or extreme for my stomach. I also plan and pack everything the night before.
2. I found my comfort zone early, then backed off that pace a little.
It's hard not to speed up. I'm really bad at that. But, for the most part, I've gotten that under control. I find a pace I can reasonably sustain for 10 miles, then I ease up. That way, I get to mile 12 still feeling good. I've finished my last three half marathons feeling amazing. That's a huge change from feeling like I was dying before in nearly all of them.
3. I paid less attention to my Garmin.
Really now. I know that's hard to believe. But I am spending less time staring at it between miles and more time just running. I'm doing more "in the moment" running.
4. I'm having fun.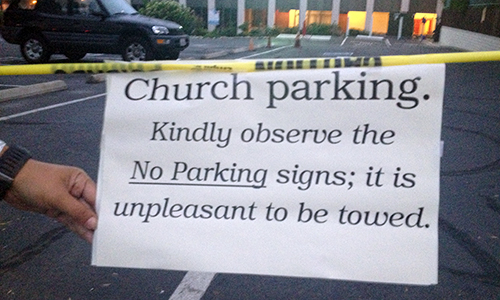 I used to feel like these races were "make or break." It had everything to do with the fact I was carrying the stress of my bad days, and bad life there for awhile, with me into them. I ran so well in 2011. I improved my times. I ran my first marathon. But 2012 turned into a bad year for my racing, until I took a vacation from my full-time work in August 2012. That's the week I ran my best half marathon, a 2:22.
That should have told me something. (Everyone, including my grandmother, has since told me that.) Proof of that fun? I'm able to joke around now before races (see above? It is unpleasant to be towed…ha!). I'm just much looser than before.
5. I'm fueling well.
The Gu pattern is becoming just that, a pattern. I've started to "figure out" this half marathon thing. I'm carrying just enough to make it in to the finish, taking it when I need it and not dwelling on it too much.
6. I'm training better.
I'm sure that's telling in itself. I do incline treadmill training now. I'm also running outside more when my IT band is allowing it. Unfortunately lately my IT band has been really angry. I do one long run a week, two mid-length runs (7-8) and two tempo runs (4-6). I feel better about my training. And it's "just enough" to push me where I need to be.
That said, I don't necessarily have more time. I don't. Right now I'm back to averaging 10-hour days while my boss is on vacation. I'm just glad to have the "itch" to run back. My self-imposed "no run" rule this week to help my leg get better is annoying me more than this sort of thing ever did before.
7. I know now what I didn't know then.
I didn't realize how much "healing" I had to do after January, both mentally (from all depression and anxiety) and physically (from emergency gallbladder surgery), until I really got away from what I felt was making me "sick." Part of me thought everything would get better overnight. In many ways, it did. In others, it didn't. I had to heal. I had to grow. And much like I literally regained my "stride" in running last year, the running this year has played a huge part in that.
I'm better because I run.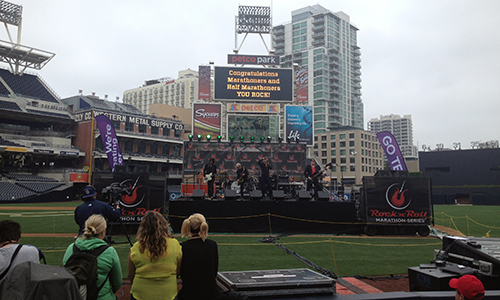 Half marathoners are just better now. Running is just better now. I'm better now. And believe me when I say I know I have further to go down that road to feel "whole" again. A 2:16 half marathon though moves me closer to that goal.
Last year, I walked away from San Diego feeling the lowest I had ever felt. I was miserable. I hated my life. I wasted time on people I thought were my friends. I couldn't imagine that it could get much worse. Then it did.
This year, I came to San Diego with a completely renewed purpose. I came into it a more whole person. I came into it happier. And also with better shoes. But, most importantly, I came into this race knowing that I had that faster race in me. That made the biggest difference. Everything else was just complementary.
Two races. One year apart. A little rock 'n' roll. A world of difference.