My luck might have changed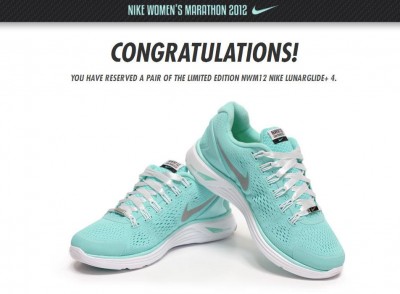 By some odd reversal of fortune, I was able to snag a reservation for a limited edition pair of Nike Women's Marathon shoes in Tiffany blue.
I'm not usually this lucky. But I'm heading into San Francisco on a Thursday this year to avoid Friday/Saturday lines at the expo. And I knew I'd be there during the day, so I decided to try. What the hell, right?
I was surprised the system not only worked, but worked fast. I had an initial reservation. Then a confirmation within three minutes.
Wow.
Holy cow.
I've never had a pair of shoes that pretty before.
There's a raging debate on the Nike Women's Marathon Facebook page going on about these shoes now. I kind of feel bad for the folks who control the Nike page, they are constantly subjected to people criticizing every decision. Plus, the women kind of attack each other. It's a little ridiculous.
I'm just excited that I'm able to get a pair of these amazing shoes. I'm fortunate.
In reality, I'm fortunate to even get into this race two year's in a row. The Tiffany necklace? An added bonus. The shoes? An even bigger bonus. I'm giddy with anticipation. (And those who know me know I don't get giddy too often.) Even better, I may be more excited about the Nike Women's Half Marathon than my "A" race this weekend in San Jose.
(By the way, I'm not selling these babies, so don't ask. I only say that because someone has already asked me. I'm going to wear them with a great amount of excitement and pride.)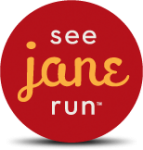 Run with me!
Save 25 percent all See Jane Run races, including the June 21 San Francisco Bay Area run, by using the code SJRAMB243. Use the code to also save 10 percent on online store discounts at seejanerun.com.