A better fit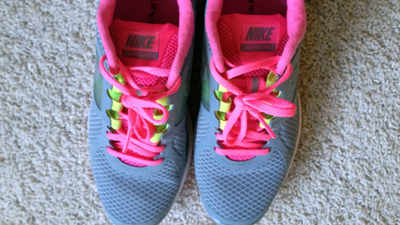 A couple weeks ago, I blogged about my second marathon slump in San Diego. There were a lot of reasons it all went bad, but one of them was shoes. Before I could even write my race recap, I went to my local Fleet Feet store. I've purchased my last three pairs of shoes from a great sales associate who takes her time with me, answers all my questions and understands my needs when it comes to shoes.
It was because of all this I was hoping the Saucony Hurricane 14s that I purchases earlier this year would be the new shoes for me. Instead, I realized more than 100 miles in that they weren't. I was still getting blisters. I was in pain. I was trying to make them work.
They. Weren't. Working.
So I went back to Fleet Feet, shoes in hand, and admitted what I had known, probably, since before the marathon: The Hurricane 14s were hurting my feet.
The sales associate shared my pain. Only weeks before, I had posted that they were totally working for me on the store's Facebook group.
Then they weren't.
She could see it in my thrashed feet. The shoes were making both fleet arch slightly, meaning my baby toe was pushed under my other toes and the inner side of each of my feet was being rubbed raw. My feet looked like a disaster.
I tried on three more pairs of shoes. Another pair of Sauconys. And a pair of Brooks.
Finally, another pair of Nikes.
The LunarEclipse +2.
I don't want to say it was love at first site. It wasn't. I had spent so much time in shoes that were consider more functional than pleasing that I'd never had a pair of "pretty" running shoes before.
These were definitely pretty.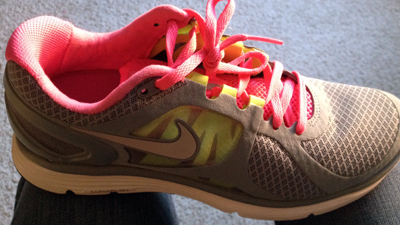 I was worried. I think I had ever right to be after the Saucony disaster.
Then I went on my first run. No pain. No rubbing. No "breaking in."
They fit me in a way that was comfortable, yet functional. I felt fully supported, but they weren't bulky like my Equalon +4's had been. The pair was also much, much lighter than any of my previous running shoes. But I was still cautious. I kept running, already putting more tan 40 miles on them and I haven't had one issue.
I did a hot day outdoor run in them and they didn't slip and slide. I remember at mile 3 looking at my running buddy Jennie and saying: "I'm sorry I ever cheated on Nike."
And I am.
The LunarEclipse +2's are stability shoes. But they are also slightly wider than the Sauconys. They also seem a tad bit longer. The biggest difference, though, is in the upper on the area near my baby toe.
The Hurricane 14s had a hard, yet flexible plastic. My Nike Equalon +4's had a "bunion control" area. That area would expand based on my foot movement. The Sauconys wouldn't expand. In fact, they would push my toes in. The inner side would push my feet in even more.
The new shoes, though, have a much more flexible upper.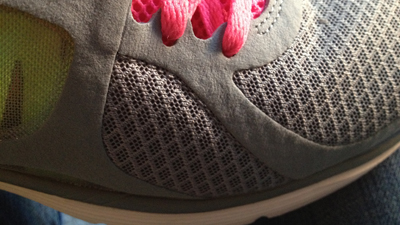 That is the specific area in question. Even though that thin detail band goes across the area where my little toes go, it doesn't bind them in. It lets them be much more flexible and move with greater ease.
Even better? I've had multiple pain free runs with these shoes. I seem to be able to go and go and go.
I'm hoping this means I found my "new" running shoes. These definitely are a better fit.
I've passed my Saucony's with 100-plus miles on them, still in very good shape, to my mom. She has a job that requires her to be on her feet a lot, so they'll likely be a good fit for her. She has much more narrow feet than I do. (I have flat little feet that don't bother me all that much but are apparently bad for running.)
I'm considering this a costly mistake. The Sauconys were $140. The Nikes were $135.
But I'd rather trade in the shoes that were making running hard and unbearable for a pair that makes me enjoy it again. It's made all the difference.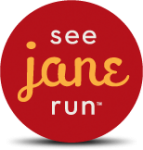 Run with me!
Save 25 percent all See Jane Run races, including the June 21 San Francisco Bay Area run, by using the code SJRAMB243. Use the code to also save 10 percent on online store discounts at seejanerun.com.