Second marathon sophomore slump: Part II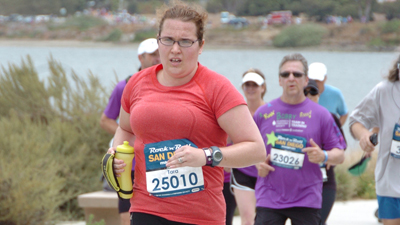 I usually don't start out posts with the "after" photo, but felt in this case it was necessary. The above photo comes from near the finish line. I'm beyond spent at this point. I don't even think I can describe how tired I am at this point. My feet are killing me. I'm near tears. I just wanted it to end.
At 4:45 a.m. I woke up to my iPhone alarm. I usually have to set two, but since I didn't sleep at all I didn't even need the second one. I rolled out of bed and started getting ready for the 6:15 a.m. wave starts. I was in corral 25, so I'd be heading out later, obviously, than 6:15 a.m., but I still wanted to be down to the start area with enough time to go to the bathroom (necessary, always) and warm up.
I ate an apple in the hotel room and most of a Chocolate Peppermint Luna bar. I also wrapped my feet. My shoes had been giving me a lot of problems, more than my Nikes ever did. I kept thinking I'd break in the Saucony Hurricane 14s before the marathon. By the time I hit the streets of San Diego, I had put about 80 miles on them alone.
Broken in? No. Not at all.
My pinky toes were completely raw. I also kept getting blisters on the inside of my foot. All of this would come back to haunt me during the 26.2. But at 5 a.m. I thought wrapping my feet with moleskin and then doing a once around with tape would make the world better.
Thomas drove us away from the hotel on the less than 10-minute drive to the starting line.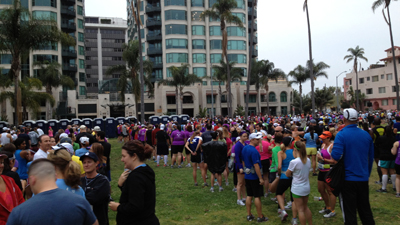 The portable toilet lines were ridiculous. I've seriously never seen so many people waiting to use the bathrooms. This was a complete 180 from the Oakland Half Marathon earlier this year where there ALWAYS seem to be ample bathrooms and no lines.
The bathroom wait ended up being about 30+ minutes. That was actually fine, if only because the waves went off every two minutes or so. By the time I was done using the bathroom, there were still six or more waves in front of me. I lined up with Corral 25 and set my Garmin.
Nerves were taking over. I downed a Vanilla Bean Gu before I crossed the start. It didn't help soothe my stomach.
I figured they would get better once I started running.
Nope.
But either way, close to 7 a.m., we were off and running.
It started out promising.
Mile 1: 10:59 — I was hoping I wouldn't start running and suddenly have to go to the bathroom. Thankfully I didn't. The first mile is downhill straight until a quick turn onto University Avenue. I hit Mile 1 and was feeling OK.
Mile 2: 11:08 — The first water stop comes pretty quickly here. I bypass it because I'm carrying my 20-ounce Amphipod water bottle.
Mile 3: 11:12 — We're in Balboa Park for parts of miles 2 and 3. It's beautiful. Nice architecture. I'm still feeling OK. We're passing the zoo. This is also the point is seemed like every guy on the course seemed to be running off into the bushes to go to the bathroom. The women on the course talked about how they were envious they couldn't do that.
Mile 4: 10:54 — This is what split the course between the half marathon and the marathon. I suddenly felt so much more comfortable with fewer people around. A little more than 7,000 were running the marathon. There were more than twice that many in the half marathon. I took a Gu, hoping the fatigue I was feeling would level off.
Mile 5: 11:10 — Lots of street, few big sites.
Mile 6: 11:10 — We ran through Petco Park, which was pretty nice in itself. This is also the point where I started to feel tired. The Gu seemed to be working too.
Mile 7: 12:48 — And then, just like that, it wasn't working anymore. A gradual incline started here. My body wasn't having it.
Mile 8: 14:52 — Things went from bad to worse here. The stable group I was running with was suddenly gone. I was still moving up an incline. Then I had to go to the bathroom. I was lucky that this mile wasn't longer really. I got lucky and ran into a portable toilet that was behind a performer's stage. I don't think we are supposed to do that, but there was no one stopping me. And by the time I ran out of the toilet, there was a line of people waiting to use the bathroom.
Mile 9: 13:15 — We got onto Highway 163 at this point, which is banked for most of the surface. I wasn't down for the count yet.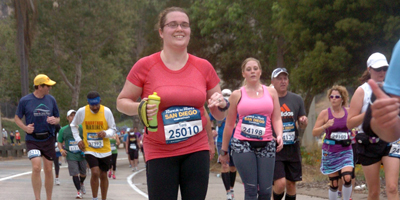 In fact I still looked pretty happy despite slowing down again on the inclines. Everyone was starting to look a little fatigued here, but I was still in good company.
Mile 10: 14:12 — I had done a Gu at mile 8, like planned. But my body wasn't having it. I did another here.
Mile 11: 11:37 — The Gu, with a nice long downhill allowed me some speed here.
Mile 12: 13:58 — But not long enough. By this time, the tape I had secured around the moleskin was wearing into my foot. I'm not talking about a slight wear. It was a painful searing. I didn't want to stop, though, because I already knew I was quite a bit behind my goal.
Mile 13: 12:07 — The Gu caught up with me, but my half marathon time was somewhere around 2:41. I was spent. Two runners tried to help my spirits, but I wasn't having any of it
Mile 14: 13:36 — The slowdown continues as we start moving back uphill.
Mile 15: 11:37 — I did another Gu here.
Mile 16: 14:30 — Here we start an excruciating out and back area. By now I can tell my foot has been rubbed raw. I also know my baby toes are completely trashed. This is also the point where I stopped at an aid station and had a woman re-tape my foot. I thought, maybe, it was at mile 19. That's where I nearly melted down. A nice woman at a medical tent along the way told me that I could give up. But if I did, the sweep crew would be nearly two-hours behind. I had a moment here where I almost did give up.
Mile 17: 13:32 — Gu. This was probably the most depressing part of the run. I was so tired. I didn't want to go. Every step was painful. I wanted to cry.
Mile 18: 13:17 — More of the same.
Mile 19: 13:07 — I started to feel as if this run would have an end. I did another Gu, before I was supposed to, but I kept going.
Mile 20: 11:42 — The Gu propelled me through a beautiful park area. I couldn't help but be propelled to move forward.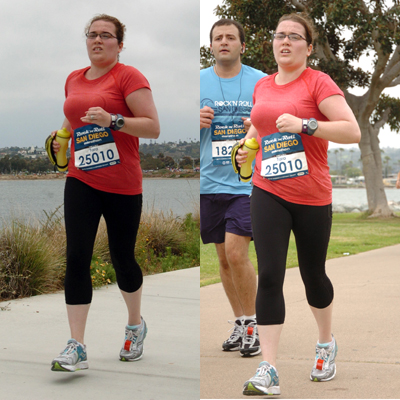 That's about the point in the run where I knew that if I put my mind to it and forgot about how much pain my feet were in, I could get through it. That would prove harder than I thought, though. The photos are my purchases from MarathonFoto. And they get better, just wait.
Mile 21: 12:07 — "Keep moving," I kept telling myself. More Gu. I'm surprised I finished with one Gu left for all I was taking down.
Mile 22: 13:19 — This part was discouraging. We moved from one island, full of support, onto another where it seemed the crowd thinned out so much that we were the only ones there.
Mile 23: 13:43 — Then, I couldn't do it anymore. My feet were killing me.
Mile 24: 12:56 — The pain took control.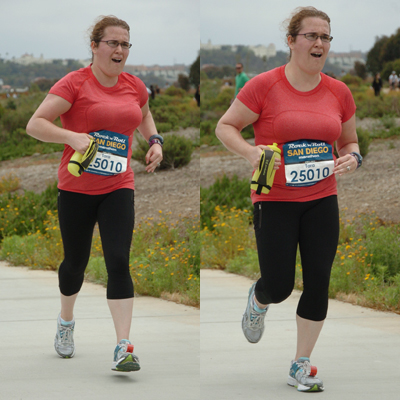 Mile 25: 15:05 — Those photos? Yeah. That happened. I didn't care who was taking my picture. It hurt. My legs felt fine. But my feet were not having it. Not at all. I was so mad. I was mad at myself. I was mad at my shoes. I was mad at the run itself. I was just hoping to finish at this point. I knew I wouldn't be breaking any records. I knew I wouldn't be better than my previous time. I was pissed. I can't even say how pissed I was. It was depressing. Considering I'd spent more time preparing for this run than the first, I was depressed. I did a Gu.
Mile 26: 12:28 — It's here, I decided to pick it up again after another Gu. Yep, another. I just kept taking them down.
Mile .2: 3:53 — Pushing it here. Trying to run it in. The finish line seemed so far away.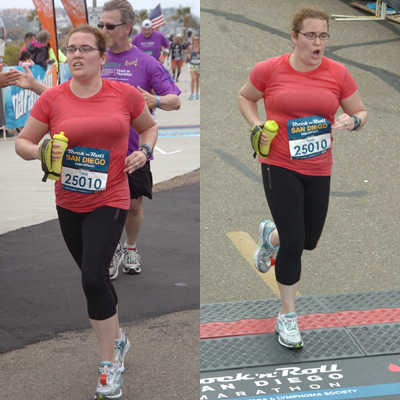 I ran over a very uneven part of road/sidewalk here. You can see it in the photo on the left. That one little imperfection at the end just added insult to injury. Finally, after all that pain, I crossed the finish line.
Garmin time: 5:34:26
Chip time: 5:34:14
I walked in a daze through the finish area and collected my medal. I had enough energy to smile for the photo at the end, but no more. I was done. It was over. And I hated nearly every minute of it.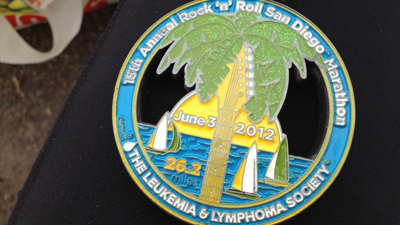 So what went wrong? I want to say everything. My training was strong. I went out conservatively.
The shoes were the biggest problem. I had blisters everywhere at the end. I could barely stand after I sat down. The bottom line: After nearly a month of trying to break my Saucony Hurricane 14s in, I was getting nowhere in making them work for me. Instead, they put me in excruciating pain the entire way through. My small toes were rubbed raw. I had gnarly blisters. I even had two blood blisters. It was a mess.
Something I wish I knew before the marathon: My shoes weren't working for me.
I'm a big believer that the bad runs make the good ones all that much better. But this was ridiculous.
My husband tried to reassure me that I should be proud. I ran 26.2 miles. He was proud. Yet, all I feel is defeated. Defeated by a distance that only months earlier I ran 14 minutes quicker.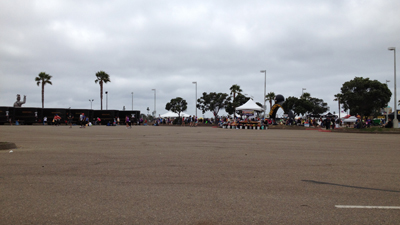 I contemplated this as I sobbed on a curb. Thomas had forgot my backpack with flip flops in it. I didn't want to put my shoes back on. So I sobbed while he went and got the backpack. It was kind of like Pink's "Just Like a Pill" when she says "I haven't moved from the spot where you left me, this must be a bad trip."
And it was a bad trip indeed.
Like that, it was over. I waddled to the car. We started on our way home. Nearly eight hours in the car later, and suddenly realizing I had a gnarly leg sunburn, the weekend was over. I've never been so thankful in my life to have taken a Monday off.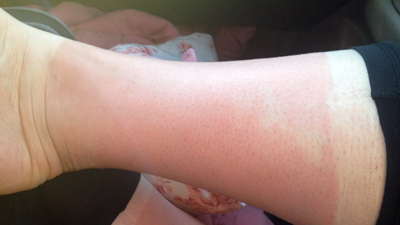 I wish I could say I learned something from this run about my training structure or what I need to do in the future. But the truth is, nearly a week later, I just want to put it out of my mind.
I'm thinking it will take me awhile to get over the disappointment my second marathon.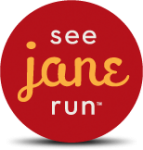 Run with me!
Save 25 percent all See Jane Run races, including the June 21 San Francisco Bay Area run, by using the code SJRAMB243. Use the code to also save 10 percent on online store discounts at seejanerun.com.