What do you when Kara Goucher signs your race bib?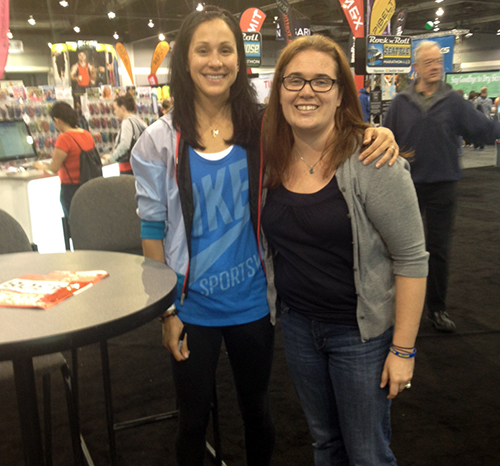 This one time, at a race expo, super runner Kara Goucher signed my race bib. She was super nice about it and even let me take a photo with her. Which is amazing, because she's Kara-freaking-Goucher. She can run marathons in the time it takes me to run a half marathon.
This is a fan girl moment for me. A running fan girl moment. I not only have photos of it. I also have the bib.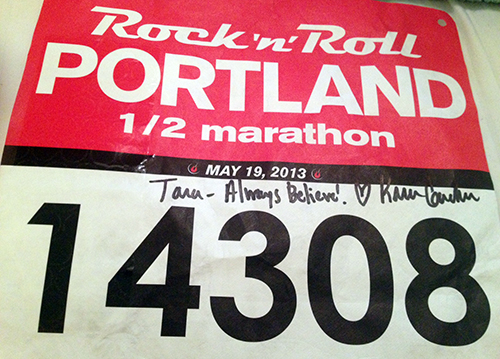 Now I keep all my race bibs anyway. I've included posts on this blog that include my "bib wall" in my home office, i.e. the place where I spend most of my day coding and working on WordPress blogs. I like to look up and be reminded of what I've done.
I also keep my half marathon "PR medal" right in front of my computer. All reminders of the amazing things I've done running and how far I've come just in the past five months.
But a bib signed by Kara Goucher deserves more than just a spot on the "bib wall."
No. It needs to be put in a place of reverence. It needs to be put somewhere where not just my husband and I will see it. But it also needs to be incorporated into the decor of our home.
So it needed a frame.
Yes, I framed the Kara Goucher signed race bib.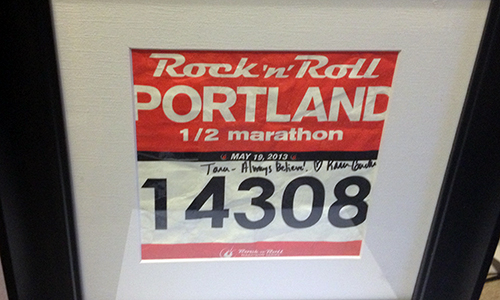 It's not a custom job, because that would have cost a lot of money. This is a Michael's 12X12 frame matted down to 8X8. I found an online coupon for 25 percent off. I went for it. The matted area is almost the size of the Rock 'n' Roll race bibs, enough to fake it. And see Kara Goucher's signature. Because that's really what is important here.
And now the bib is sitting in my family room, above the mantle for my fireplace. It's part of the decor. Because it's so awesome it should be.
I should mention this isn't my first race-related art piece in my home. I should probably do a blog post on all of them one day. Since running is part of my life, it's also featured prominently in my home.
But this is now my newest prized possession. I'm actually considering taking it to school and putting it on the wall in my office.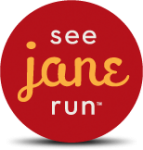 Run with me!
Save 25 percent all See Jane Run races, including the June 21 San Francisco Bay Area run, by using the code SJRAMB243. Use the code to also save 10 percent on online store discounts at seejanerun.com.