Answers to your Nike Women's Marathon (and half) questions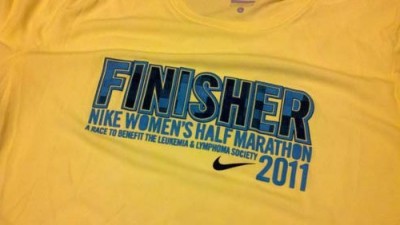 One of the most common search terms that brings visitors to my blog is NWM or "Nike Women's Marathon." I know why. It's  HUGE race, and not just because of the 25,000-plus women who run it. It's big because of the money it brings in for charity. It's also a "desired" destination race for the mega bling finishers get at the end.
Behold, the Tiffany pendant.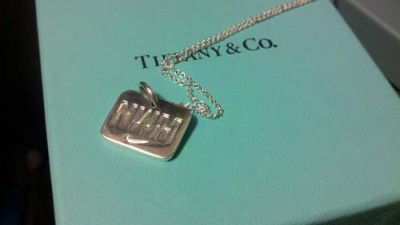 I hate to say it, but there's no angels singing or anything when the hot firefighter hands it to you. But it's beautiful. And amazing. I never owned a Tiffany necklace until I was handed this one. I still have the little blue box.
So in honor of the Nike Women's Marathon, I'm going to answer some questions I've received via email over the past few weeks from nervous runners gearing up to run the 13.1 or 26.2 miles through San Francisco from Union Square to Golden Gate Park (and a lot of places in between).
HOW IS THE EXPO?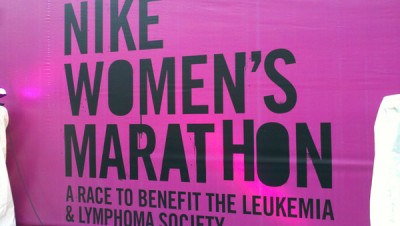 Not like any expo you've likely been to. There's very few vendor booths selling marathon swag. There's a lot of "girly" stuff happening instead. You can get pedicures. Neutrogena has a counter and reps will give you pointers on skin care. There's no race gear for sale. Instead, you have to go to Nike Town across the street.
Nike Town in itself is a mad house. Grab what you want quick, because it will go fast if you don't.
The biggest thing is that last year Nike started a system where numbers would be assigned upon check in. I ended up with a very low 162 because I went to the expo on Thursday. I recommend going to the expo on Thursday if you live nearby. Why? There's usually a little something special happening at it. And it's light. Very light when it comes to people. I didn't have to wait at all to get my bib.
Nike+ members got an extra disposable backpack for check in. I'm not a Nike+ member, though I now have it on my iPhone. I just got a florescent green bag, but still pretty hefty.
Overall, it's nice. But I think I ended up spending a lot more money than I really wanted to. And a lot more than I've ever spent at an expo because Nike stuff isn't cheap. (That said, ever since the Saucony disaster earlier this year, I'm staying brand loyal to Nike for the shoes.)
CAN YOU CHECK A BAG?
Yes. But the system is crazy. You have to remember what bus you checked in at. I'm hoping this year will be different because of a new corral system. We'll see. We literally walked through a forest of buses last year looking for the bag my friend checked. I had my husband bring me my bag at the end, so I didn't check anything.
Then, when said friend got her bag back, something had been spilled on it. Not really what you want after running for a long time.
WHAT ARE THE CORRALS LIKE?
One word: Bad. But NWM promises a revamped system this year to ease the congestion and, hopefully, the number of walkers getting mixed in with runners at the beginning.
In late September, a new corral map was posted to the Nike 26.2 Facebook page.
It looks promising.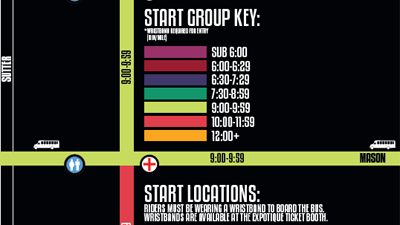 If you click the image, it will take you to the PDF corral map.
That said, people will lie. This happens in nearly every race. Some walkers will say they run at a nine-minute mile pace just to get more time. Then the runners who run 10-12 minute miles, but still run, are stuck behind the walkers, weaving in and out of the way.
It sucks, yes. But it's a big race. It happens.
ARE THERE ENOUGH BATHROOMS?
At the start, no.  Everywhere else, yes. My two friends and I spent nearly 45 minutes in a portable toilet line that wasn't moving. At all. People were crowding other people. Some runners were just jumping into the toilets before another one could. It was pretty brutal.
Brutal enough that I took matters into my own hands. When everyone was crowding up to move into starting position (again in very unorganized corrals last year), I noticed a toilet with green above the handle. I jumped in. It seemed everyone else was concerned about starting. So I commandeered a bathroom.
I'm not even ashamed.
The rest of the way, there seemed to be ample enough toilets. The longest lines were at the top of the biggest hill on the half marathon. That's near the Golden Gate Bridge.
ARE THE HILLS HARD?
If you haven't trained for them, of course. I earned my Nike entry last year as part of a sponsored team. I didn't know I was running the race until about five or six weeks before. At that point I was training, instead, for a PR at the Rock 'n' Roll San Jose Half Marathon, which I got (and it was my standing PR until only recently).
There are very few hills on that run.
This year, I've increased resistance on my treadmill. I've also spent some time focusing on the muscles in my legs that propel me up hills. Proof of my work going well was a 2:32-ish finish in the 1st Half Marathon of the San Francisco Marathon.
A plan of attack: The hills near Fort Mason aren't horrible and there's a nice downhill after. The hills before Golden Gate Park are a bit painful. Slow and steady if you're a running like me (10:30-11:30 minute half marathon time for miles).
 WHAT IS THE NUTRITION ON THE COURSE?
Last year, Gatorade was provided on the course. This year, it's Nuun. That said, water is available as well.
I always carry my own Gu and a water bottle. I suggest some hydration system in this race. Why? Because the first water stops are ridiculously crowded. Not even in a "I'll go to the end of the table and it will be fine" way. It's majorly crowded.
SHOULD I PAY FOR THE BUS TICKET BACK TO UNION SQUARE?
If you have no other way to get back, yes. If you are crafty, it's really easy to catch a bus from the Ocean Beach (where the race ends) down Geary Boulevard and back to Union Square. Or to BART if you are having someone drive you in from the East Bay. A bus ticket only costs a couple dollars compared to the Nike price for a shuttle ticket.
Yes, it's public transportation. But I'm all about cost saving.
That said, my husband has a knack for finding parking spaces when no one else can. So he drops me off in the morning and picks me up. He's become really good at it because I run so many races.
When I lived in Oakland for graduate school at University of California, Berkeley, I often turned to 511 for information about buses and BART. I recommend it.
DOES BART RUN THAT EARLY?
Nope. And honestly, this is always a question on days of early races. In only one case have I seen BART change a race schedule to accommodate a race. The service was limited. I live near the end of the line in Dublin/Pleasanton (in Tracy) and it would literally be a quick hop and skip over the Altamont to take BART. But, alas, no BART early on race day.
WILL PARKING AROUND THE FINISH BE BAD?
All parking in San Francisco is bad. But it's worse around the finish. Consider that Ocean Beach is a pretty popular destination, Cliff House is nearby and Golden Gate Park always has a lot of people and it's even worse. Plus, the neighborhoods are packed full of residents' cars. So if you have someone coming to pick you up, be prepared to trek it out.
DO THEY HAVE ENOUGH FOOD?
For some reason, I get asked this a lot. I don't immediately eat after a race, so when someone hands me a banana I usually hoard it for the ride home. I was told they had bagel, juice and other stuff. I don't think I looked hard enough for it, because I didn't get any.
WHAT IS THE FINISH LINE LIKE?
Crazy. I say that lovingly because a lot of people are taking photos and celebrating, but they are also interrupting the flow of runners just finishing. The T-shirt tables are unorganized (or they were in 2011). No one asks you to verify which size you signed up for, so it's kind of a free for all.
Last year, I heard a group of men who ran complain that they didn't get a separate medal or different shirt. It's a women-focused race dudes. Seriously.
If you blink, you'll miss something. I nearly missed being handed my space blanket. And don't expect a singular finish-line shot unless you are an uber competitive runner. There's always going to be someone around you. I was dodging people up to mile 10. Then I gave up and just went with the flow. My heart race and anxiety were getting the best of me.
IT SOUNDS INTENSE. SO WHY DO YOU RUN IT?
Cheesy as it is, Nike was the one race I wanted to do when I started distance running. When I hit my first run over 10 miles, I said I would run Nike. And through serendipity, I got in even after I was rejected from the random draw.
This year, I earned a spot through the lottery with my running group.
And I'm excited about heading out to pound the pavement in San Francisco again. It's one of the most scenic places in California and has quickly become one of my favorite places to race in.
I HAVE ANOTHER QUESTION…
No problem. If you have a question not listed here, shoot me an email using my contact page. I'd be more than happy to answer. (Even if it's about the sprinklers coming on in Fort Mason, or tripping in potholes along the road, etc.) Just shoot me a line.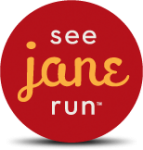 Run with me!
Save 25 percent all See Jane Run races, including the June 21 San Francisco Bay Area run, by using the code SJRAMB243. Use the code to also save 10 percent on online store discounts at seejanerun.com.