Looking past the present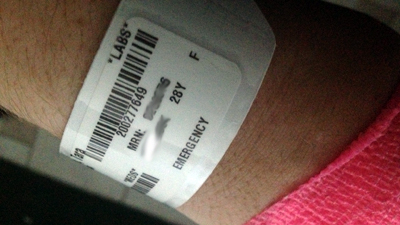 Like my awesome PhotoShop skills? I actually am really good at it, but this is just the simple smudge tool over my emergency room band. I'll give away that much. I recently had a trip to the ER. It wasn't fun. It wasn't planned (hence, an emergency).
People usually say they are "working through stuff." Yep. I'm working through stuff.
And that's where I'll leave that.
I'm trying to look past the present right now.
To the future. Or at least to my running future.
I've been doing some planning over the past couple days on races I'd like to run next year. I've been putting together a short list so far. Only a couple are solid in terms of choices right now. Financials will play a role, obviously. And, surprise, I'm actually considering running a spring "A" marathon and a summer marathon.
I've run enough races to know where I like to travel and what I love to see when I run. I also know which ones I'd like to do again, but maybe not in 2013.
So, today, I started planning.
JANUARY
Brazen Coyote Hills 10K: I love this race. The rolling hills. The beautiful view. It's got a lot to offer. Plus, it's Brazen. And I love Brazen. This race is kind of difficult logistically for Brazen, with shuttles needed to send people back and forth, but Brazen does an awesome job making it happen.
FEBRUARY
Rock 'n' Roll Pasadena Half Marathon: This wasn't my favorite race ever, but I want to give it another go. I now know what to expect, including the hill right at the beginning. My hope is that I won't be a straggler at the end this time. I signed up for it today, before the price went up.
MARCH
Brazen Badger Cove 10K: Brazen hosted this combination half marathon, 10K and 5K for the first time in my neck of the woods this year. It's literally only over the hill from where I live. It's also a week before the Oakland Half, which makes it a perfect warm-up and taper run. The hills are crazy, but I felt great after. Definitely a must-do again.
Oakland Half Marathon: This will always be a favorite for me. Oakland holds a special place in my heart because I spent my two years as a student at University of California, Berkeley's Graduate School of Journalism living in the Temescal neighborhood. I love it there. I'll always love Oakland. And I usually sign up for a steal (half price!) with a coupon code from the San Francisco Marathon. A side note: Oakland is still one of the ONLY events you can defer entry to the next year if need be.
APRIL
San Luis Obispo Marathon: Here's where I really switch things up. This race is a little more than a week after Oakland. I don't know how I found out about it, but I'm hoping to run 26.2 here. A bonus? My husband has family in the area, which means he wants to go too. And there are rolling hills…so I'll have to work the only hill I know in Mountain House, and maybe some others.
MAY
Bay to Breakers 12K: This is less of a race, more of a fun run. Unless you are my brother and smash it in under an hour wearings short-shorts and looking like the kid who knocked up Juno. There's been some changes to the 2013 website, so I'm not even sure when this is happening. I'll probably ask my brother to run with me again. And I likely won't do "premium" or "plus" registration because, despite being sponsored by a T-shirt company, this race has some of the ugliest shirts I've ever seen.
JUNE
The San Francisco Marathon: Let's have an "oh my God" moment. I've said, numerous times, that I would NEVER do a marathon in San Francisco. I'm actually really considering this because it would put me in the elite "52 Club." Who runs for bling? That would be me. Actually, it's just a sweater. But now I know the beginning and end of the marathon path, I'm kind of excited to try it. Will I sign up? We'll see. This wouldn't be an "A" race, but it would be one I'd train seriously for.
And that's it, for now.
I figured I'd wait on planning the rest of the year. Will I run CIM again? I don't know. Will I sign up for the Nike lottery? Likely. I'm also considering the Rock 'n' Roll San Jose Half again. We'll see. Since I'm only signed up for two of the seven races I have planned, nothing is really set in stone yet.
But I'd rather plan ahead right now than deal with some other stuff.
Speaking of which, I probably mentioned having to return two pairs of pants to Lululemon due to bad design. I got two great gift cards in return.
A couple days ago, I got a new package.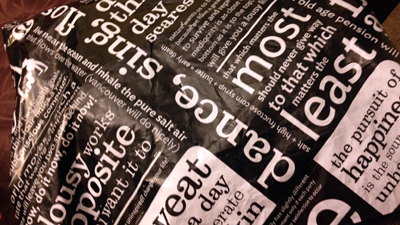 I opted for two new shirts in lieu of the capris. I show this mainly because Lululemon changed it's packing. It's no longer an simple gray mailer. Instead, it's covered in the company's manifesto. As much as I love it, and it gave me a smile for the moment, I'm a little disappointed that my Lulu packages won't be anonymous anymore.
Good thing my the people in my neighborhood don't seem to be the running type. Otherwise I'd worry about the packages disappearing.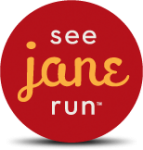 Run with me!
Save 25 percent all See Jane Run races, including the June 21 San Francisco Bay Area run, by using the code SJRAMB243. Use the code to also save 10 percent on online store discounts at seejanerun.com.