A tough training 21: Part I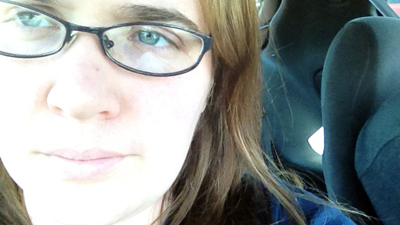 Let it be known that I'm crazy sometimes. I often expect a surprising positive results when I know the situation will not dictate it. This is usually the case at work. They say insanity is doing the same thing over and over and expecting different results. Therefore, sometimes, I'm insane.
Signing up for a 21-mile run along the California coast where two miles of it, near the beginning nonetheless, are straight uphill when my training consists of running small rolling hills is definitely a sign that something is very wrong with me.
"It could be fun," I thought when signing up for the run last December. It was my "I just ran a marathon" gift to myself. Yeah, I used to buy shoes, now I sign up for other runs. I'm crafty like that.
So as the weeks rolled down and I was unable to get in my 15-mile training run preceding the event this weekend, I only started to worry slightly. It was a training run, after all. I was using it as a training run.
Except my husband came along. And we stayed overnight. Thank God too, since my wake-up was at 3 a.m. And we ate a nice dinner. It was very much like my marathon more than six months ago (wow, it's been that long!).
So we packed up some overnight goods and headed to the Monterey Peninsula for the Big Sur 21-miler.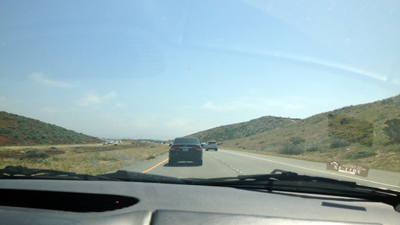 It was, for the most part, a nice drive. We headed through the Bay Area, on Highway 101. It was about a two hour plus drive. No stops. That's surprising for me, since I usually have to go to the bathroom on long drives.
We headed up Highway 17 near Santa Cruz, then to Highway 1. The same Highway 1 that leads from Carmel to Big Sur, but we didn't get that far. We stopped in Monterey where the sun was shining and it was warm.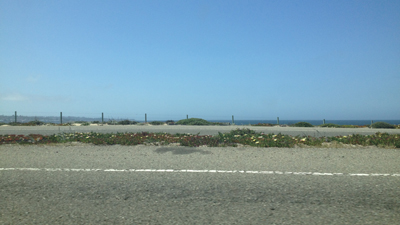 Oh hey ocean! I've missed the open water so much since I left Oakland in 2007. I used to be able to see the San Francisco Bay everyday from the campus at University of California, Berkeley where I earned my masters degree in journalism.
We hit up the expo first thing once getting into town.
My husband is not like me at all when it comes to making things simple. He had to find a place to park that was free. When I was with my mom for the Big Sur Half Marathon last fall, I parked in the first garage I found. Bam. It was $6. Simple and easy. No worry about getting a ticket.
Thomas dropped me off. He went and found a free spot blocks and blocks away.
I've blogged about my tired little legs as of late. I didn't want to walk those blocks. Especially if I knew I'd be running 21 miles the next day. But that's how he is. (Also note that he is likely one of the most patient men in the world, I do appreciate that too.)
The expo was much more packed than the half was last November.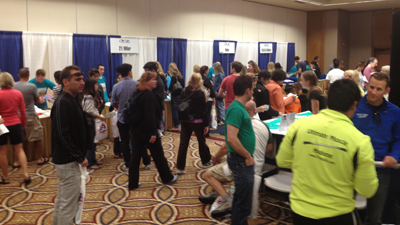 This was my one clear photo from the shirt pickup.
I went upstairs and found the single line for the 21-miler. It appears only 675 people finished it, so I understand the need for only one line. I just happened to be behind three air-head type women. I'm sorry, I usually don't call out other people, but these chicks not only didn't bring their bib numbers to the counter. Then they let another woman get in line with them. Then they asked why they couldn't pick up their bus tickets right there (it was a three foot walk, seriously). Then they had to stop and take a photo right in front of me. COME ON. Get your stuff and be done.
So I got my bib after all that.
And, more importantly, my bus ticket.
I've never felt so much like Charlie from "Charlie and the Chocolate Factory."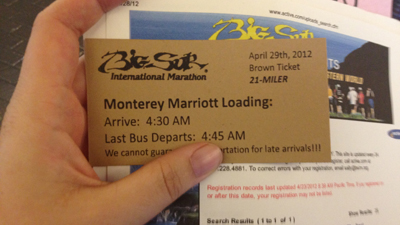 I was lucky enough to score a late boarding ticket. "Brown ticket" for "Monterey Marriott Loading." That meant I was on one of nearly the last buses heading up the coast. Score. I could sleep in.
Little did I know I wouldn't get to. (THANKS INSOMNIA!)
I went downstairs for my awesome Big Sur 21-miler shirt. It's light blue, with purple writing. I love it as much as I love my Half Marathon shirt from last November.
Confession: I used to think the Big Sur shirts were so cheesy. I don't anymore. Big Sur International Marathon has a classic sense to its designs. Nothing frilly. Nothing too fancy. Basic, yet beautiful. Always with some part of the Bixby Bridge on the marathon-style gear.
Thomas caught up to me down at the expo. I was checking out booths. I was hoping to score some new compression sleeves. No go. I didn't even find anything else other than my race shirt saying "21-miler." This was like the Nike Women's Half where everything says Nike Women's Marathon. Yeah, it's the event name. I get it.
We did a little expo wine tasting. I even bought a bottle of $20 chardonnay with the marathon logo on it. It was a commemoration bottle. Nice.
But I found chocolate.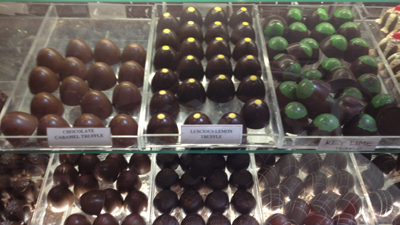 A very fancy, expensive chocolate store.
And I partook. Yes, yes I did.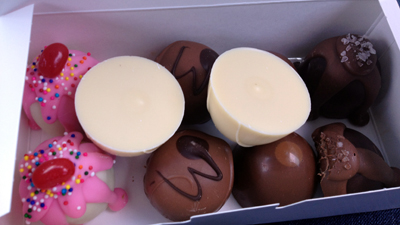 They were expensive. I needed a disclaimer. I still have some left. I'm good at restraint. Not really, though. I ate too much today. Way too much. I promise to be better tomorrow and go back to the diet.
Then we headed to the motel. It was nice. Not too fancy. Not the Hyatt my mom and I stayed at either. Thomas, again, doesn't like spending a lot on things. He booked one of the cheapest, albeit nicest hotels he could find. It was OK. I always bring a comfort blanket, a tip I got before the marathon, to help me sleep.
On suggestion from one of the Big Sur volunteers, we took some free appetizer coupons and headed to Fisherman's Wharf where a bunch of marathoners, 21-milers and other event savvy types were headed.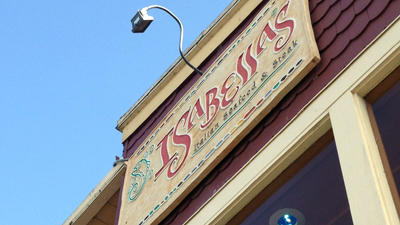 We selected Isabella's. Our free appetizer was fried artichokes. So good. We opted to eat outside. It wasn't cold at all. And they were going to seat us in a corner in the actual restaurant. I didn't really want to sit in a corner when the advertisement said: "All seats are ocean view." Yeah, not so much.
We were greeted by a seagull who wanted to get all up in our business. He was kind of funny, so he didn't bother us too much. Thomas even wanted to pose with the seagull. I called him "Buff." He seemed like a combination between our dog Beau and our duck Duff, so Buff seemed appropriate.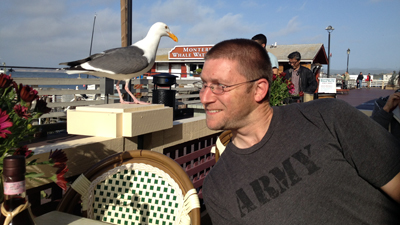 I ordered a margarita. Between tired legs and nerves, I thought it was necessary. And I didn't drink so much it would be detrimental to the run.
And I ordered beef. A steak. I usually order chicken. Or something lean.
But something caught my eye on the menu.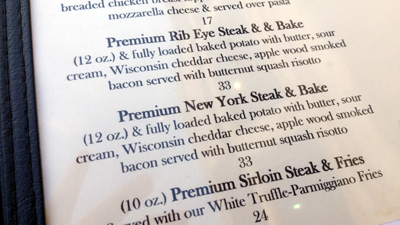 Rib Eye with a baked potato. And butternut squash risotto. Yes please.
It was delicious.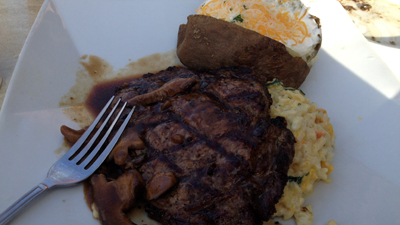 Then we walked the beach for a little bit and headed back to the hotel.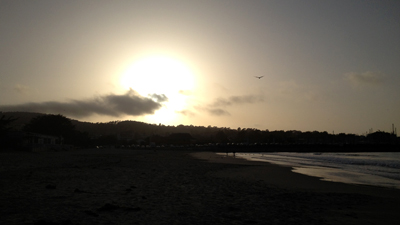 It was such a beautiful day. The wharf was close to our motel. The dinner was good. Overall, a nice night. We went back to the motel and ate the chocolate and I drank a lot of water. No Diet Coke even. Too bad that didn't help me fall asleep.
Then I did what I typically do the night before a run.
I put everything out to make getting ready in the morning, at this point 3 a.m., easy for the next morning.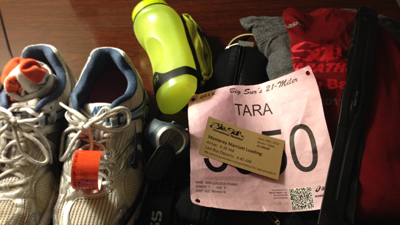 I put my head down at 9 p.m. I thought I'd fall asleep fast based on the fact that I was tired from the drive and seemed to be drowsy. I took a couple Ibuprofens because of a slight headache and laid down. Thomas watched television for a while then went and hung out in the bathroom to let me sleep. He watched Netflix in the bathroom. See, a patient man.
At 10 p.m. I looked at the clock. I still wasn't sleeping. I tossed and turned. I took another Ibuprofen. I couldn't sleep. Thomas crawled in bed sometime after 11 p.m. and I kept falling asleep a little, then waking up.
I must have collectively slept for two hours when I looked at my phone and noticed it said 2:52 a.m.
I'm up, I thought. Let's do this.
And with two hours of sleep and the headache that didn't seem to be disappearing, I started getting ready for my longest and most difficult training run ever.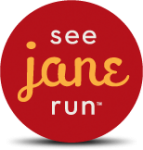 Run with me!
Save 25 percent all See Jane Run races, including the June 21 San Francisco Bay Area run, by using the code SJRAMB243. Use the code to also save 10 percent on online store discounts at seejanerun.com.