Meet me Monday: Keep it all in perspective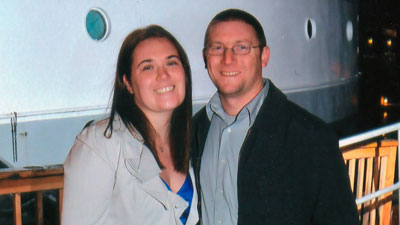 I'm allowed to diverge from running every once in awhile on this blog. After all, it's kind of about all aspects of my life, but mainly focusing on running.
Yesterday, after a morning five-mile run and a long blog post about staying warm and keeping safe, I ditched my Nike Equalons and running capris and put on a satin blue dress, nylons and patent black leather shoes. I put in contacts and did my makeup. All of these thing are incredibly rare for me.
I "got pretty" because my husband and I were heading to San Francisco for a three-hour dinner/dance cruise aboard the Hornblower California. I had booked the cruise as a Christmas present for Thomas. It was to celebrate our 10-year anniversary of being together.
We have a different wedding anniversary. But we've continued to celebrate our "other" anniversary for the past four times it's come up. I consider it our real "anniversary."
It was an amazing night. We arrived to spectacular views of the San Francisco-Oakland Bay Bridge.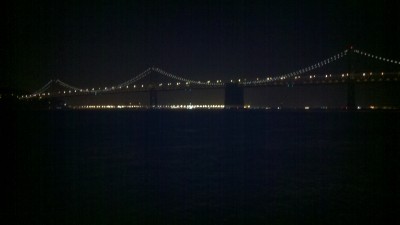 We boarded and were seated at our private table. I'd upgraded us to a "celebration package" with a bottle of champagne, two beautiful blue commemorative champagne flutes and a couple boxes of truffles.
We had a beautiful four-course meal. Both of us had chicken.
We spent some time on the decks to take in views of Angel Island and the Golden Gate Bridge. We ate dessert as we passed under the Bay Bridge before heading back to port.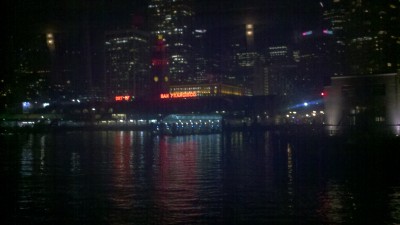 Except it was the "ort of San Francisco" on Saturday night when we cruised.
We had an amazing time.
But, it also served to remind me that there is much more to life than running. There is more than marathon training. There is more than cross training. I wanted to lose the weight partially for my husband. He deserved a slimmer wife. But he never cared either way.
He's stayed by my side for 10 years, through thick and thin. I've only been running for two years.
He takes me to most of my races. He's there at the finish line. He doesn't see my failures if I don't make it all the way on a long training run. He rejoices in my successful moments.
He helps me stay balanced. He keeps everything in perspective. He's good like that. And, for one night we enjoyed dinner without thinking about the calories or how it would effect my morning run. I'm not even bother that I decided not to run at all today. He had a good time. We had a good time. Sometimes that's more important than a run.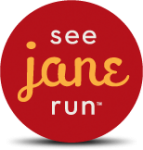 Run with me!
Save 25 percent all See Jane Run races, including the June 21 San Francisco Bay Area run, by using the code SJRAMB243. Use the code to also save 10 percent on online store discounts at seejanerun.com.