Meet me Monday: My husband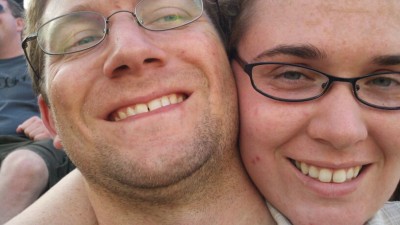 It's cheesy, yes, but my husband is my biggest fan. He doesn't care that I'm not a ridiculously fast runner. He doesn't care that I rarely, if ever, place. And he rarely complains about waking up early to take me to a race.
In fact, he often takes me and my friends to races and then finds something to do for the 3+ hours we are waiting in corrals, running the race and then finding our way back to where we need to be.
When I woke up with my head spinning and feeling faint on Sunday morning, he tried to encourage me to go run. But ultimately he comforted me when I decided I didn't have my third half marathon for the month in me. My body was battered. My legs were tired. I have bruises all over my back and shins from rolling and massage. I'm generally just beat up lately.
And yesterday, after I was bummed because I didn't run and I didn't get my miles in, he cheered me up at a concert we had planned to go to for more than a month beforehand. By the way, Mumford & Sons, Eddie Vedder, Beck, Carlos Santana, Foo Fighters and Tony Bennett topped off with Dave Matthews and Tim Reynolds makes for just about the best concert ever. Sound too good to be true? That's the Bridge School Benefit.
My husband is good at being a "runner's husband." He brings me my bag (even if it's bright pink/red) and a change of clothes at the end of a race. He lets me have my moment with my medal. He even doesn't laugh at me for wearing it all day long on the couch when I get home.
And he embraces my cheesy moments. When I got my first personalized bib at the San Francisco Marathon's 2nd Half Marathon in July, he thought it was cute that I was so excited. It's still my only personalized bib to date and really, come on, that's pretty special.
He doesn't care that at the end of a race I smell horrible or that I'm slightly cranky if I don't get some sort of food pronto. He's embraced this whole running thing better than I could have ever expected.
He didn't marry a runner. I kind of morphed into one after we got married.
He gets excited about it because I do. And that's pretty awesome. Especially because there's nothing better than someone you lovely waiting for you at the finish line.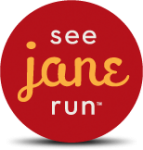 Run with me!
Save 25 percent all See Jane Run races, including the June 21 San Francisco Bay Area run, by using the code SJRAMB243. Use the code to also save 10 percent on online store discounts at seejanerun.com.