Sending my husband to See Jane Run packet pickup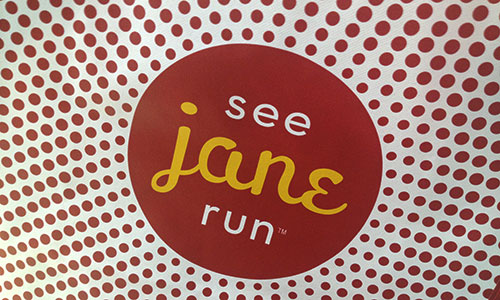 I've had an incredibly busy week. We made last weekend a long one, adding the extra day at Six Flags Magic Mountain. Then I came back to a 10-hour work day to catch up on my freelance assignments. Yesterday, my boss for freelance left for a well-deserved vacation. She left me a ridiculously long to do list.
My anxiety is a little off the charts right now. But I'm trying to handle it.
My biggest concern was the See Jane Run expo happening this week. This race, unlike many of the ones I've run lately, is on a Saturday. It's nice because it gets my long run done at the beginning of the weekend. But there's no Saturday expo, either.
I spent all Wednesday trying to figure out when I'd have a free moment. Then I realized my husband worked incredibly close to the packet pickup area. So I politely asked him to brave the expo and pick up my race packet.
I have to say, I was a little nervous. I kept expecting a phone call. It never came. He brought home my race packet perfectly tonight. I was worried he didn't grab my chip, but it was on the back on my race bib.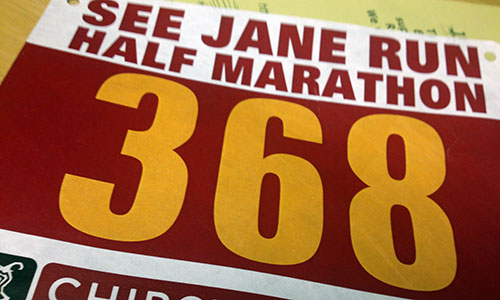 The race, which includes Chipotle as a sponsor, includes a coupon for a buy one, get one deal at the restaurant. It also has the amazing "champagne glass" ticket at the bottom ready for me to claim my chocolate and champagne after the race (I'm so very excited for that!).
Plus, the race packet actually came in an incredibly cute back with the See Jane Run manifesto on it.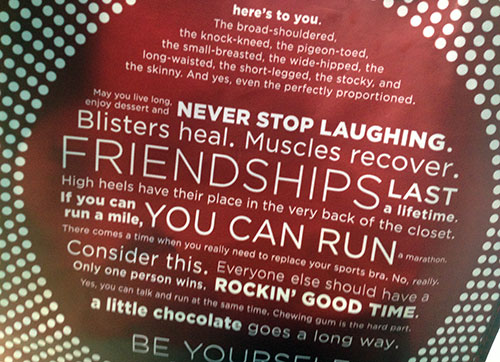 It's a good size too, one that I'll definitely use for lugging around things. I'm a big fan of reusable bags. I have quite a few little backpacks from Rock 'n' Roll series runs. I also have some reusable backpacks from the past two marathons I've run. But this bag is not only functional, it's also cute.
I'll definitely be using it a lot.
The best part of my packet?
The race shirt!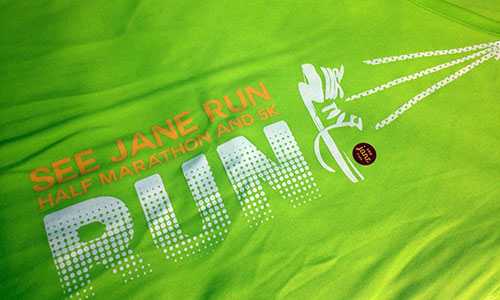 I LOVE the shirt design and color. I've always been a fan of my bright race shirts, but this one is perfect for running in the evenings around town. (I'd rather wear something bright, because people tend to pretend like they can't see me, even though I made myself pretty visible.)
Words cannot express how excited I am about this race. I know that barring nothing horrendous happening on the course, I will definitely do better than my 2:42 time from 2011. If my recent races are any indication, I also know that I'll have a good time while pushing myself hard. That part of running is all new for me.
This is also my last long run before the San Francisco Marathon, which I'm excited to finally get to as well.
Lots of amazing things have happened in my running life lately. And I know See Jane Run will be another chapter in that.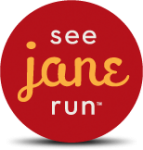 Run with me!
Save 25 percent all See Jane Run races, including the June 21 San Francisco Bay Area run, by using the code SJRAMB243. Use the code to also save 10 percent on online store discounts at seejanerun.com.