A nice retreat at the Nike Expotique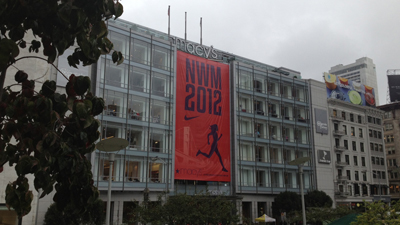 I mentioned in a previous post how excited I am about the Nike Women's Half Marathon. It's a huge race. There are more than 25,000 women running for the same cause. It's all about female empowerment. And it's fun. There was nowhere along the race path last year that I wasn't having an amazing time.
I'll admit, though, I was reluctant to sign up this year. It's a lot of money. Getting in is also pretty difficult. There's a lottery system. Nothing is guaranteed.
And yet, I got in. I was thrilled when I got the email earlier this year.
So I've been anxiously awaiting this race weekend. When I got the reservation for the LunarGlides, I immediately took the day off so that I'd be able to spend a lot of time at the expo and in San Francisco.
I headed to the city around 11 a.m. on Thursday. I venture over on BART, a public transit train system in our area. It's about a 40-minute ride from the station I board at to near the expo site.
It took forever to find parking. I had to go to three garages. So I was ridiculously hungry when I got to San Francisco.
First stop, the mall. For food.
There's a great pasta/pizza place there with thin crust pizzas. I ordered one and ate like there was no tomorrow.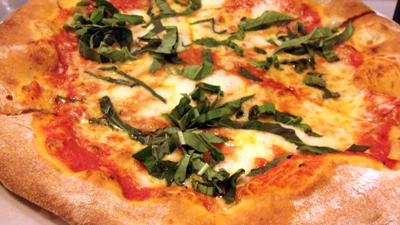 It was amazing. The cheese was perfect. The flavors were amazing. Then again, I was really hungry. I actually was able to eat before the lunch rush. Then I walked around for a couple hours at the mall.
I even found a pair of shoes I'd been looking to buy for awhile (Cognac-colored flats).
There are very few stores where I live and not many that sell inexpensive clothes. So whenever I make the trek to San Francisco, I usually visit H&M and some other places that specialize in low cost, fashionable clothes.
I decided it was time to head to Union Square after a couple hours. It was a quick five-minute walk up the street. When I got there, I was greeted by the purple Nike tent.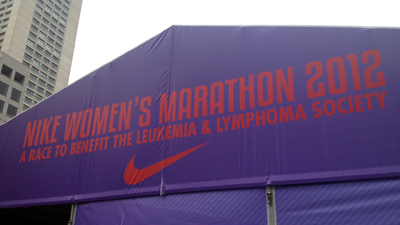 There was hardly anyone at the expo, as it had only opened a couple hours before. So I headed to the first person with her hand up. Checking in was easy. And she didn't even check my identification. (For all that Nike preaches about not allowing other people to run in the place of another, I thought that was a little weird.)
The volunteer's scanner wasn't working, so she manually entered my number. I was handed my Nike+ volt-colored bag and basically sent on my way. Actually, I got something new this year too.

It's a pace band. After last year's disaster of a start line, which I'm told happens every year, I was glad when I was handed this band. I'm not the fastest, obviously, but I also don't want to be behind a sea of walkers. We'll see if this brings any change.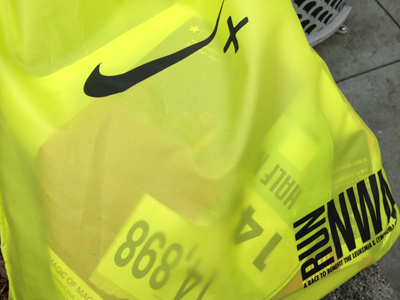 The bag is pretty nice too. Definitely something I'll reuse. I'm not big into bag check. Usually I just take what I need with me and my husband brings me a bag at the end. (I have another new one in my ongoing quest to get him to actually bring me a bag, it's another one from Lululemon I'll post about later.)
Then I checked out the expo.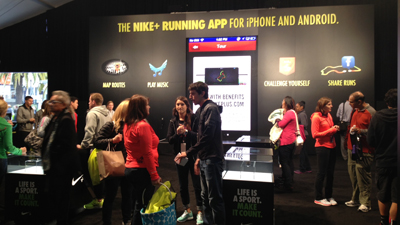 There's always a lot going on at the expo, but not in a regular sense. People complain about not being able to sign up for other races or visit other vendors, but I think it actually works out for Nike. It's a big brand. Plus, I'm often tempted to buy  a few to many gear items I definitely don't need.
This year, I was tempted by the sports bras.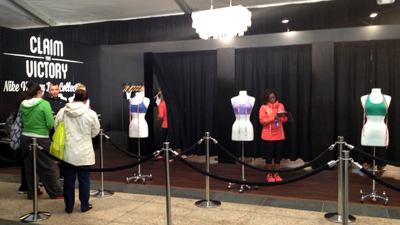 I briefly chatted with the saleswoman, but decided I probably already had as many sports bras as I could handle right now. I know you are supposed to replace them every six months. I have a few that aren't even that old.
I checked out the Neutrogena booth, where they were giving away free samples. I drank some Nuun. I got some coupons for Safeway. I also watched a runner have their gait checked out. A lot happening in a small area.
Then, I headed to Nike Town.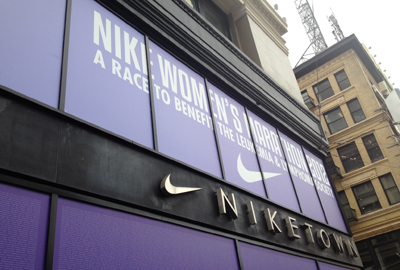 I was specifically excited for one thing there this year: Seeing my name on the wall.
And this time, it was there. Last year, because I gained late entry, I was too late to have my name included.
I was so excited to see it in purple.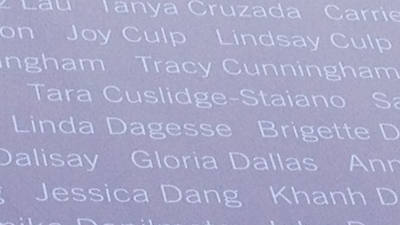 And here's the point where I go a little crazy. The same thing happened last year. I normally limit my expo spending in any area to a set amount. For some reason, I can't see to do that at Nike.
I was already purchasing the $150 limited edition LunarGlides.
Then I started looking around. This year there was more half marathon specific items.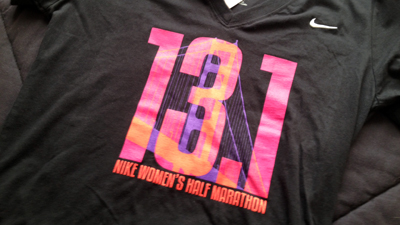 I found a new cotton shirt for everyday wear. I have a gray one just like this from last year that I love.
Then I picked up a new tech shirt for running.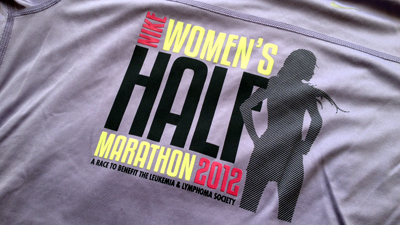 And since it's getting to be cooler outside (seriously, I went from wearing T-shirts and needing the air conditioner two weeks ago to sitting here typing this with a long-sleeved shirt and wearing socks), I justified buying a new long-sleeve pullover to run in.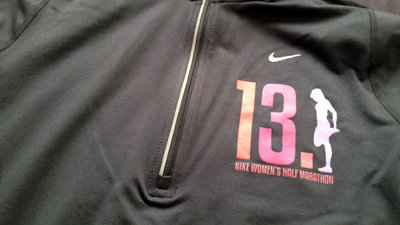 That's the front, which is pretty basic but still pretty awesome. I'm really, though, in love with the back.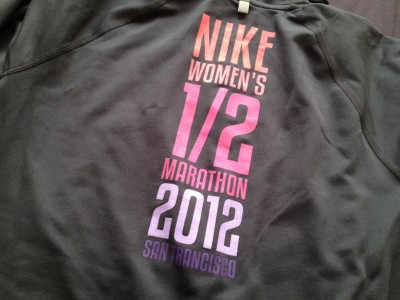 I love the ombre-inspired color pattern going down the back. Plus, as I mentioned in previous posts, I'm a fan of good design. This long-sleeve is really well designed.
See how I went a little crazy? Yes. I actually saved up a good amount of money to not break the bank this time, like I did last year.
Then, just for good measure, I figured I would pick up a hat too. I run with them from time to time, especially when it rains.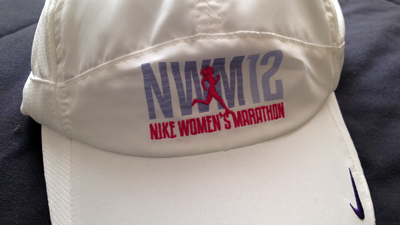 Because I really needed something else. To say this is why Nike doesn't allow other vendors at the expo would likely be an understatement. They want you to come spend money, lots of money, at the NikeTown store. And that's what most people do. It's always ridiculously busy in there, some women buy shirts upon shirts upon shirts.
Some likely also buy enough stuff to sell it on eBay. (An off note, I saw a pair of the Nike LunarGlides posted as an eBay link  on the Nike Women's Marathon Facebook page. That was a little disgusting. I'm glad Nike removed it.)
I had to wait a couple hours to pick up my shoes, so I headed back out to do some more shopping.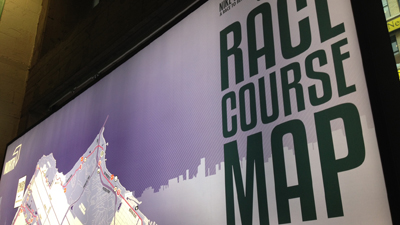 The lobby to NikeTown has maps of the course and huge images reflecting the marathon themes. It's pretty inspiring.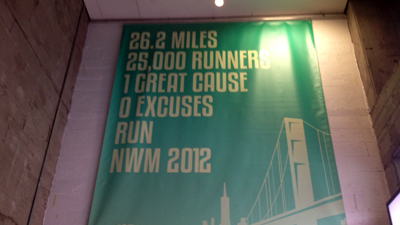 So many photos, right? I get a little blog happy at this expo. Seriously, I'm probably more excited to write about this half marathon than any other one I do. I'm even usually more excited to run it. I'm REALLY looking forward to tomorrow.
Since they let me pick up my shoes at 4 p.m., I went back to the mall where I was going to wait until my husband told me to head back to the East Bay. I figured I'd hitch a ride back with him to my car. So I decided to go back to my favorite pasta place and order the best Italian dish ever.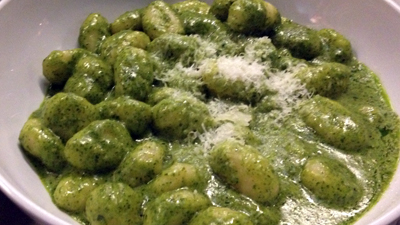 Pesto gnocchi is amazing. I also had a small Caesar salad as well. It was all delicious. By the time I finished eating I was so tired. I walked around a little bit more and decided that I needed cupcakes. Because I always need cupcakes.
Always.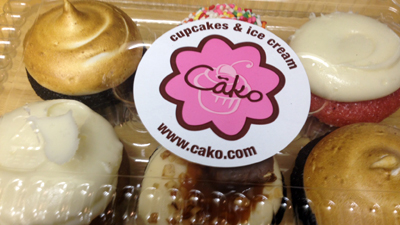 Yes. I got six. I'm not ashamed. They are delicious. And the booth is right next to the BART entrance to head back home for me.
About an hour later, my husband and I talked and decided I should just start heading back to the valley. I hopped on the first train and started my journey.
My trip home wasn't nearly as fulfilling as my time in San Francisco. My car started overheating. My husband, who was supposed to go out of town today, is now in our garage trying to figure out what's wrong with it. He's already replaced the thermostat. That's the fourth time in the 10 years I've owned my car the thermostat has been replaced.
I did, finally, get to look through my "goody bag" from the expo.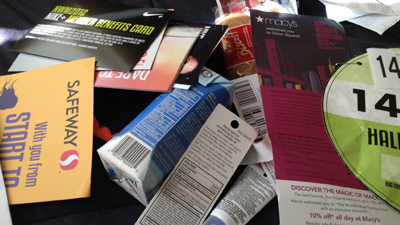 There was a lot of great stuff in it, including lip moisturizer, coconut water, Somersaults Snacks and cookies. This was actually a bag filled with good stuff. Compared to other bags, this one is probably the definition of an actual "goody bag."
Today I'm taking it easy. I slept with compression socks last night. I'm worried because my legs have been incredibly fatigued in recent days. And my half marathon experience last week was brutal.
So I'm nervous about tomorrow. But I'm also incredibly excited about being able to run with lots of other woman who will inspire me along the way. I'm counting down the hours.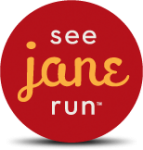 Run with me!
Save 25 percent all See Jane Run races, including the June 21 San Francisco Bay Area run, by using the code SJRAMB243. Use the code to also save 10 percent on online store discounts at seejanerun.com.