Catching up (+ the San Francisco Marathon expo)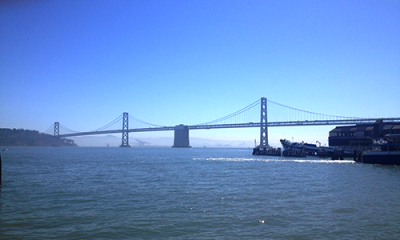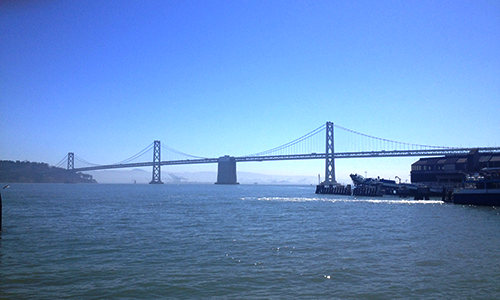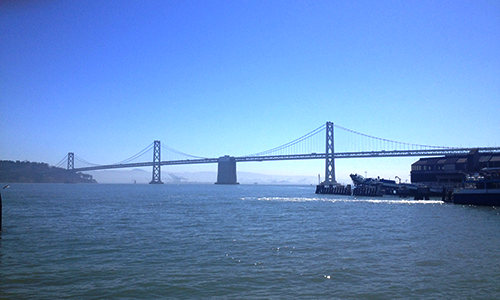 So … my blog had a major issue this past weekend. I spent Friday-Monday trying to get it restored. It took a call, several support tickets and a bunch of anguish on my part to bring it back. I lost one of my personally managed sites in the process. It was all sorts of sadness for me, especially because I truly thought I'd lost my daughter's birth story (even though I had backed up the database).
In the time my site was down, I made my not-so-triumphant return to half marathoning.
On Saturday, I ran the 2nd Half Marathon of the San Francisco Marathon. On a course where I ran a 2:32 something in 2011, I barely pulled it together to run a 2:47:14.
It's not my worst half, but it wasn't my best.
I only had two goals, though:
Don't pass out or die on the side of the road somewhere and have to call my husband, who would then have to drag the baby from wherever he was, to come get me.
Finish
Goals accomplished.
I'll actually do a race report. This post is about the expo, which was moved from the Design District in San Francisco, which I wasn't really a fan of, to Fort Mason, which is right down the road from Pier 39, the Aquatic Park and Ghirardelli Square.
Being that I had run the path numerous times, and after checking my route, I decided to run from BART.
But first for some background: My husband has every other Friday from work off. July 25 was his Friday off. So I figured he could watch baby girl while I made a "quick trip" to San Francisco. I live 59 miles from San Francisco, which isn't a huge distance. But there is no such thing as a "quick trip" to the city. Because parking sucks. And I have to take the train to get in and get out. So it basically takes the entire day to get in and out.
So I pre-bought a parking permit, got to the train station at 10 a.m., got on the train, got to San Francisco, got off the train, and enjoyed a beautiful run along the Embarcadero.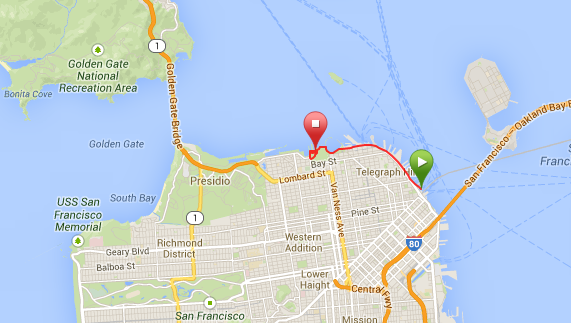 That's my route in comparison to the city. Since San Francisco is a seven-mile by seven-mile grid, a three mile run gets you pretty far.
Except I thought it was a two mile run. And I didn't anticipate it would be so sunny in the city. So I ended up at Fort Mason with a horrible sunburn, waiting for the expo to open at noon for about 20 minutes.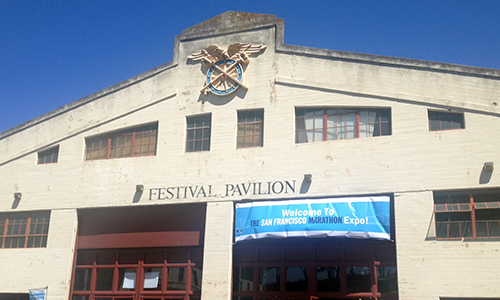 The expo was kind of tucked away, down a hill. I ran along the back of Fort Mason, so I didn't take a long staircase down to the building. I was probably the 100th person inside the expo. The hall seemed bigger and longer than the previous location. But the bibs and shirts were located all the way at the back of the hall.
I know this was strategic. In previous years, runners had to get those things first THEN go to the expo. I didn't spend a lot of time in this particular expo the past couple years, so I get it. But I didn't spend a lot of time at this one either.
I was there for probably 30 minutes.
Enough time to grab my number, my bag (which were actually clear plastic this year instead of the more durable, reusable ones we've had in previous years), my shirt and get out. I didn't even sample anything.
I kind of had to get home to my baby.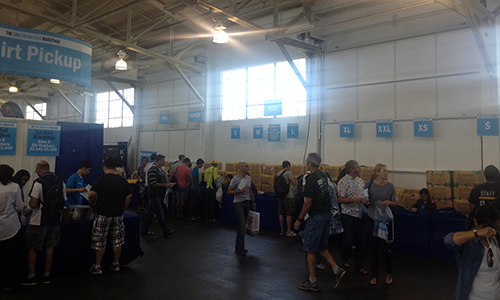 That was the scene less than 20 minutes into the expo. There was a line of probably 1,000 people outside. The signage wasn't too specific, even with numerous signs. The volunteers let me pick up a marathon shirt instead of a half marathon shirt. Then the half marathon shirt volunteers gave me the wrong size.
But, on a good note, the shirts were much, much better than last year's horrible ones (which sucks because I ran the full last year).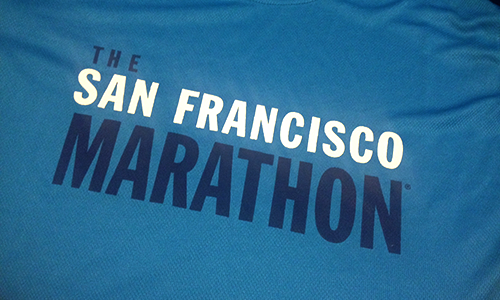 That's the front, which doesn't include the ridiculous sponsor it's had in the past two years. As much as I like races to have sponsors, that huge sponsor symbol was annoying.
The back was equally as nice.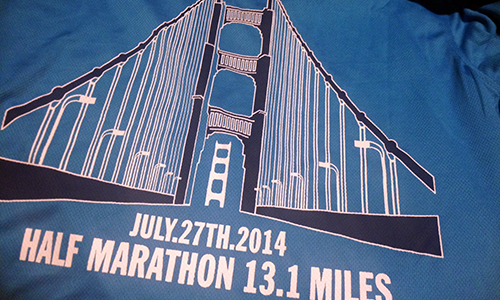 I've never been so glad in my life that I ordered a large size shirt. I normally get mediums because I like the shirts to fit me a little more snugly when I run. Right now I'm still dealing with "belly overhang" which is hid, somewhat nicely, under my running capris, but I'm a but wider than before, so a large fits me just a little bit bigger than I'm normally used to.
The arms are a bit long, though. I'd rather have them long than the short ones from last year.
I was sweaty from running through the city, so I wasn't feeling like browsing much. And I really just wanted to get home and get on the train to beat rush-hour traffic.
I did check out the Reva sportswear area.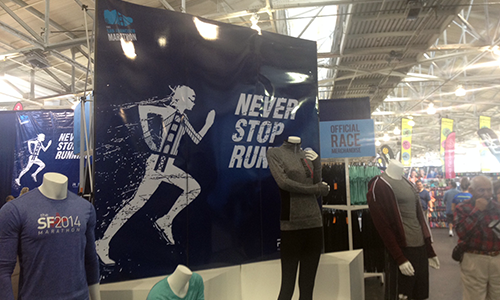 Because of my aforementioned problem with some of my running shirts, I also opted to buy another long-sleeved shirt. It's blazing hot outside right now, with humidity high, but I'm also trying to plan my winter running as that's when I'm going to be cranking up my mileage.
I found this half marathon specific one that I loved.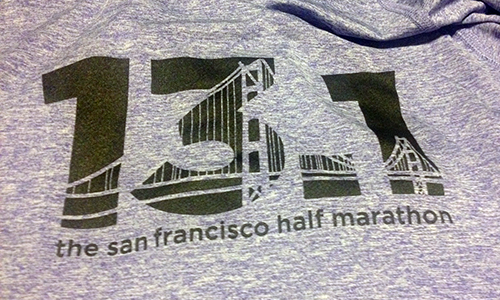 So I bought it. Even though I probably didn't really need it. I figure I can wear it to run the Big Sur Half Marathon, which I FINALLY registered for, this November.
It fits well. I wore it for part of the run on Sunday.
And that was it. I was ready to leave the expo. I had planned on running back to the train, but after I ran three miles there and knew I had a sunburn, and failed to bring sunscreen in my running backpack, I opted to hop on the bus back to the host hotel where the marathon was shuttling runners.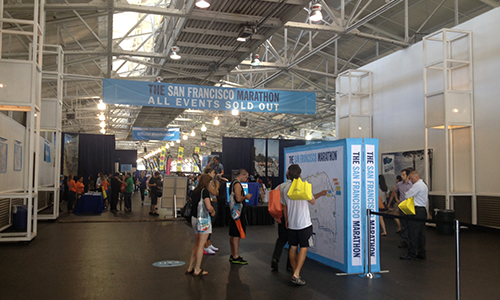 On the ride, I met the 1:45 half marathon pacer, a guy named Don. We talked about running, shoes and races. I love that runners are always so sociable with each other. It made me feel good about "coming back."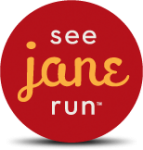 Run with me!
Save 25 percent all See Jane Run races, including the June 21 San Francisco Bay Area run, by using the code SJRAMB243. Use the code to also save 10 percent on online store discounts at seejanerun.com.