A quick trip to San Francisco (and race shirts gone awry)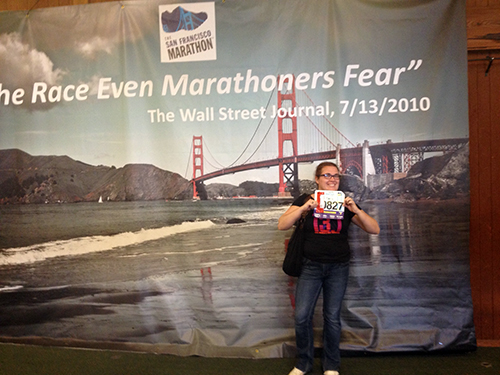 My husband accompanied me for a very quick trip to San Francisco today to pick up race packet for Sunday's 26.2. I mean quick. We weren't even in the expo for an hour. We were trying to get into the city and back home before all the Bay Area rush-hour traffic hit. The good news is that we were successful.
First off: Why did I sign up for a marathon that marathoners fear? Am I that crazy? The answer is yes.
I'm kind of over expos. I've been to a lot of them in the past couple months. I'm just tired. I've purchased what I've needed to at other ones recently.
I usually make a day of my trip to the San Francisco Marathon expo. This year I've just been too busy and too exhausted to make that happen. So I settled for the speedy trip.
The expo was larger this year, occupying the whole San Francisco Concourse Exhibition Center. The past two years runners have entered on the complete opposite side. This year, I was a little confused with the address and directions.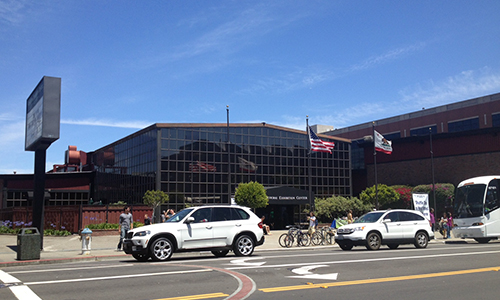 It was like a completely new place.
First things first, we headed to bib pickup. Except I went where it said "1st Half" and "Marathon." But it was actually "1st Half Marathon," the run that I did last year. When I asked where my bib number pickup was, the volunteer told me to "go ask the service desk."
Yeah … all she had to do was point me across the aisle where the full marathon bibs were.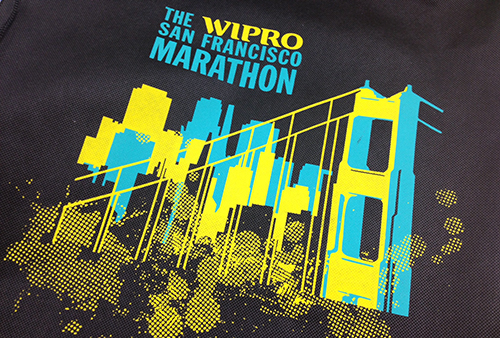 I was handed by "swag bag." Unlike the Rock 'n' Roll series races, these bags actually change every year. The first year it was four racing shoes on a bag. Last year, the bag commemorated the 75th Anniversary of the Golden Gate Bridge. This year, it's a nice homage to the San Francisco-Oakland Bay Bridge.
We then headed to the shirt booth.
And things got a little weird.
The shirts look just like the bags and are nicely designed. I actually love them more than the half marathon ones last year, which had the corporate sponsor emblazoned across the chest. I kind of hate that. These are much more simple.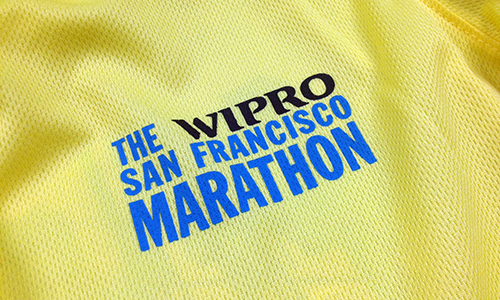 The front includes a smaller logo on the left-hand side. Yellow is obviously the color for the full marathon this year.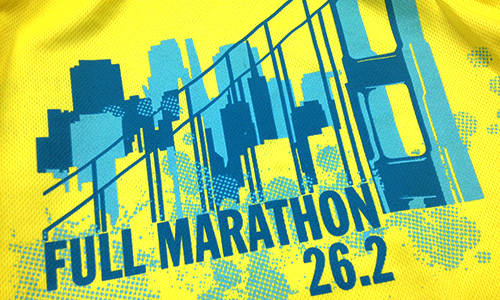 Maybe it's just me, but when you write "26.2" on a shirt, it's kind of implied that it's the "full marathon." I'm not actually as hung up with that about these shirts. Almost immediately, the people around me started talking about the race shirts. Right at the booth.
"You've got to be kidding me," I heard a woman say before I even looked at the shirt.
I turned toward her. I'm sure I looked concerned.
"This is just bad," she added later.
Then I saw it.
The sleeves were really short. I looked at my size medium shirt. I realized there was no way it would fit across my torso. I've asked for mediums for the past two years from the San Francisco Marathon. Both times I had no issues with fit. I still wear my 2011 half marathon one a lot.
I know I'm not supposed to, but I immediately went back and asked to exchange.
"There's no way this will fit me," I said. The volunteer sympathized. She probably shouldn't have. I'm sure there will be people in the next few days that won't get their size large shirts because of people like me, but I could make fit half my torso in that shirt. I thought she'd handed me a small. So did my husband.
The large fit me better, except for in the sleeves.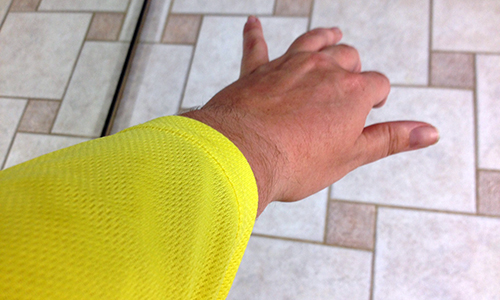 Well. OK. Smallish.
It couldn't be that bad, though, right? I put it on when I got home and realized it was more of a 3/4 length sleeve than a full sleeve.
Then I compared it to past race shirts.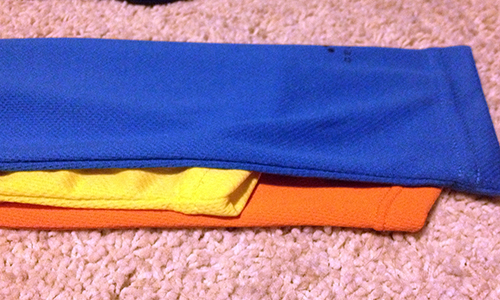 Hello short sleeves! I'm pretty sure this is a good compromise actually. Some people want long sleeves. Others want short. This one hits somewhere in the middle.
People on the San Francisco Marathon Facebook page are complaining about the "boxy" cut of the shirt. I didn't notice that so much. Instead, I noticed the smaller-than-usual head hole, which is bad for me because I have a large head.
The sizing, though, is similar.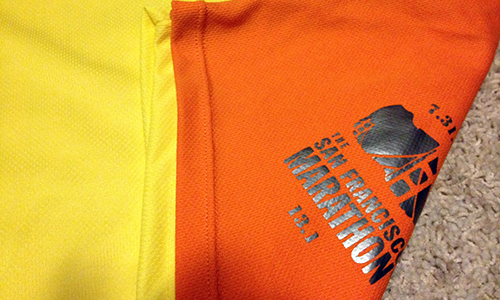 The shirt from 2011 is about the same length. Folded over it shows a difference, but it is really about the same length. I don't mind the length. I have a longer torso, so most race shirts don't fit me too well. That's why I like the longer Lululemon shirts as an under layer.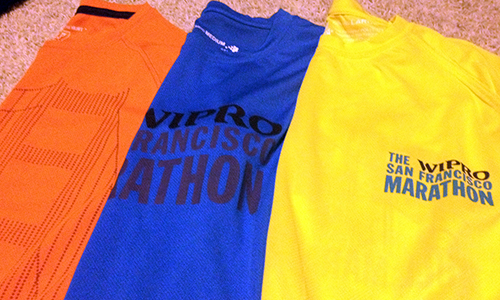 As for quality, the shirts are similar quality. I think last year's shirt, with the nice screen printing, looked and felt nicer, but it's essentially the same fabric. I actually think the yellow is maybe just a tad more lightweight.
I've said this before, and I'll say it now: Race shirts divide people. Pretty significantly.
And the race shirts at this race, one of the biggest runs I do, have divided people repeatedly over the past three years. The first year people complained about the dark grey used on the marathon shirts (Too dark! I can't see the design!) and the half marathon shirts (I hate orange! I don't like the words on the sleeve!). In 2012, people complained about the corporate logo (I hate brands across my chest!) or the color (Why Blue? That's so boring!).
There's always something. You can't make everyone happy. That said, I do like the design this year. And I don't necessarily mind if the sleeves are short because I like to roll them up anyway.
That said, I only really had three goals when I went to the San Francisco Marathon expo today.
Pick up my race packet.
Check my status for the "52 Club."
Register for the Berkeley Half Marathon.
I took care of the race packet. Then I turned around and checked out the "52 Club" booth. I wanted to confirm that my name was on the list so when I finished the marathon, I'd be entitled to the "52 Club" sweatshirt.
I admit, I ran the first year for fun. The second year for the Half-It-All bling. And this year for the sweatshirt.
I didn't expect to be handed the sweatshirt BEFORE finishing the race. But the nice guy at the booth handed it right over to me.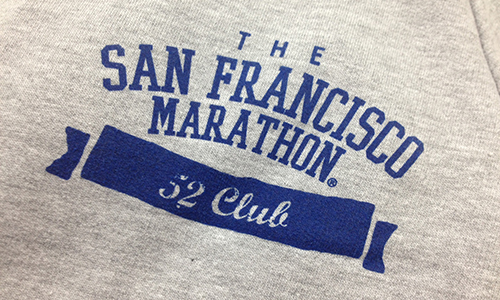 That makes me even more nervous about running on this slightly battered leg. I'm already not sure I'm going to be able to make it through. When he handed me the sweatshirt, I kind of wanted to refuse it. I haven't exactly earned it yet.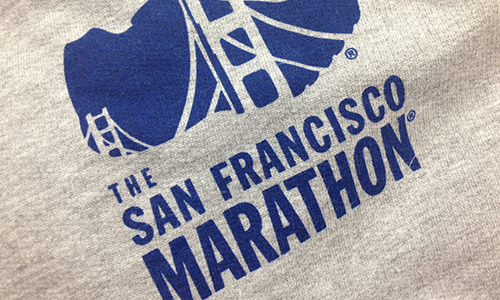 That's the logo on the back of it. It's pretty inconspicuous. But I kind of love it. It makes me really eager to finish the full marathon. On my gimp leg and all.
The third goal was to register for the brand new Berkeley Half Marathon. Registration opened for it today. At the expo, it was 20% off the $65 price. It came to $55 for a single registration. That's a steal for a half marathon. I was able to sign both Sam and I up for the half marathon. It's Nov. 24, the Sunday before Thanksgiving.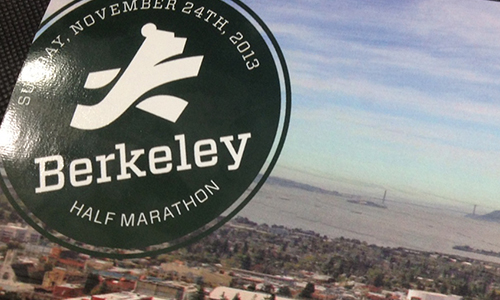 I'm really, really excited about this race. I love the Oakland Half Marathon. It was my first half marathon in 2011. It's one of my favorites. I've run it now three times. I signed up for it because I love the community of Oakland. I lived there for two years while I was in graduate school. I went to graduate school at University of California, Berkeley.
So Berkeley represents just as much to me. So I was excited when I saw the announcement posted on the San Francisco Marathon's Facebook page. I'm so excited that I decided to sign up even though I was hoping my race season would be done in October. I have a lot going on in the later part of the year, including being a bridesmaid in a friend's wedding.
But now I'm registered to run Berkeley.
So I, essentially, accomplished everything I set out to do on Friday.
Now all I have to do is run the 26.2 miles. For the first time in a long time, I'm really nervous. It's not just the 13.1 I've been running in recent weeks. It's twice the distance. On a still bothered leg. I'm hoping for the best.
But I'm also crossing my fingers for a good race, a sub six-hour finish and an amazing run.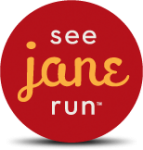 Run with me!
Save 25 percent all See Jane Run races, including the June 21 San Francisco Bay Area run, by using the code SJRAMB243. Use the code to also save 10 percent on online store discounts at seejanerun.com.