The long road back at the San Francisco 2nd Half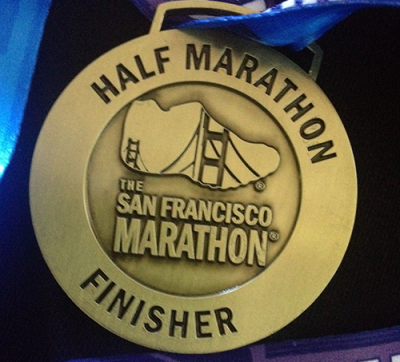 I told myself after I ran the Oakland Half Marathon in 2011 that once I finished I'd have at least one thing going for me: I would never have to run my first half marathon again.
Fast forward to July 27, 2014.
I felt as if I was running my first half marathon all over again. But without the appropriate training this time. And without the stamina and core support. Basically I was running my first half marathon as if I just woke up one morning and said: "Today is a good day to run 13.1 miles."
In reality, I should have waited.
But at least I finished.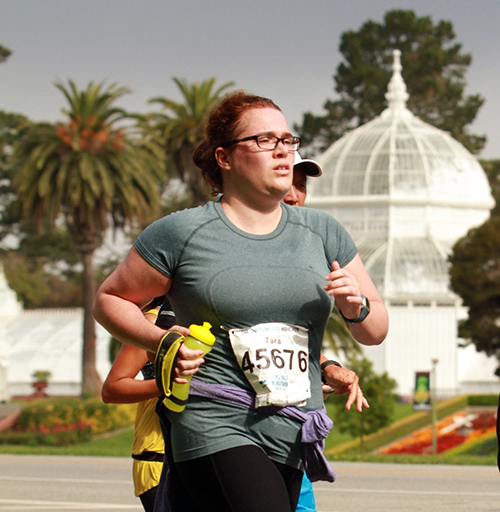 Ahhh, the early miles in Golden Gate Park where I was already falling apart. Can't you see it in my face?
The morning started off well enough. We woke up on time. The baby's bag was already ready. It took me about 45 minutes to get ready. We were out the door at a decent time for the hour-ish journey to San Francisco for my drop off point.
I tried to take a nap in the car and kind of did as my daughter fell asleep in her car seat. When I woke up, I realized my husband was taking a new route into the city. I looked at the time. I realized where we were and I had a moment of panic.
We weren't going to make it.
It had been nine months since my last race and I realized my husband may have forgot how to be a race husband. By the time he got me to Golden Gate Park, he was on the wrong side of the end of the 1st Half Marathon. And, well, we were about eight blocks from the start.
With less than 15 minutes to my corral start, I had no choice but to run to the start, going right through the first half marathoners, and gunning it to the area where I was supposed to be about two minutes before my start time.
Needless to say, I was already slightly warmed up and ready to go by the time we started.
But then it all went downhill.
Actually, it went uphill and that was part of the problem.
Mile 1: 10:32 — This is misleading, the first part of this mile goes downhill, so it wasn't as if I was trying too hard here. So this mile became my fastest. I had taken a Gu before we started after eating a peppermint Luna bar in the car.
Mile 2: 11:54 — This is more like it. The 2nd Half is a tougher course than most regular half marathons. I figured I'd average 12-minute miles. I could feel the incline here. I wasn't ready for it at all. My legs were burning.
Mile 3: 13:21 — My legs were still burning. It was here that I was considering calling Thomas and telling him I was done. I'd had it. There would be no half marathon today. I did a Gu.
Mile 4: 11:49 — This area is one of the most beautiful of this half marathon. It moves around Stow Lake, which seems to go on forever.
Mile 5: 11:13 — Still going around Stow Lake here. My legs were starting to get tired here. I did a Gu.
Mile 6: —12:17 — The Gu wasn't exactly working. In fact, nothing was working. I was exhausted. I think I should have ran a 10K instead.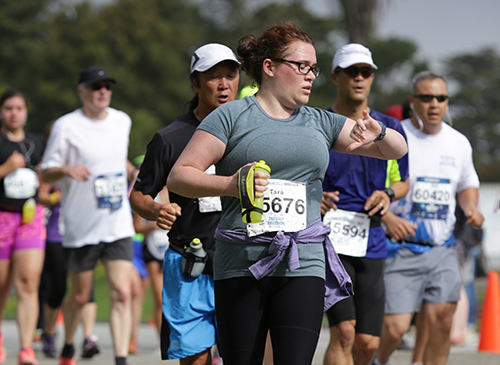 Mile 7: — 14:09 — After getting out of the park, the course runs up Haight Street. It's uphill for a good amount of time. In 2011, I struggled on this part because I suddenly felt as if I had to run to the bathroom. The problem was there is a huge drought of bathrooms along here. The SAME thing happened to me this year. So I was tired and had a stomachache.
Mile 8: 12:19 — Trying to pick it up. This would be my last mile at a decent pace.
Mile 9: 12:56 — My legs hurt. It was getting hot.
Mile 10: 12:44 — I had this "I hit 10! I can finish this thing!" moment just to realize that I had a 5K to go.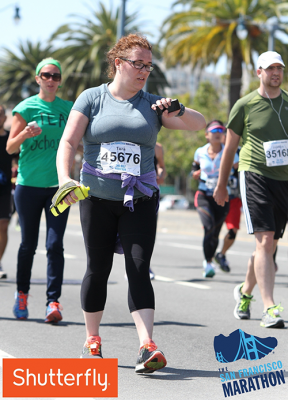 Mile 11: 13: 14 — I'm slogging at this point. My C-section incision started to ache a little. Then I knew I was in trouble.
Mile 12: —14:35 — Walking/running. Exhausted. Warm. Spent. My whole body hurts.
Mile 13: 13:49 — I texted my husband, which I never do. I basically told him I was slow. But I was finishing. I was tired. I needed water. And a nap. And a hug from my baby.
Mile .22: 11:10 — The deception of this race is that you can't actually see the finish, because it's around a corner a little bit, until right at the end. It's kind of a cruel finality of the race.
Garmin time: 2:47:20
Chip time: 2:47:14
That nice image to the right is one of the free ones that the San Francisco Marathon offered this year. All I had to do was "like" a page on Facebook to download them. I love that. I'm only used to that at much smaller races.
I collected my medal, walked through the finish line shoot in mostly a daze, then started looking for my husband. He was near the finish line with baby girl and a beautiful bouquet of sunflowers, my favorite.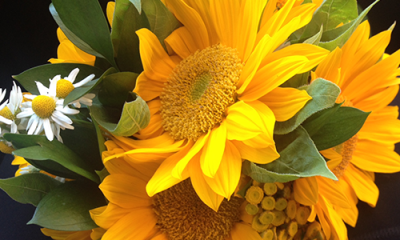 I think it's fair to say I THOUGHT I was ready for this race. I truly wasn't. My total mileage for July was 75. I'm already nearly halfway there for August.
I didn't have the base going in. I felt strong because I'd had some eight and 10 mile runs over the course of four weeks, but not enough constant mileage to feel good running a half marathon.
But I'm glad I went out there and did it, even if the last half of it was a painful memory of blur to me.
To remedy the experience, though, I'm upping my mileage. In the past seven days, I've done a nine-mile run, a five-mile run and a six-mile run. The later two runs were at a faster pace on the treadmill. My goal is to do more mid-length runs, as much as I can, in the coming weeks before the Ventura Half Marathon, which I'm running with one of my best friends.
I don't have a time goal in that specific race because it's my friend's first half marathon. I'll be running with her, though I have a feeling she'll be pacing me at some point.
I kept telling myself that I could do this if I just kept putting one foot in front of the other. But in reality, the 2nd Half Marathon in San Francisco showed me that I have a long way to go to really be "back" to half marathoning.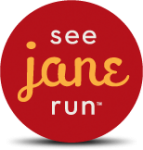 Run with me!
Save 25 percent all See Jane Run races, including the June 21 San Francisco Bay Area run, by using the code SJRAMB243. Use the code to also save 10 percent on online store discounts at seejanerun.com.