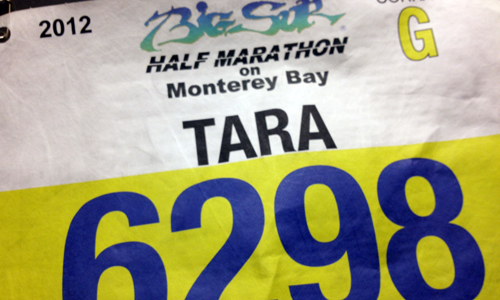 First things first: If ever given the opportunity to run along the coast, any coast, you should. There's something about salty wind blowing on my face, the smell of the water and beauty of the waves cresting on the coastline that's soothing.
I love running in San Francisco for this reason. I love runs along the water nearly anywhere in the Bay Area.
Monterey Bay is a beautiful place to run, only rivaled by the actual Big Sur Marathon which transverses 26.2 miles from Big Sur to Carmel. In April, I ran 21 miles of the marathon as part of the Big Sur 21-miler.
It was shortly after running that I again signed up for the Big Sur Half Marathon onMontereyBay. The course runs 13.1 miles of rolling hills along the bay. Last year, it was dreary, but not cold. It was also more than I was expecting at the time.
I figured the course would be more flat.
Turns out, it's a little more quad pounding than I thought.
In 2011, my finish time was 2:37:41.
It was warmer this year, but my training was also more on par. I did a lot better. I ran a 2:28:27.
It didn't happen my accident. I've trained on inclines more this marathon season. With this run, I feel more ready for California International Marathon in less than two weeks.
My mom and I left on Saturday to head to Monterey Bay. We got to the area at about 2 p.m.and headed straight to the expo.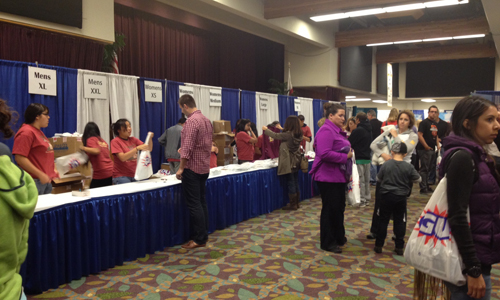 As always, the Big Sur expos are well organized. First bib pick up, then into the vendor area. There were more people in the expo than I expected. Breathe deeply, I thought. We waded through the people to the shirt pick up area.
The 2011 shirts are a nice shade of burgundy. This year, the shirts are a deep purple. They are decorated on both sides, the front celebrating the 10th anniversary (or presentation as the organizers call it), and an image of the Point Sur lighthouse.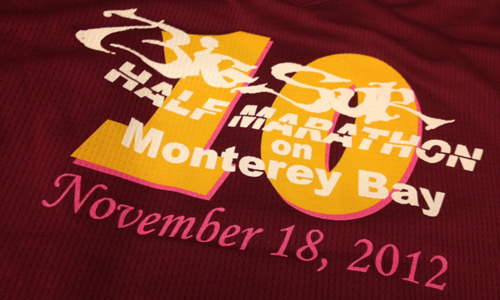 We were handed our Gu-brand bags with the race guide, always filled with great stories, and a poster. My mom found a nice pair of yellow sunglasses at the expo, but I didn't find anything of interest. So we headed out to Fisherman's Wharf to check out some shops before checking into the hotel.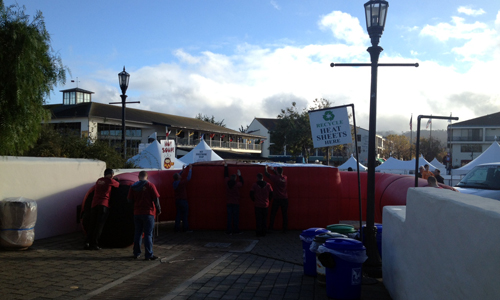 Volunteers were in the middle of setting up the finish-line area when we walked by. The barricades weren't yet up, though. These guys were trying to figure out how to get the Velcro sign attached.
I was starting to feel more comfortable, definitely more so than the previous year. After a cheeseburger at a very noisy sports bar, we headed back to the room where I fell fast asleep rather early.
We went to sleep at about 9 p.m.I woke up at about 5:30 a.m., perfect, I thought.
The great thing about this half is that we stay pretty close to the start line. My mom dropped me off about a half a mile away from the corral area. I walked most the way, then picked it up to run.
It was overcast, but didn't look like rain. Perfect conditions.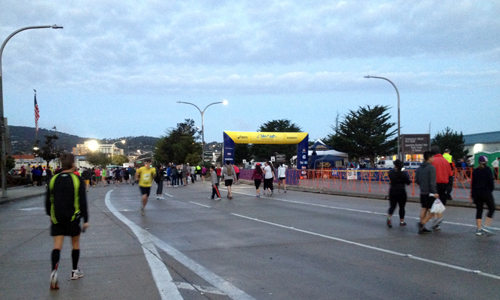 Then I freaked out a little bit, when I saw how many people were around. So…I did something kind of irrational. I waited in a portable toilet line and, once I got in one, hid out for literally 15 minutes while I calmed down.
I want to apologize to the other runners for that one. I know proper toilet etiquette is to get in, get your business done and get going, especially at races. But I couldn't help it. To be fair, a portable toilet is not exactly the place you want to breathe deeply or anything like that. It wasn't perfect, but it worked.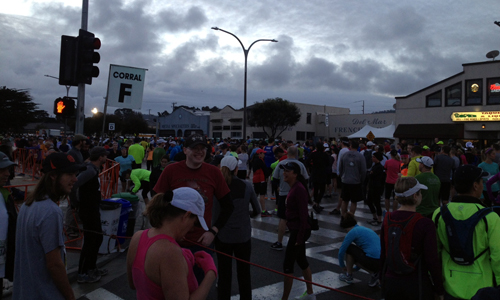 After emerging, I walked through the crowd (tense, trying to keep an arm's length from people, which was actually pretty easy), and headed into Corral G. It was rather spacious in the corral. I actually found a spot in the front, hoping to get out and run faster to get away from people. I guess there's nothing like anxiety to set a course personal record.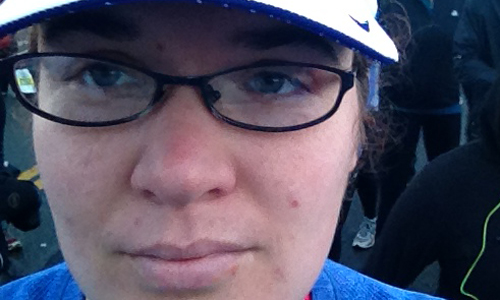 When we started at about 7:15 a.m. I was kind of a ball of nerves. I think that's why I did so well. Instead of concentrating on being anxious, I was trying to just keep running.
It was a pretty consistent run for the most part.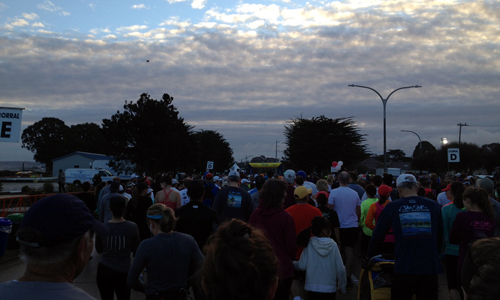 Mile 1: 10:29— I didn't think I was pacing out that fast, but I was. We went out down Del Monte Boulevard, past a little park with paddle boats and over a bridge next to a cemetery. These are things I didn't notice last year.
Mile 2: 11:19 — The first mile of this race seems long, especially considering you've already gone through downtown Monterey by the time you reach mile two. And you've already done the tunnel. The tunnel was hot and muggy. My glasses fogged up and I had to take off both my hat and my long-sleeve shirt.
Mile 3: 11:25— Slowing, uphills here. Gu here.
Mile 4: 11:38— We hit this mark right after the big hill in Pacific Grove. I couldn't believe how amazing I did on it this year, walking fast up about a 20-foot section, but then going into a slow run. This was my slowest mile.
Mile 5: 11:08— Downhill and out toward Asilomar State Beach. Getting the pacing more even now.
Mile 6: 10:48— Gu. I felt I needed it to make sure my legs didn't get tired. I wasn't feeling fatigue quite yet, but I wanted to get ahead of it.
Mile 7: 11:24— Another bit of an uphill here. Slowed, stopped at a water station and walked longer than I wanted to so I could get myself back together.
Mile 8: 11:23— Got out to the turnaround and headed back toward the finish line.
Mile 9: 10:38— Really felt good here. The Gu was propelling me. This is when I started having real issues with my arm chafing.
Mile 10: 11:24— Arm. Chafing. Hell. But I kept on going.
Mile 11: 11:25 — I'm surprised this mile went so well being that the Gatorade cups weren't stocked here and we had to wait for someone to fill a cup. Of course, I was there before three others and kept getting ignored by a volunteer. It happens, but I was annoyed. This is where I finally saw the Vasoline guy too. I grabbed a glob of the stuff and slathered it under both arms. Gu here too.
Mile 12: 11:20— Down back into Cannery Row, my favorite mile because it's the John Steinbeck marked mile. It also marks the last major uphill, which isn't that bad.
Mile 13: 11:34— Pushing at the end. Feeling good and realizing that I'm likely going to do really well in this race.
Mile .27: 2.33 — I look at my Garmin and kick it for the last bit, which ends up being longer than the .1. I'm usually about that much off on each course.
Official chip time: 2:28:27 for 13.1 miles
Garmin time: 2:28:27 for 13.27 miles
I crossed the finish line and was handed my awesome ceramic medal.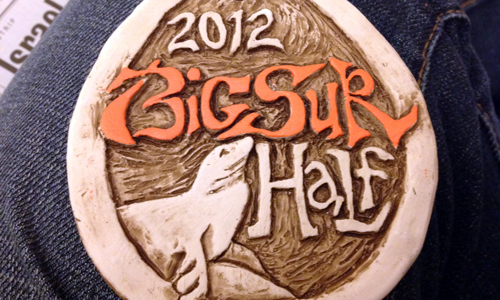 That's a photo of it later, after my shower in the hotel room. After applying a ton of cream under my arms just so I could put on a long-sleeve shirt.
The best part? I felt amazing afterward. Running has been helping me feel better in general, but some days it takes me a lot longer than it should to get up and get going. Once I get past that hurdle, I'm usually good and, even, floating for some time after the run.
In this case, I was floating for the rest of the day.
My mom and I went back to the Wharf and had a little lunch after the hotel. We had a reservation to go whale watching on the bay later.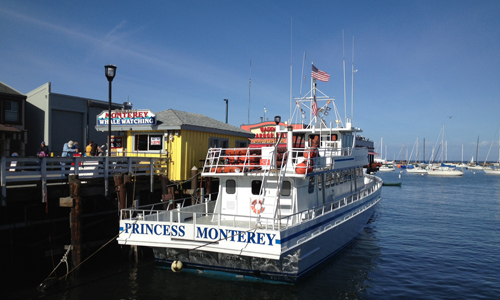 That was our boat. We went out for nearly three hours and saw some awesome humpback whales. What was nice is that there were hardly any other people on the boat. There were maybe 25 of us in total. So there was a lot of space to walk around.
We spent the rest of the day shopping in little stores in the area and checking out the local scene. It was quiet, mainly because it was Sunday afternoon and many people went home right after the race. We stayed the extra night to have a nice dinner and make our way home slower.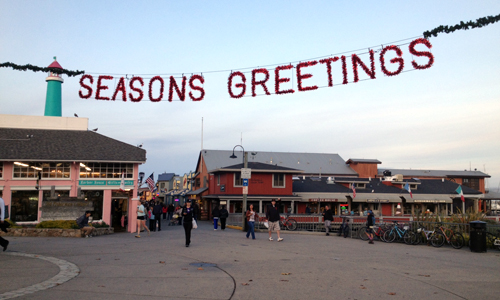 Not a lot of people, which was amazing. That little pink shop on the left is where we spent a good deal of time, checking out all the little knick knacks.
The race was awesome. I stayed hydrated. I loved the experience again. It turned out much better than I expected. I'm glad I didn't decide that I should stay home for this one. I'm glad I gave myself a kick to get out and get going even when I didn't feel as if I would be able to perform at my best.
But I did.
I keep saying that I have moments where I see my old self shining through. I'm trying to build on those moments. How do I get those and keep them? How do I stay "in the moment" and not think about everything else impacting my life. I've mentioned that I thought my personal problems weren't about running.
It's running, though, that's helping me to get through more than anything else.