On the edge of the Western World: Part II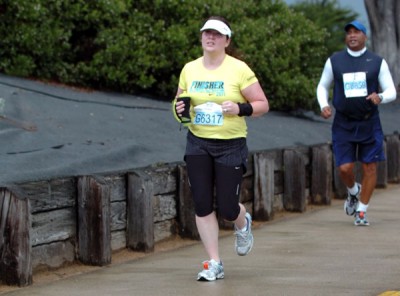 And back to the race report: I started out strong enough in Monterey. I was averaging under 11-minute miles the first two miles. Then things literally went downhill. And uphill. And downhill.
Lots of back and forth on this run. The "flat" course turned out to have lots of rolling hills. It's not that I didn't train for rolling hills. I've been doing some hill work to prepare for the California International Marathon. But I wasn't expecting it.
And so, my own ups and down began.
Mile 1: 10:48  — Started out strong, moving along kind of moving my way through the crowd. Felt good.
Mile 2: 10:51 — Still feeling good, think I'm finding my race pace for the day.
Mile 3:  11:20 — The first significant downhill, which marked the first significant uphill. I slowed down quite a bit. Starting to get a little warm.
Mile 4: 12 — Getting really warm. I slide down my Zensah arm warmers. Take a couple sips from my waterbottle. Suddenly feel as if I'm getting a little tired. The one significant uphill is here.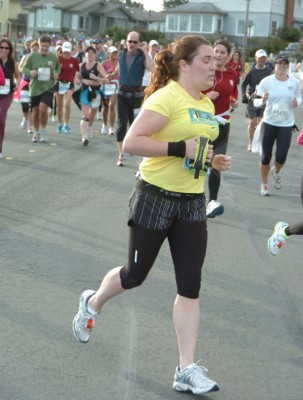 That's a photo of me starting to head up the fairly significant hill. By midway through, I was walking. It was a sight to see, going into beautiful Pacific Grove. I passed by a movie theater where Thomas and I went on our first vacation together when we went to Morro Bay and Monterey for a week.
It was a quick uphill and slower downhill after that.
Mile 5: 11:06 — Going strong, but feeling as if I'm not going to make it through 13.1 miles. My legs feel like jello. I don't know why, but suddenly I was more winded than I wanted to be.
Mile 6: 12:04 — Jello legs definitely slowing me down. I'm usually in a grove at this point. It's not happening today. I feel it. But I continue to push.
Mile 7: 13:02 — My wall. And I hit it hard. I usually get into the later miles before I get winded, tired and feel as if I can't go on. I'm barely keeping it together. I'm getting tired. I walk. I start to run. Then I walk more. I keep repeating that pattern.
Mile 8: 12:23 — Trying to pick it back up before and after the turnaround back to the finish area. I suddenly see Jamie. We stop to hug. That lifts my spirits tremendously. It was so nice to see a familiar face and hear a friendly voice. Jamie said something encouraging to me and it lifted me. I picked it up a little bit.
Mile 9: 12:09 — Still on a high from seeing Jamie, I kept pushing. I wasn't moving as fast as I wanted to, but I was moving. One foot in front of the other, one foot in front of the other.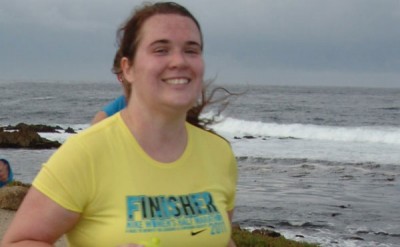 That is what a happy runner looks like. At this point, though, my feet were feeling the pain. My shoes kept moving back and forth. I wasn't doing too well this race, especially considering my PR in San Jose in October. This was not my race.
Mile 10: 12:11 — Slow, but moving. Thinking about my mom seeing me at the finish line. This was the first time she accompanied me to a race. I was super stoked she'd be able to see me finish. I kept thinking about that.
Mile 11: 12:21 — This was one of my favorite miles, if only because we moved to the trails and we would soon be seeing Monterey again. A giant penguin jumped out near Monterey Bay Aquarium. I also knew Cannery Row would be coming up, which meant this race was almost over. I was starting to feel a little better.
Mile 12: 12:24 — Cannery Row! I loved the mile marker showing John Steinbeck.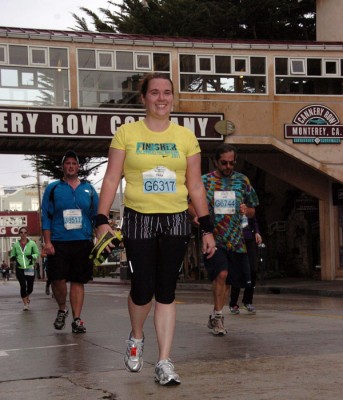 The official photographer captured a great shot of me right before it starting raining pretty good. I almost look as if I'm not running, more so because my arms aren't moving. I can't remember what I was doing specifically right here. I have a feeling I was slowing down to put my visor, that I purchased at the expo from the awesome Asics booth, on because of the rain.
Mile 13: 12:04 — At this point my Garmin was covered because of the rain. I didn't want it to get too wet, especially since it was new. I kept pushing, despite another hill.
Mile .3: 3 — Again, I suck at running the tangents. This course was supposed to measure 13.1. Oh well. My mom yelled my name right after I crossed the finish line. Then I got lost in a sea of other runs.
I was handed an awesome medal.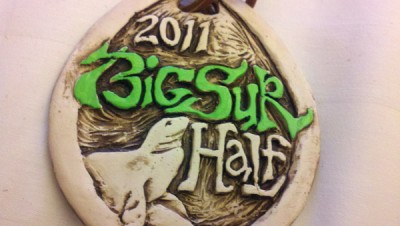 The sea lion on it reminded me of my dog Beau. I wanted to wear it the whole day. But after I grabbed my heat sheet and some food (the first of the day, which may explain my general fatigue), it started pouring. My mom drove us back to the hotel, which was awesome, and I quickly jumped in the shower.
It was the first half marathon I've run that I've been able to quick jump in the shower.
We sat down for about an hour and I tried to rest my feet.
Then we ventured to Monterey Bay Aquarium. My mom hadn't been there since I was a child. The last time I went was in 2002 with Thomas.
We spent nearly five hours there AFTER I ran a half marathon. My mom said her feet hurt at the end and that she could only imagine what I felt like.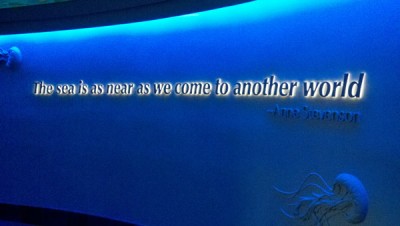 The deep sea area was one of my favorites. That's where the seahorses where. And the larger fish. There was a lot to see. We stayed and watched the tank for awhile.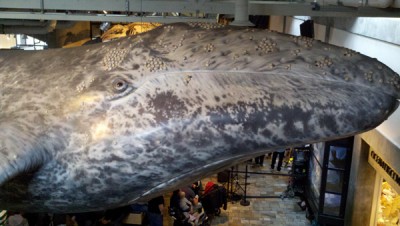 This gigantic whale sits above the main hall where the bathrooms and gift shops are. It was awesome from below, but from the top it looks as if it is staring right at you.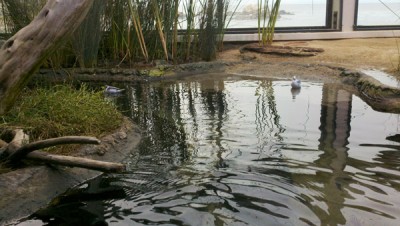 The birds were great too, but there were a ton of people checking them out. They had these crazy revolving doors too that made it hard to get through without hurting someone.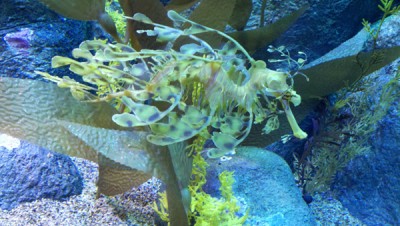 This was a type of leaf sea dragon. There were a lot of cool seahorses in the exhibit. That was one of the last things we saw at the aquarium. Overall it wasn't too crowded, which was nice. It could be because it was a Sunday.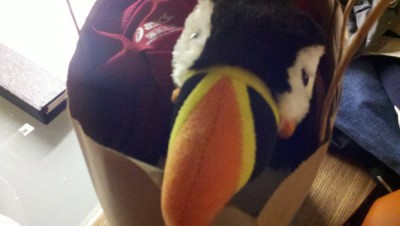 I visited the gift shop and bought a Puffin to take home with me. He's now sitting on my television stand. The Puffins were one of the coolest exhibits. The Puffins reminded me of my ducks.
My mom and I got back to the hotel around 5 p.m. and rested until we went to dinner. We had a spectacular dinner at the hotel's restaurant. We turned in early after watching some television. I woke up at 6 a.m. because I went to bed so early.
My mom and I ventured to breakfast where we had a great view of the golf course on the property.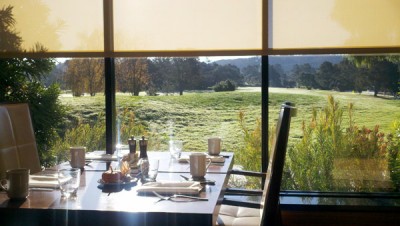 And the food wasn't bad to look at either.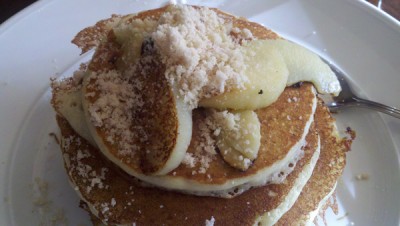 We packed up and started toward home after breakfast.
I want to call the trip and the run a success for various reasons. It was the first time I ran away from home. The next time will be for the California International Marathon in less than two weeks. It went OK, but I learned I need to be prepared and get going quickly in the morning. It was also a nice weekend with my mom. We had a good time.
But the run was hard. That's OK. I heard someone once say that the bad runs make the good ones all that much better.
That's the truth.
I'd like to make this an annual thing, particularly the going away with my mom for the weekend part. The Big Sur Half Marathon on Monterey Bay offered a good escape from reality for a couple days too.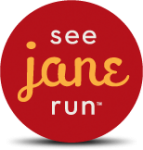 Run with me!
Save 25 percent all See Jane Run races, including the June 21 San Francisco Bay Area run, by using the code SJRAMB243. Use the code to also save 10 percent on online store discounts at seejanerun.com.