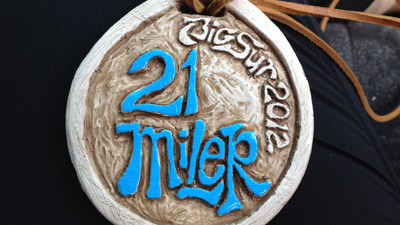 My alarm clock at the motel hit close to 3 a.m. and i knew it was time to wake up.
I knew if I fell back asleep I'd wake up tired. I knew if I tried to even hit snooze at 3 a.m. I would make it to the bus. So I rolled out of bed and headed to shower. I'm one of those strange runners who actually showers in the morning before my runs. Just a quick one. And I usually don't do my hair or anything.
I went to the bathroom. I hit the shower. And I got dressed.
I'm going to be real for a minute: I hate not knowing when I can next go to the bathroom. It's likely a side effect of taking medication for high blood sugar for three years, but I don't like not knowing where the closest bathroom is. That makes this next part important.
I ALWAYS get really nervous before my runs. To the point that I have to go. ALL THE TIME. And I was worried, severely worried, about the 45-minute bus ride up the coast. I didn't know what kind of bus I'd be on. I didn't know if we'd be stopping anywhere (we weren't). I was extremely worried.
I know this might be TMI, but this is a real issue for runners.
By the time Thomas dropped me off at the Monterey Marriott at about 4:20 a.m., the buses were lined up.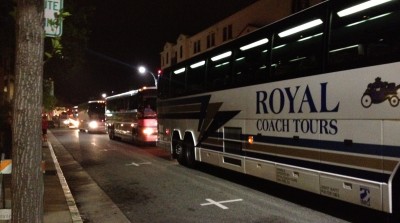 The volunteers were all really, really helpful. The marathoners were still boarding there buses, so we waited until the 21-milers were allowed to load. I headed into the Monterey Marriott and there was a bathroom right in the lobby. (WOOOOOO!)
Then I realized that we'd be boarding the tour buses, which also have bathrooms on board.
I was THRILLED. It's hard to explain how thrilled I was. My husband swears up and down I have issues with going to the bathroom too much. He's also become quite accustomed to it. Others don't understand though.
I briefly chatted with the woman next to me. Really just to ask her if I could turn off the light. And we were off.
Into the night.
It looked all black.

Seriously. Everything.
We drove quietly up Highway 1. I wanted to sleep, but I couldn't. All I could see were taillights of the buses in front of us. I vaguely could make out the waves off the coast. It was eerie.
I read somewhere that the bus ride is disorienting. It is. Very much so. And you think the entire way as you are driving: "I have to run all this to get back to where I started." It's kind of daunting.
We made it to the staging area and there weren't a ton of people there.
And it was still dark.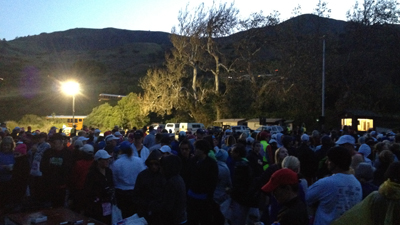 I opened my bag and pulled out an apple and part of a Luna bar. That was my breakfast. I jumped in a portable toilet right when I got there too. (Never did have to use the one of the bus, which made me really glad.)
And I got some stretching done too.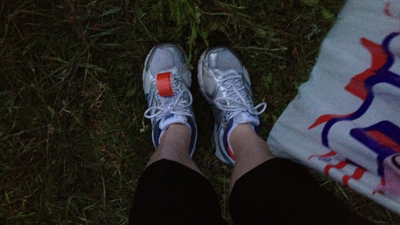 So I'm actually on a rock. Apparently it was a really popular rock. People kept walking all over me. I wasn't even in the way.
There were bananas, apples and other fruits. And coffee and water. I don't drink coffee, but I took down a couple cups of water. I felt a little dehydrated.
As it began to get lighter, a yoga session started. I didn't partake, instead doing my own stretches. A lot of people did.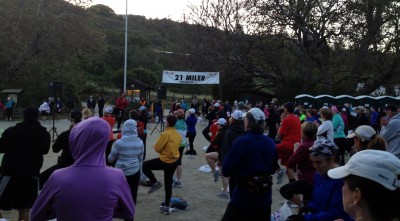 At about 6:40 a.m. we were lined up near the bottom of the driveway at Andrew Molera State Park. The road in front of us was 21 miles to Carmel.
The timing mat was actually at the top of the hill. I power walked up it instead of running.
Then things started moving. We took off right at 6:45 a.m.
And just as quickly as I started, I realized this wasn't going to be easy. I wasn't doing it for time as much as experience. And it wasn't an easy path.

All uphill at the beginning, a nice downhill, a huge uphill and rolling hills (and banked streets) the rest of the way. Wow. A nice, easy Sunday run? I think not.
And then there were the headwinds. Yes, headwinds. On Hurricane Point (the tallest peak on the elevation chart) I was battered back and forth across the road. It sucked. My glasses were covered in dew. My long-sleeve shirt was wet at one point. I didn't even bother taking if off until about three miles before the finish.
I battled. In certain places it looked, in my Garmin data, like I was moving very, very slowly. But I kept going.
Because I was treating it like a training run, I stopped and went to the bathroom whenever I need to. That added more than 10 minutes on to my time.
But it was cold. Damp. Windy. And my head was raging the first eight miles.
Raging. I couldn't shake the headache.
I just kept moving, hoping it would go away. And it did after about my second Vanilla Bean Gu.
By the way, my savior of the day was the Gu. I wouldn't have made it without the Gu.
My overall average was 13:14 miles.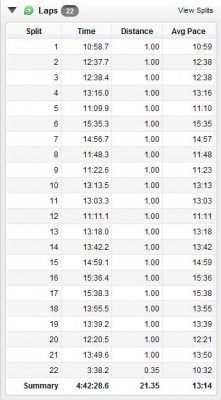 The steepest hills were the longest miles. I'm not proud that I took that long. But it happened. I'll own it.
Thomas was expecting me about the 4:30 time mark.
I came in at 4:42 and he was yelling for me nonetheless. My feet had blisters. My ankles, after running through the banked road in the Carmel Highlands, were now cankles. I'm not even kidding, my ankles were so inflamed I can still not bend them properly.
And my IT band, which seemed to hold out pretty good during the run, started throbbing the moment I stopped. It was kind of like it just knew. It knew I was over. It was pissed. Two days later I'm still dealing with the aftermath of that.
Big Sur isn't an easy run. And it's definitely not a true "training run." But it was beautiful. I didn't take a lot of photos, obviously, because I was too enraptured in enjoying the beauty in general.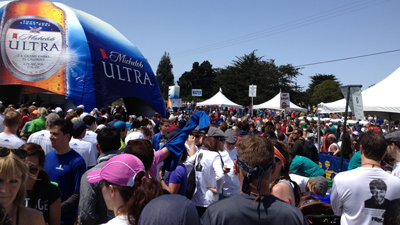 The finish line was crazy busy. I sat down for a good twenty minutes and then realized if I didn't start walking around, I likely wouldn't be able to. So I got up and lost Thomas. I realized suddenly that  I had checked a bag with a sweater. I went and grabbed that too. And then Thomas and I decided it was time to leave. I come for the run. I don't often stay after.
So we started walking off, but not before he shot a last photo of me near the finish.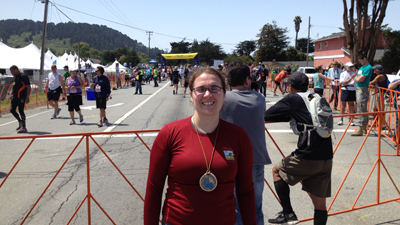 And I was happy with how it all came together. Sure, I didn't have the best time. But I got through a very tough training run. I knew that the only way out was through. That's what I focused on. The good thing about living close to Monterey, only within three hours, is that we hopped back in the car and made our way home after the race.
By 3:30 p.m., I was home on the couch resting my legs with ice.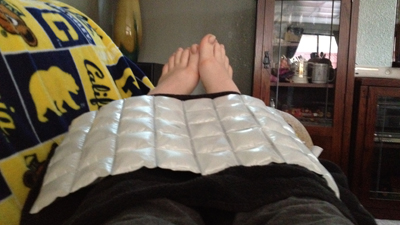 When it comes down to it, there were likely better ways to get my longest run of the training cycle in. I know that. But I think Big Sur offered a nice challenge. I faced nearly every weather condition on the run and still came out OK. And stronger for it.
Next up? An 18-miler closer to home on May 12. Then Bay to Breakers before the end of this marathon training cycle.
I'm not 100 percent confident in my marathon conditioning so far, but I'm feeling a little more prepared after the Big Sur 21-miler.