Meet me Monday: Gear freak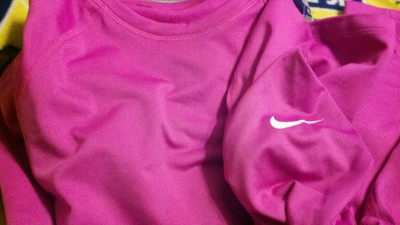 I'm one to trade one vice for another. This happens more than I'd like. And I'm not talking about bad vices.
I don't smoke. I rarely drink. I'm not into drugs or anything like that.
Instead, I have a huge 13 by 9-foot walk in closet and more clothes than I need to fill it.
At the beginning of 2011, I was still relatively new to running. (To be fair, I still am. I've only been running regularly for two years.) But the biggest difference between now and then, outside of the fact I need to shed a couple of pounds, is  that I'm a lot more knowledgeable about the clothes I should be running in.
My greatest lesson? Cotton is bad. Very, very bad.
Except, in my case, if it's Nike Dri-Fit Cotton t-shirts. I love those. I have a ton of those. They are really comfortable. I rarely worry about arm chafing. (I have fat little arms.)
Tangents aside, I've become a bit of a gear freak. I'm obsessed with trying new things out. I started out buying all Nike gear. My first running pants were Nike tech tights. I've realized I'm most comfortable running in tech capris.
I'm not a fan of tank tops.
My favorite socks are of the Nike Dri-Fit variety. Finding what I like to run in and what I'm most comfortable going the distance took some trial and error.
Over the summer I experimented with shorts (gasp!!!). If you knew me, you'd know I'm not big on shorts. But we had a rather warm summer. So I grabbed a pair of Nike running shorts at my local Fleet Feet store in Stockton.
Lately, though, I've been trying to be smarter about my gear. I notice a couple things in my pursuit.
I like items that can be multi-use. And I'd rather spent some money to find something great than buy cheap item after cheap item hoping that the shorts/shirt/socks will last until I can buy the next.
That brings me to some of my most recent purchases. Before the California International Marathon, I picked up a Nike thermal black long-sleeve to wear during the VERY cold morning run. It was cold enough for me to wear it for the first half of the marathon.
I love it. I've worn it as a base layer for long runs.
But I only had the option of buying it in black. This weekend, I found a pink one. It's bright. Great for night running. The good news is that during the three months I've had the other one, the fleece inner (yes, warmth, yay!) hasn't pilled at all.
I've also discovered Lululemon.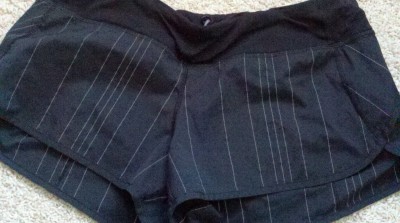 See the cute little pin stripes? They are the run: Speed short.
They aren't adorable detail, even though they are. They are incredibly reflective in the dark when any sort of light hits them. I found a recommendation for these on a blog. Again on my quest to find items that are more reflective at night. I actually wore these while running the Big Sur Half Marathon on Monterey Bay in November.
I love them, but the length seems a little short on me. I still wear them, usually with another layer underneath.
Then I discovered the run: Turbo short.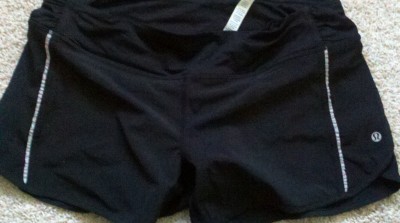 These are a little longer. The pair pictured above are a special edition pair. The reflective detail is a ruffle. They aren't all that special compared to a regular pair (to account for the more than $10 pay bump), but they are cute nonetheless.
I've ordered some more things from Lululemon lately. I even now own of the company's gym essential bags. I'm planning to review that at some point here too.
In any case, I'm a gear freak. I feel kind of like a test dummy. I have some items that have worked. Others haven't.
So I am still feeling my way a little bit. And it's kind of burning  a hole in my wallet. Just a little.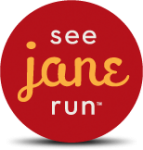 Run with me!
Save 25 percent all See Jane Run races, including the June 21 San Francisco Bay Area run, by using the code SJRAMB243. Use the code to also save 10 percent on online store discounts at seejanerun.com.