A Sunday trail run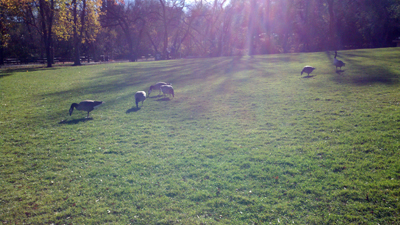 Every now and then I need a change in scenery. I get that when I go away to do races. I often don't get that a lot at home.
So when Jennie asked if I wanted to head 40+ miles away to do a run at Lake Chabot, where I had just done the Brazen 10K last weekend, I jumped at the chance. The plan was for nine miles on a course that Jennie had done with a friend before.
We ended up with six on a completely altered path from what she had done.
In fact, it was six miles along the 10K path I'd recently done. (I'm a little late posting this. I spent Monday at home with a massive headache. No nose bleed this time. But I basically couldn't handle light again and my head was pounding for most of the day.)
So Jennie and I got to Castro Valley around 9 a.m. and headed down the paved path. Lake Chabot has miles and miles of trails, some into the hills surrounding the lake, some surrounding the lake in general.
The first two miles are rolling hills. My right calf locked up, as it is want to do. It killed for the first mile. I was starting to hit my stride when we hit the one-mile straight up incline.
It took us forever, near 20 minutes to do one mile. Jennie realized that wasn't the path she'd taken before. So we decided to do an out and back.
We got to the top of the incline for some amazing views of the Bay Area.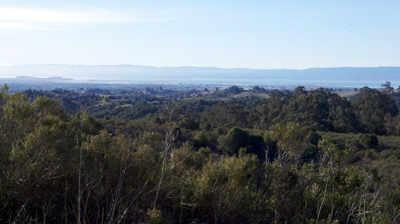 I'll admit, I turned off my Garmin here as we sat down and ate some Gu Chomps on a bench. I loved that there was a bench way up there on the hill. It made me want to, maybe, go for a hike at Lake Chabot at some point. Jennie and I are both envious that Oakland has a great place like that for hiking/running and we have basically nothing within miles.
But I digress.
After seeing some other people taking advantage of the nice day and the paths, including a lady walking a dog up those hills, we decided to head back down.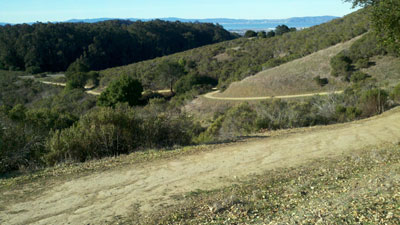 You can see the trail there. I ran this same trail in January 2011 when it was covered in mud. It made it a little harder to get up. I'm glad it's been nice here (meaning no rain) the last few months. That said, I know we need some water too.
At this point last year, we were dodging monsoon-style weather as we ran in Mountain House with high winds.
I told Jennie we should make these trail runs a regular thing. I'd like to work them into my training (hill repeats anyone?). I think running hills will be especially good for San Francisco Marathon training. I'll be running the First Half Marathon in July. Plus…I hear there are hills in the San Diego marathon. Good training all around.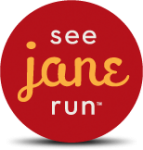 Run with me!
Save 25 percent all See Jane Run races, including the June 21 San Francisco Bay Area run, by using the code SJRAMB243. Use the code to also save 10 percent on online store discounts at seejanerun.com.