Back to (somewhat) normal

I have to admit, after the California International Marathon I wondered if I'd ever have the desire to run again. I spent a lot of time on my couch, in the pool and getting steady on my bicycle.
And I ate. A lot. Lots of Chinese food. Specifically sweet and sour chicken. So good.
Immediately after the marathon, my treadmill decided to fail. I had to wait a week to get it fixed. Then I hopped back on and didn't want to run.
My first run outside in a nearly two-week period was a four-miler with Thomas following on my bike.
I like to keep my "typical" runs between six and eight miles. My long runs while training for a half marathon are 10. I worked up to the long 20-miler when training for the marathon. My goal, typically, is to run about 25-miles a week. But I struggled through the month of December.
I didn't want to run. I didn't make it to 1,000 miles for the entire year. I contemplated why I even bothered booking more races into 2012.
This week I've seem to have found my mojo again. So far, 24 miles. I'm planning a trail run tomorrow with Jennie. Even if that doesn't happen, I'll probably at least get in six on the treadmill, maybe eight. Either way, I found my stride, in the bigger picture again.
And I've developed my training plan for the San Diego Rock 'n' Roll Marathon on June 3. I've even factored in some longer races to keep me motivated.
My first official race of the year with be the Brazen Racing Coyote Hills 10K on Jan. 29.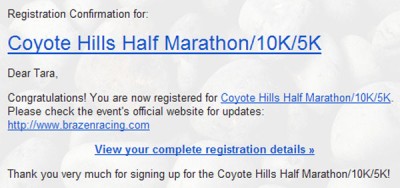 I signed up for the race via snail mail because I had a Brazen credit because of an injury in August where I couldn't run the company's Summer Breeze race. So I signed up for this race (and even got a tech shirt upgrade!) for $26. I loved this race last year, despite the fact that it's the only race so far where I've thrown up at the end. Sorry, probably TMI. I ran myself silly with that one. It was a solid race. I had a good time in general.
It was a nice, intimate setting too. So I'm stoked for it.
The rest of my race schedule so far:
Feb. 18: Rock 'n' Roll Pasadena Inaugural Half Marathon
March 25: Oakland Half Marathon (This holds a special place in my heart because it was my first. It will be my ninth overall.)
April 29: Big Sur 21-miler (I loved the half so much, I'm trying this one. Plus it's a great addition for marathon training.)
May 12: Mermaid Series East Bay Sirena 18
June 3: Rock 'n' Roll San Diego Marathon
July 29: San Francisco Marathon First Half Marathon (To complete the Half it All Challenge.)
And then…who knows. Last year I hit an injury in August from upping my mileage too much that basically took me out of racing for August and September. I didn't race again until my half marathon PR at the Rock 'n' Roll San Jose Half Marathon.
I'm glad to be back to a somewhat normal running routine. I'm glad to have some of my race schedule figured out so far. I'm still hoping to knock off some pounds with increased training. And I still want to increase my speed. I have so many goals for 2012.
We'll see what happens.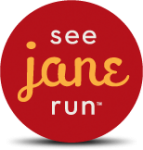 Run with me!
Save 25 percent all See Jane Run races, including the June 21 San Francisco Bay Area run, by using the code SJRAMB243. Use the code to also save 10 percent on online store discounts at seejanerun.com.