Luck of the Irish comes into play at 10K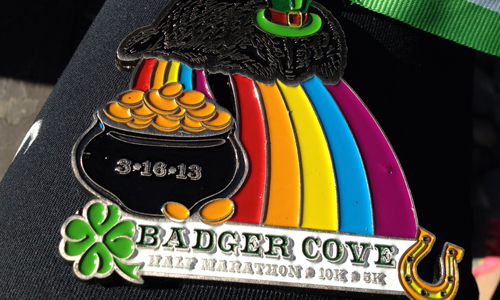 Last year at about this time, I was writing about how this same race didn't go as well as I thought it would. I've never sure how to approach trail races. I used to spend more time running trails. As I started training for one marathon, then another and then another, I moved away from that more leisure-like activity.
I'm joking, of course. It's not leisurely at all.
Trails mean business.
And this trail was no exception.
It includes 400 feet of climbing in the course of a mile. Then more climbing. The first climb is a series of switchbacks that wreak havoc of every bone in your body on the way up. The first down is a quad destroyer.
The Badger Cove trail isn't even one of Brazen's toughest.
Last year, I was over the top anxious about this 10K. On Saturday, I was mostly fine. My husband had to work, so I packed up my belongings and drove myself to Livermore's Del Valle State Recreation Area. The drive was about 30-minutes. I parked, thanks to a pre-paid parking pass sent over days before via email by Brazen Racing, and headed over to the sign-in area.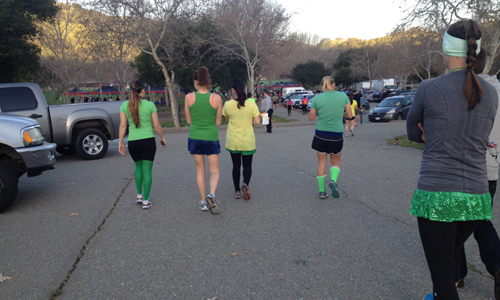 There was a lot of green. I normally don't take photos of people's butts or backsides for that matter, but this kind of illustrated the sea of green that was everywhere along the trail.
I headed back to my car after using the portable toilet. I warmed up a little, but mostly just looked through my goodie bag. About thirty minutes beforehand, I decided to head back over to the start and use the real toilets, which were a little bit of a walk away.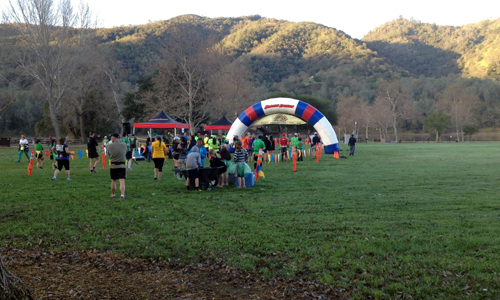 I walked by as the half marathoners were preparing to head out, 25 minutes before the 10K group.
It was chilly, but manageable. I didn't need a long-sleeve shirt. In fact, I wore one of my only green shirts, a Nike Dri-Fit Cotton one from the Nike Women's Half Marathon in 2011. (Does that seem like a long time ago to anyone else? To me, lately, it does.)
It was a peaceful, beautiful morning in general.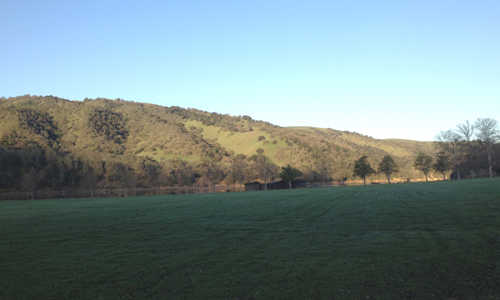 That view right there? That's the reason to do trail runs. You get to spend more than an hour looking at hills and beautiful bodies of water. Plus, Brazen doesn't charge an arm and a leg for races so you can do so for a good price, with a lot of support. (You can also run the trails for just the price of parking for free, but the support is amazing to have.)
I lined up for the start at about 8:20 a.m.
I held my arm close to me. I was afraid of getting bumped. And right when I thought everything would be OK, a guy walked by me and hit my shoulder. It stung a little. I think if I hadn't had been so chilled, I would have likely been more hurt by it.
At 8:25 a.m., we took off.
Mile 1: 10:41 — I was worried about my calves cramping, as they have done quite a bit lately. I tried to hold the speed down to not aggravate whatever problems I'm having with my legs. A little bit of an uphill in this mile, but mostly the distance served to take us from the paved park to the trails.
Mile 2: 11:36 — Mostly flat, some small hills. We start the single-track area around here, which always causes some slowdowns, especially when people start to walk on the uphills. No problems here, the surface is getting choppy.
Mile 3: 14:10 — This may seem like a ridiculous pace for a mile, but this one is all uphill. It's a battle. Switchbacks. Panting. Craziness. And yet, I took about two minutes off my time on here last from last year. I just kept moving. I never wanted to give up. I just wanted to move and keep going. When I finished this mile I was so happy, if only because I knew I had knocked a significant amount of time off that mile from last year.
I started to think that maybe I could come in quicker than last year.
Mile 4: 12:31 — Beginning of the significant downhills here. Normally I'm a little less cautious when descending, but for this particular run I had decided that I was going to take it slow, very cautiously. If I fell, I had no way to really pick myself back up. If I fell and hurt my right arm, I'd really be in a mess. I kept it nice and slow heading down, and then cautious when the hills started again.
Mile 5: 14:05 — One significant uphill here. I noticed the time and was wondering how bad I was doing there. It turns out I wasn't doing that bad. I ran a 16:05 on that mile last year. I was doing significantly better now. But I didn't know that then.
This was also the point where I was heading down a hill an suddenly felt like I was losing control. I can't describe it other that it was like knowing that I had to stop, but not having the breaks to do so. I was scared for a minute. I thought of myself flying straight into a bush or, worse, a tree. If the trail hadn't had made a quick turn uphill, I thought I would have just flown down a hill. That uphill gave me back the control I had lost.
I stopped and walked for a couple minutes after that. I was kind of scared. And, at that point, my arm had tensed up so much that it really, really hurt.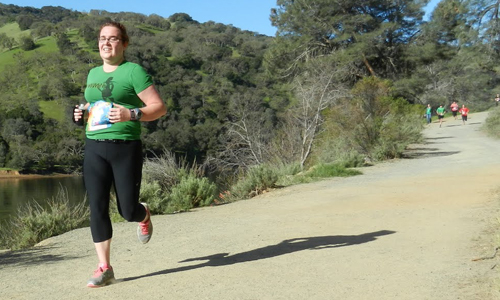 Mile 6: 11:15 — We start coming down from the hills an back to the flat trail path. I start thinking I can possibly come in a little under. I'm not really paying attention to the exact time, but when I see how far under last year's time (1:26:53) and I realized it had been an amazing run.
Mile .42: 4:02 — At that point, I really started to push. I don't know why at that sudden spot I did, but I just wanted to be done. My legs were tired. My arm hurt.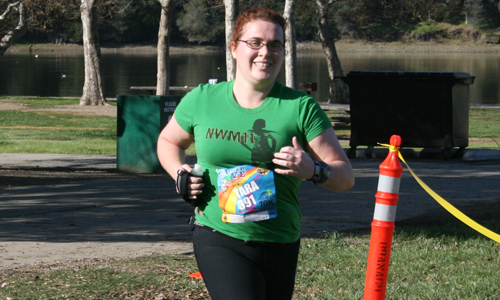 Around the corner and into the finisher's shoot, where I was handed my very colorful rainbow medal with a badger on it (see beginning of this post).
I walked through a tent area and turned around to see what I would consider a Brazen pot of gold.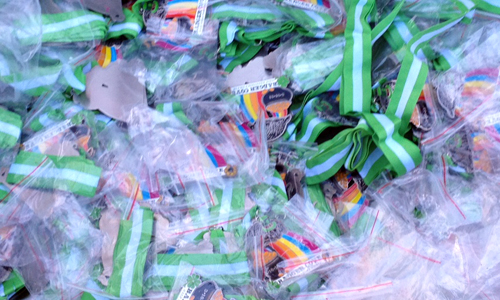 All the medals! The rest of these were waiting for other finishers to claim. I thought it was kind of fitting.
My final time: 1:18:13
I can't even begin to say how proud I am of that time. It's probably my best trail-run showing to date. It kind of makes me want to sign up for more, but I have a couple marathons I need to finish before I can head back out for the views.
Why am I running better? I don't know exactly. It could be both mental and physical reasons. I know that I feel a lot better since the gallbladder removal. I know that I no longer have nagging abdominal pain or discomfort when I run. But maybe it's also because I'm running a lot lighter lately. Not as many worries. A lot more happiness.
There's a lot of good at the end of my rainbow right now.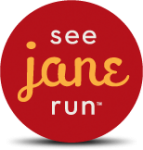 Run with me!
Save 25 percent all See Jane Run races, including the June 21 San Francisco Bay Area run, by using the code SJRAMB243. Use the code to also save 10 percent on online store discounts at seejanerun.com.