3.47 miles of mud and fun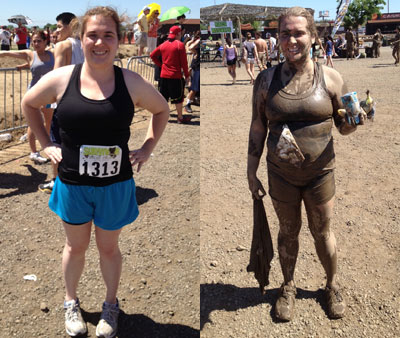 I figured I'd start out this post by putting up the photo that best represents what I know people are going to want to know about this mud race: "How muddy do you really get?"
The answer: Covered. Head to toe. In your ears. In your hair. The mud is everywhere. My husband had to hose me down when I came home. And I had already gotten a bunch of the mud off me. You are covered, literally, within the first couple minutes.
And it just keeps packing on throughout the 3.47 mile run.
The before picture is when my husband was waiting for my wave to begin. I actually ended up in an earlier way. Only by 15 minutes, but still earlier than I thought. There was no one patrolling the start line. People just kind of kicked back and wait for it to begin. Of course there were those crazy types who hit the ground running immediately. I wasn't one of them.
I consider myself more of a middle packer.
And so I was off at 2 p.m. We climbed a hill, which I was able to run up completely, and went down into the first pit. Then through some bungee wires. Then we ran for a good while before hitting a slide. I didn't get far with the slide, literally only a couple feet before I had to get up and walk. then I ran, at an average pace, for a good while before coming to the 4X4 planks to cross over a ditch.
It was kind of one thing after another with about .25 to .50 of a mile in between.
The most terrifying initially was the walls to go over. I did that fine. I did rip off my number, though. I had to fumble for a minute or two to put it back on and tie my shoe.
Then over a 20+ foot cargo net, which, yes, was scary. I'm afraid of heights. I had to take a moment to compose myself at the top of the stack. Then slowly work my way back down.
After those obstacles, I made my way to the water station. The volunteers were awesome at handing out water quickly. But the water was warm. I just happened to be running at the hottest part of the day too. Meh. It was unpleasant.
Then, on to the trench. This had to be the most difficult of all the obstacles. I literally had to take sow, deliberate steps to get my way out. My shoes almost came off numerous times. I keep hitting the muddy walls.
I literally have scratches all over my body now, particularly on my knees.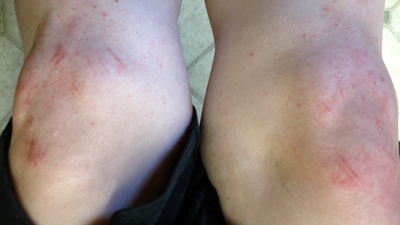 That's more than four hours after the fact. Pretty gnarly. And it hurts really bad too. I think I'm going to put some antibiotics on both knees before bed. I have a feeling this could get bad if I don't do something about it.
So, back to the race. It was hot. And I was covered in mud past the trench. The mud literally went up to my thighs. I walked for a good while before hitting the monkey bars. My arms, at that point, were not having it.
It didn't help that people were going out on one, dropping down and running.
We hit a nice 3/4 mile area where we ran back into the main area at Dell'Osso Family Farm and hit a cargo net. It's there the waiting for things began. I waited to get a good spot on the net (which still wasn't that good). Then I waited to get over the hay bails.
Then up and down stairs twice. Stairs? Did I say stairs? Oh yes. They were part of the mud run. After the first obstacle, you're like "really, stairs, I can do stairs." By the time you actually get to them, you're like "WTF STAIRS! NO! NO STAIRS! DIE STAIRS!"
Or maybe it's just me.
Then runners/mudders hit a grand finale area where you cross over large cylinders, or go under. I went over and fell hands first into the mud three times. Then over a muddy mountain. Then through tubes that were about twenty feet long.
Too bad I had no one running with me to push me through the tube initially. I needed a push. I literally waited in front of a tube for more than 3 minutes waiting for someone to push me. Finally a guy did. I love that guy. I felt helpless. These are runs you really shouldn't do alone. That guy saved me. I was ready to give up.
The only problem was I went on my back and had to propel my way through like a snake or something.
Then, with uneasy feet I headed to the finish line. My bib was hanging on by one safety pin. No one could see my number. I was thirsty and tired. A guy with a nice smile handed me a banana. Another opened a bottle of water. And, as I was drinking, a volunteer gave me a medal, inside a little baggy.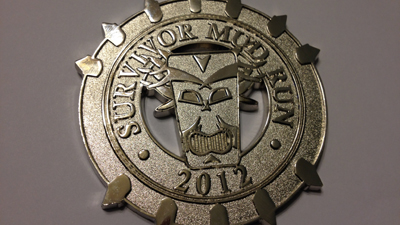 The medal, sans baggy, after I cleaned up and finally got a look at it. That's a nice medal, definitely.
I wandered around for a good minute before Thomas found me. I've never been more glad to run without Gertrude the Garmin or my phone. I was caked in mud. And the finish line was an array of crazy.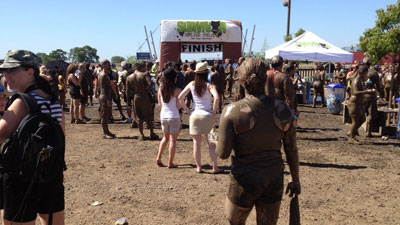 That's my butt covered in mud to the right. I know, it's hot to see me carry my extra shorts that fell off in one of the pits. (Thanks random chick for handing them back to me!)
My final time: 54:18
For a first time mud runner and, after acknowledging my time probably would have been better if I wasn't so patient with people, I think that's pretty good.
I decided, after seeing the ridiculously long lines for the showers, to bypass one and just pop in the car for the less than 20 minute ride home. (Seriously, I'm so glad this race was in Lathrop. Anywhere else and I probably wouldn't have done it.)
As we walked through the parking lot, we saw the remnants of runners past.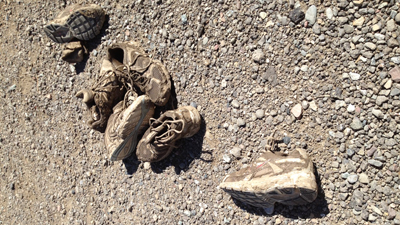 Thomas took these photos. I didn't want to risk touching the new iPhone with muddy hands. And I was caked. Just caked.
By the way, you know your husband loves you when he hoses you down in the backyard when you're wearing only a sports bra and underwear. And that's exactly what he did.
After that, he let me go in the house.
I showered to get all the nasties out of my hair.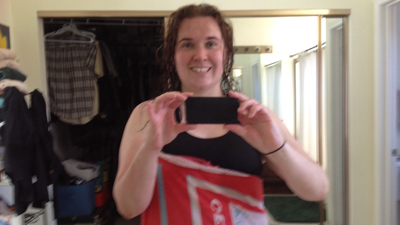 After the hosing, before the shower. And this is as close to naked as I'll ever, hopefully, be seen on the Internet. (And I know you envy my husband's awesome Budweiser towel.)
After all of that, I officially survived. I even have a shirt to prove it.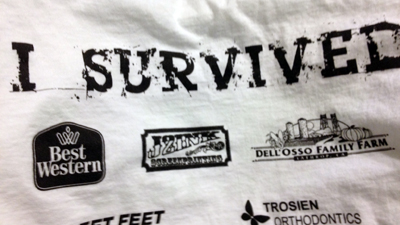 And overall, I enjoyed myself.
The good: Organized start. Decently challenging obstacles. Nice flow. Water station in the middle. Nice medals. Fun field. Lots of variety.
The bad: Waiting at the obstacles. The weather (I know it's not something that can be controlled, but it was hot.) Warm mud. Getting kicked in the head. Nearly losing my shoes.
In the end, you end up looking a little gnarly with mud on your teeth, but it's worth it.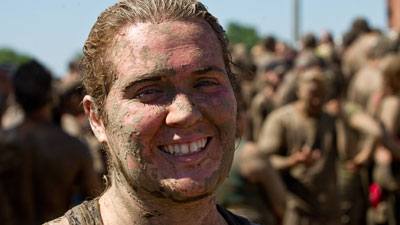 By the way, it pays to be friends with a professional photographer. My buddy Craig was shooting the event for the newspaper and he snapped this picture of me. I might frame it, I love it so much. I look so happy. That's so rare.
At the end of it, I came home, helped my husband move some rocks to the backyard and then ate a champion dinner from The Squeeze Inn.
It looked a little like Heaven.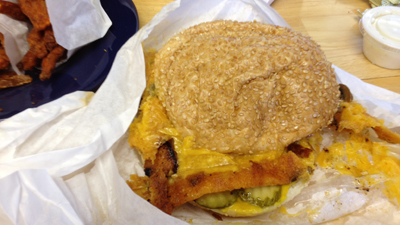 Seven hours after my wave began, I'm tired and my knees and killing me. Would I do it again? I'm not too sure. But I definitely enjoyed myself.
For those wondering, my essential gear worked good. The shoes stayed put, as they were tied tightly, and the top and sports bra stayed in place. The extra shorts did not. I'd avoid those next time, if I go again. Those are the shorts that actually slid off. The "sports bra" and "booty shorts" actually stayed in place very well.
And now, next week, I have a 21-miler along the California coast on Highway 1. I'm a little tired today after this one, so I'm hoping for an equally good experience next week.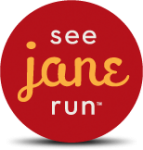 Run with me!
Save 25 percent all See Jane Run races, including the June 21 San Francisco Bay Area run, by using the code SJRAMB243. Use the code to also save 10 percent on online store discounts at seejanerun.com.