I keep surprising myself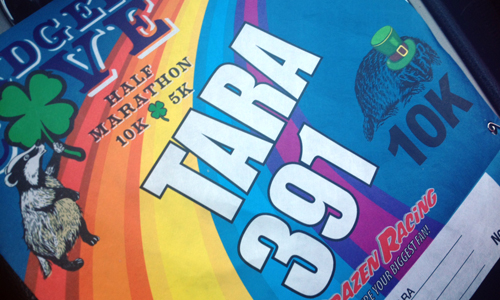 This morning I woke up, calm, ready to head to Livermore and do my first official 10K in a full year. I didn't believe it either when I realized, today, that the last time I ran a 10K was this same race, a year ago.
I've a couple shorter distances in that time, but I knew this was the first in a year when I opened the pocket on the water bottle and saw that I had the map from last's year Badger Cove run tucked into it. I only use the bottle, a small Lululemon for Amphipod one, for 10Ks.
Last year I ran Badger Cover, with all it's crazy elevation changes and switch backs in 1:26:41. I wasn't too upset about my time for that one because I knew it would be tough. I also remember the nagging side pain I got during the greatest climb that caused me to keel over on the side of the trail and feel like I was dying.
We know now that was the gallbladder. This year, it's gone.
And I'm better than I thought I could ever be, even with tired legs and a bit of a dehydration/potassium deficiency as of late. That's why my calves have been hurting me so much lately. Three bottles of water yesterday and a potassium supplement and this morning I was good to go.
Today, I finished the Badger Cove 10K in 1:18:13, according to the results posted before I left.
When I left my house this morning, my arm felt more stiff than it had last night. I popped an Ibuprofen, for lack of not being able to find a Tylenol, and was out the door. It didn't take the edge off. At the start line, a guy brushed by my left arm and made me cringe. I'm considering writing "I have a fractured arm" on my head.
But I started running. And I forgot about my arm. At least for most of the race.
I don't know who this version of me is and what business she has earning two course PRs in less than a month, but something has lit a fire inside me. And I like it.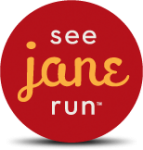 Run with me!
Save 25 percent all See Jane Run races, including the June 21 San Francisco Bay Area run, by using the code SJRAMB243. Use the code to also save 10 percent on online store discounts at seejanerun.com.