Lessons in anatomy and physiology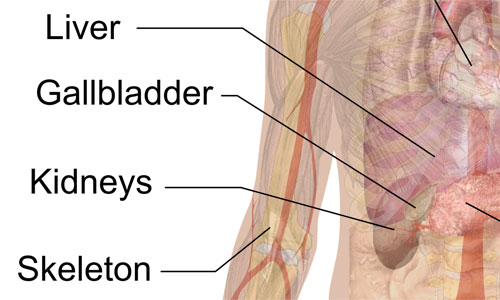 Do you know how hard it is to find a picture of a gallbladder on Wikimedia Commons? They are all ultrasound images. All kind of lame. I found a nice anatomy/physiology class look at the whole body, though, that seems to fit the purpose.
Let's talk gallbladders.
There are three organs deemed "non existential" to the maintaining of life. We've all heard horror stories of people having their appendixes removed, usually with dramatic stories about it happening before high school graduation or grad night or, this one is real, I know someone who had her appendix removed a week before her wedding. She always says that's the only reason she could fit into her dress.
Then there's the spleen. The only people I know who have had theirs removed are people who have been in serious accidents.
Until last week, I wasn't even aware my gallbladder could be what was causing me so many intestinal problems.
Now it makes sense.
Let's backtrack.
The pain I'd been experiencing had been diagnosed as everything from "female troubles" to kidney stones to a "physical manifestation of stress." I nearly kicked the doctor who diagnosed the latter of the three. Wow. If only stress could manifest as a removal appendage instead and we could just remove it from our lives.
In the last four months, as other craziness was going on in my life, it became considerably worse. I scaled back my food intake to get a little control over it. But I still had bowel issues (sorry, TMI, but necessary) and couldn't drop a single pound on the scale. Something was up. Now that I look back at it, as my pain increased over the past couple years, the pounds stacked back on.
And I wasn't eating bad. My husband joked that on paper, he is healthier than me. But what people don't see is that I run 30-plus miles a week, eat healthy and take incredibly good care of myself. When I have pain, I know whether it's expected or weird.
I'm still a little set back by the fact that my gallbladder was removed just a week ago.
But I'm learning to work within a new reality. Why? Because you can live without a gallbladder, but it does serve a vital body function.
The gallbladder holds bile. It rests under the liver. When we eat, it releases bile to the intestines to help with the moving of food and absorption. That's why doctors introduce a liquid diet initially. Lots of Jello. Lots of broth. I've been gradually increasing my food intake.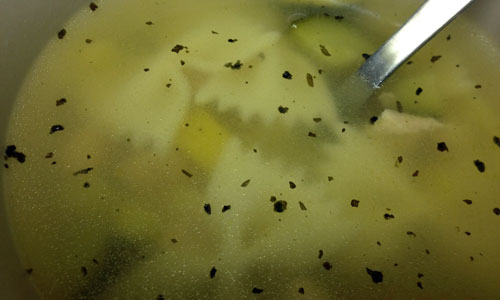 It started out with lots of soup. This is a homemade chicken bow-tie soup that I made the other night. My husband says that he'll eat anything I put on the table, so this was the first of a series of challenges I'm putting him up to. It passed. All he added was pepper. I can't handle a lot of salt and pepper.
The problem is that a week after surgery, I'm still lacking an appetite. I'm eating. But not much. And everything I am eating is as much as I was before. My husband and I talked about my diet last night, as we realized a couple things:
– I haven't started taking any of the medication I was on prior to surgery (and I mean ALL medication outside of the pain meds)

– I've stopped drinking Diet Coke for the time being because I was told my stomach probably couldn't handle the carbonation.

– I've prepared nearly every meal or had soup since leaving the hospital

– I haven't ran all but a mile, and it was slightly disastrous and I nearly threw up doing it
Today, I weighed myself and I'm six pounds less than I did before surgery. I'm not sure if that's because of surgery and a hospital stay, which usually happens. But my calorie consumption has gone down too.
I've been trying out new recipes that are low-fat or no fat based.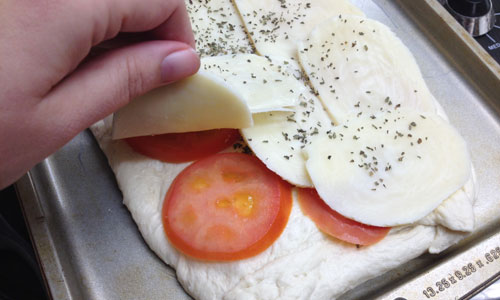 I made a simple pizza, sans sauce. I used a French-bread crust, spread it out. I used low-fat mozzarella cheese, no fat cooking spray, sliced tomatoes and a little bit of basil. I also used some low-fat Parmesan cheese for taste. My husband loved it and it only took 20 minutes from prep to table.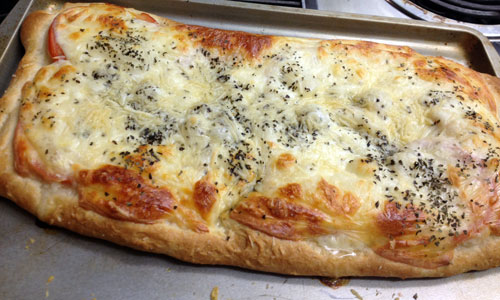 I have some leftovers I'm planning on warming up today, in the oven instead of the microwave. It will be nice to have a little crunch. I haven't gone as far as figuring out the calories for something like this, but it treated my stomach well. I had a couple little slices (it's not a big pizza).
And so far my stomach is handling things decently. I think over the next couple weeks it will be really a "try and see" thing. Because my gallbladder isn't stockpiling bile, sometimes too much fat is released. Then I have some stomach cramps and other issues that may or may not involve me running to the bathroom.
Another new addition to my diet is soy-based products.
I bought Boca chicken burgers. which have been relatively easy on my stomach as well.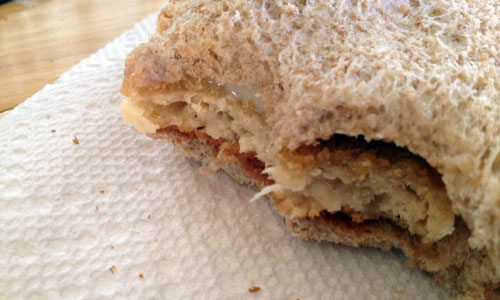 Except I eat them as sandwiches, with low-fat cheese. And it tastes so good. This is one new food item my husband won't be partaking in. I went to Berkeley for graduate school. I own Birkenstocks. He already tells me I'm a hippie. Eating anything Boca related doesn't help, believe me.
So a week out, I'm relearning how to eat. I'm also dealing with very little appetite and other issues.
On a running note, I finally sent the email to the race director admitting I probably wouldn't be able to run in the 10K next week. I figured I'd be feeling a lot better by now, but I'm still dozing off in the afternoon when my head starts to hurt. If I try to do too much, I end up having moments where I'm dizzy. If I want to drive, I can't take my pain pills. So I'm kind of a mess still.
But my running buddy Sam scolded me for even thinking about running. She reminded me that we had a trip to Pasadena planned for next month. And it should likely now be my first race for 2013.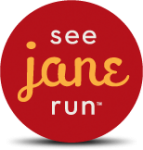 Run with me!
Save 25 percent all See Jane Run races, including the June 21 San Francisco Bay Area run, by using the code SJRAMB243. Use the code to also save 10 percent on online store discounts at seejanerun.com.