Introducing 'The Great Clothes Fast'

I have a confession: I have more running clothes than I absolutely need. It's a bit of a nasty habit of mine, to purchase more running clothes each time I get paid. Or to covet something on the Lululemon website for weeks until I finally buckle and buy it.
With the absence of one job, I've decided that it's time to put a halt on buying running clothes.
I need to live more simply. Simple is not nearly 15 pairs of running capris. Or 30-plus tops. Or more long sleeves than I even wear. Add on numerous pairs of shots, which I rarely wear even during the summer and my closest is kind of complete for now.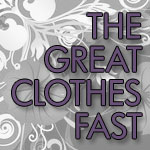 So I'm not buying any running clothes for at least six months.
That's right. Starting today, no new running clothes, with a couple exceptions, for six months.
That's all the way until July 18. That's after two marathons and a series of other races.
Ask my husband, for me that's a lot of time. It means I won't be jumping on any awesome Nike sales, so trying to find a coupon code that doesn't exist for Lululemon (seriously, they never have codes or anything that would make the clothes less expensive.)
I am putting some rules on this experiment, though:
Shoes are not considered "clothing" objects and can, therefore, be purchased as they are now (three times a year)
Shirts that are part of race fees do not count, because I've already paid for them
Pre-existing clothes can be altered and fixed in order to make it through the six months
Socks can be purchased as needed, if only to avoid foot chafing
If I'm running a race for the first time, I can browse for one new object and potentially buy, but only if I have cash on hand and am not using a credit card
Expos, where much money can be spent, will now have a budget based on how much money I have in savings, again avoiding frivolous use of credits cards
After the six months is over, I will not buy new running clothes until something wears out, splits a seam or has a hole
Those are my rules. My husband has helped me develop them, if only because he knows how weak I am when it comes to Lululemon. But I also know I have a closet so full of clothes (all clothes, not just running clothes) that I have no space for my workout gear. It sits on the floor right inside of the sliding door.
But I'm facing it: I have a lot of clothes.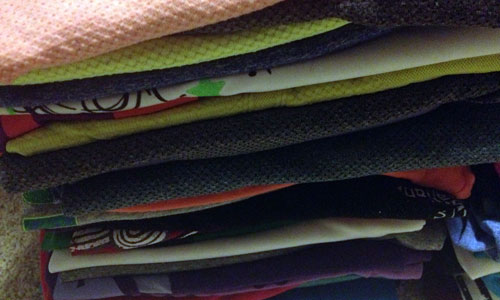 That's part of my pile of short-sleeve shirts inside the closet. I have nearly every color you can thing of. I even own a running skirt, which I love in theory but my fat little legs don't necessary like it too much.
I'm not as crazy as replacing my accessories. My iFitness band is getting more worn than I'd like, but I love it. Since last summer, when I switched to Nike LunarEclipses, I've held on to my shoes until they are falling apart. In fact, I run on my treadmill with my original pair of the LunarEclipses. They still feel good, so I'm not getting rid of them. (I also wear them as my regular, every day shoes.)
So this begins "The Great Clothes Fast" where I give up my obsession with purchasing every pair of capris I love in a store and every shirt that looks nice on the model, even if it won't look nice on me.
I'm planning on updating my progress on this, as I put together outfits from my stock of gear. I'm crossing my fingers than I can do this. If anything, at least my husband will hold my accountable.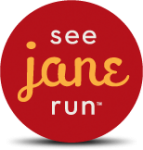 Run with me!
Save 25 percent all See Jane Run races, including the June 21 San Francisco Bay Area run, by using the code SJRAMB243. Use the code to also save 10 percent on online store discounts at seejanerun.com.