Today, in video
I've quoted this song before, probably more than I think on the blog. Today it's more relevant. More personal.
"Regrets collect like old friends

Here to relive your darkest moments

I can see no way, I can see no way

And all of the ghouls come out to play

And every demon wants his pound of flesh

But I like to keep some things to myself…"
Today the news was bad, what I am hoping is the end of four months of bad. All bad.
Today, I'm not letting it ruin me. I'm dancing again. A little lighter.
The crying is hopefully over. The worry is gone.
"I am done with my graceless heart

So tonight I'm gonna cut it out and then restart…"
And that's exactly what I'm going to do tonight. With one less job. With more hope. And a semester's worth of planning for my class derailed by the missing gallbladder to do.
Today, I'm smiling for the first time in a long time. Because even bad news bring new possibility.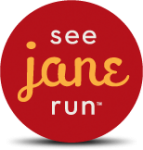 Run with me!
Save 25 percent all See Jane Run races, including the June 21 San Francisco Bay Area run, by using the code SJRAMB243. Use the code to also save 10 percent on online store discounts at seejanerun.com.