A view from the water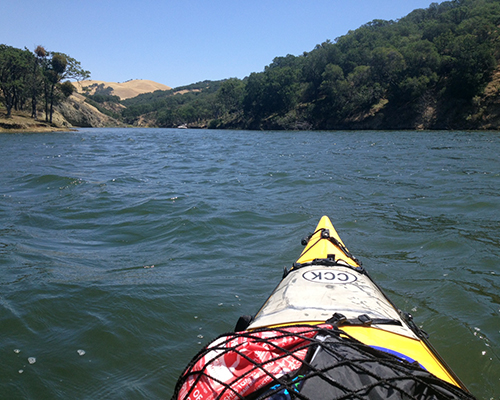 Ever since we were married in May 2008, my husband has talked about buying a kayak. But it was never really a reality because even if we purchased a kayak, we'd have no way to transport it. Or, prior to moving into our current house in 2010, had nowhere to put it. The biggest part of it, though, was transportation.
Then we bought our Jeep last year.
And the "talk" turned into plans. My husband has spent the past eight months, since we bought the car, doing research and comparing prices. On Friday, he asked to take the Jeep to work.
Only later in the day, when he told me he'd be home a little later than usual, did he spill the beans about finding a good quality used one in the Bay Area. So he came home with a 17-foot, two-person kayak. He also had two paddles and two life jackets.
And he had me help him take it off the racks of the Jeep, which we purchased with part of our tax return. It was heavy. Since my January surgery, I haven't done as much to strengthen my core as I could be. I'm going to need to work on that if he's going to have me lifting the kayak in the future, which it sounds like is in the plans.
This morning we ventured to Del Valle Regional Park in Livermore. It's one of the closet bodies of water to us, plus it's a beautiful place to run.
So today we went out in the water. We kayaked three miles into Badger Cove, the place the Brazen Racing race is named after.
Today's two-hour voyage left me a little dehydrated and my hands sunburned. My stomach was actually on the fritz all this week. I'm not sure why, but it's becoming bothersome. Things that were making me queasy a couple months ago have been for the past month. I was told I'd have to "rediscover my normal" after having my gallbladder removed, but this late? I think the heat, or the back and forth of heat lately, has something to do with it. It hasn't really impacted my running that much. More annoying than anything.
But my husband offered to make this a regular thing. He'll go kayaking for a couple hours. I can go run the trails at Del Valle Regional Park. Or I can join him. He said it's up to me.
Sounds like a plan, either way.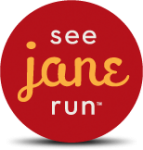 Run with me!
Save 25 percent all See Jane Run races, including the June 21 San Francisco Bay Area run, by using the code SJRAMB243. Use the code to also save 10 percent on online store discounts at seejanerun.com.