A new PR in PDX: Part III (Race edition)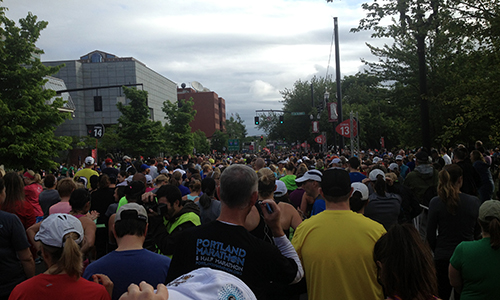 Finally! The race report! My apologies for this coming a couple days after the second part of this series. Yesterday I went to graduation for the community college I work for as a journalism instructor. This was the first time in three years I had students walking (many choose not to), so I was really excited.
But it turned into a very long day.
In any case, on race day Sam and I woke up at 6 a.m. The race began about .7 miles from our hotel two hours later. We knew we wouldn't have to walk far. We also knew we could chill for awhile beforehand. I can't say I had any "race day" nerves. In fact, my anxiety has become a lot better lately when dealing with larger crowds (hence, participating in graduation).
The good news? It had stopped raining. In fact, it looked to be a fairly nice day. The skies were a bit overcast, though. Perfect running weather.
We called down to the hotel front desk and asked for a late checkout. I know that seems like the most importune time to do so, but the desk clerk kept telling us we had to come back and ask. Finally, when we went downstairs to actually leave for the race, they told us we could check out at 2 p.m. That meant we could stick around for a bit at the finish.
We headed down in tank tops to the start. Sam needed water so we stopped at a little store along the way. But instead of buying regular water, she bought sparkling water.
Too bad we didn't notice until AFTER we filled our water bottles up. Great, I thought, this is not going to be good for my already shaky digestive system.
It wasn't too long after that we came into the main staging area. And stopped at my predictable pre-race hangout.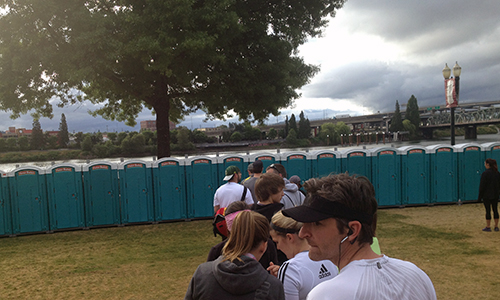 Hello portable toilets! This was the same race that offered portable toilets in a premium area for a discounted fee. We waited in line less than 10 minutes, so we really didn't need them.
After our stop at the "Honey Buckets," because that's what they are called in Portland, we headed to my corral.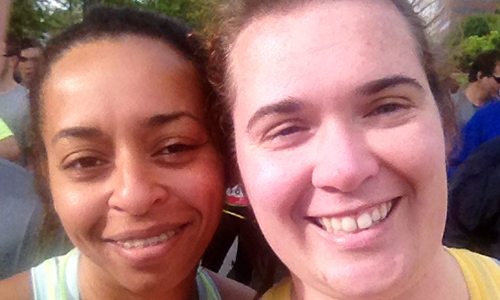 We figured the wait for our start, in corral 14, would take a bit. But they actually held us back a lot longer than we thought. I think seven or eight corrals before us took off before they finally started letting us move forward.
The corrals went all the way back to the Hawthrone Bridge, which we could run over as we made our way to mile five. The people seemed to stretch on forever.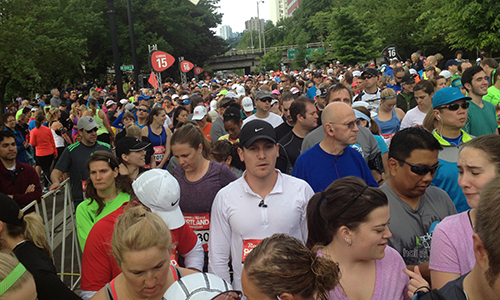 Some people complained later on the event's Facebook page that they couldn't hear anything all the way back near the underpass. I can imagine why.
My Garmin has me making my way across the start line at 8:16 a.m.
And we were off…
Mile 1: 10:07 — I think the best thing I ever did was sign up for the 2:20 corral for this race. This is my starting pace. This is my comfort zone. I didn't have weave around people like I do in later corrals. I think I found "my" corral.
Mile 2: 10:14 — The initial route takes runners along the shore past the second bridge we'd be crossing, near the finish. A lot of flat here, in this mile a small downhill.
Mile 3: 9:46 — This mile has a tiny, gradual uphill. I don't know how I managed this number at all.
Mile 4: 10:37 — The climbs begin. Not significant, but not small either. I think my legs are always a little shocked when I start climbing. Here I came into the first water/Gatorade stop I walked through. I also downed my first Gu of the race (though I'd had one before the race).
Mile 5: 9:36 — Anyone ever tell you that Gu doesn't work? It does! Plus, there was a nice downhill here that went a long ways toward this number. I think this race was defined by shorter uphills with longer downhills.
Mile 6: 11:10 — Which is likely why my IT band was starting to throb right in the middle of the race. I think a combination of sitting on the plane and worrying that my Tiger Tail would get confiscated by airport security added to this. I couldn't roll adequately the night before the race. And I've been having a lot of issues with my IT band lately. (Though I have to say, a full Smartwater bottle worked really well as a roller.) This area was the most boring part of the race, through industrial and port areas.
Mile 7: 10:58 —The biggest hill begins. And it was no joke. I ran as long as I could before starting a brisk walk uphills. Not as steep as a San Francisco hill, but fairly long.
Mile 8: 12:10 — The biggest bulk of the hill was in this mile. This would have been longer without the small downhill at nearly the top of the hill. I realized, after I finished this hill, that it wasn't as bad as I thought it would be. What's happening to me? I took another Gu.
Mile 9: 10:59 — We start making our way through cute neighborhoods where children are giving high fives. Lots of nice houses. People cheering with cowbells.
Mile 10: 10:33 —I felt like the Gu was starting to kick in. My leg, at this point, is really bothering me.
Mile 11: 11:07 —This was my wall. My leg hurt. My stomach was starting to flutter. I wasn't even considering time. I felt like I could "walk it in" and still be OK with it.
Mile 12: 10:30 —And then something happened. I can't explain it without mentioning that it's something new. Ever since I had my gallbladder removed, I've had this ability to REALLY pull deep within myself. I look at my watch now and realize something else is happening: I'm running a 2:20 half marathon. On a tougher course than Oakland. I'm an honest-to-God 2:20 half marathoner. WHAT THE HELL IS GOING ON?
Mile 13: 9:56 — So I ran. I ran like I'd never run before. Because suddenly I didn't care about my weight, or the cupcakes I ate, or my job, or the plane trip home or the fact that I was surrounded by thousands of other people. I hit the final downhill conservatively and then used everything I had stored in me to push to the finish.
.19: 1.41 (8.47 average) — The truth: I have never, not in any race I've done, pushed that hard to finish. I wanted it so bad. If I was two minutes off a PR? Whatever. I probably wouldn't have. Maybe I would have. I don't know.
Official time: 2:19:23
If I said I wanted to cry, I'd probably get teased because that seems to be a thing for me lately after races. It's hard, though, to put into words what training for three years, non-stop, without achieving any sort of new PR for six to eight months at a time can do to a person. I was failing in my races. I had one good one last August. Everything else was just blah. I never found the passion to push forward like I did that day.
Not until recently.
I ran a 2:19:23 half marathon. Oh my God. I don't know who I'm becoming. I'm completely serious.
You're probably wondering what's changed, outside of the missing gallbladder. I'm prone to hyperbole, but my answer now is honest: Everything.
Every damn thing about my life has changed. For the better. And the running? It's just coming along for the ride.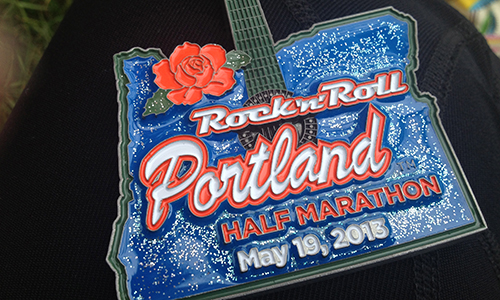 My mom texted me soon after. I told her. I tried to call my husband who never picks up his phone. Then I went and grabbed as much food as I could and headed to find a spot to wait for Sam, who was making some good time of her own compared to her experience in Pasadena earlier this year.
I bought myself the obligatory PR shirt. I buy one for myself after every race I PR at. It's kind of my deal to myself since I promised myself I wouldn't intentionally buy running clothes for awhile. The PR shirt is different because I always feel like I earned it.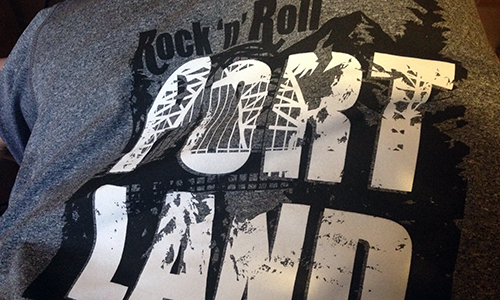 And at that point I was dumping heat. Know how you know you had a good run? You dump a ton of heat within 30 minutes of finishing.
When Sam finished, we hung out for a little bit. But I think we both wanted a shower more than we wanted to sit around and wait any longer. That said, we did try to visit Voodoo Doughnut for a second time that day only to be left empty handed again. Instead, we headed back up to the hotel.We did stop and ask a nice guy to take our photo.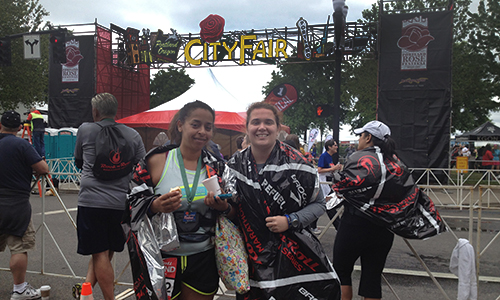 Because nothing says friendship like being wrapped in space blankets with a ton of excess freebies between you. And race medals. Of course race medals completely say friendship.
And remember I mentioned the sparkling water? I barely drank out of my water bottle. This was one of the first races I really relied on the water stations. But it was cool outside and still overcast when I finished. I can't imagine what I would have done if I needed the 15 ounces or so still left in my bottle. (I know I could have poured it out and started over, but I was too busy PRing.)
The rest of the day focused on two things: 1) Finally getting Voodoo Doughnut (which we did) and 2) Getting back to airport to fly out of Portland.
Had we of known Portland a little better, we would have not walked multiple extra blocks to the train station. It was my fault really.
Earlier in the day, after the half marathon, I literally told Sam where our train stop was to get back to the airport. And then I proceeded to forget it completely. And walk us around in circles.
By 5:10 p.m. we were heading back to the plane en route to Oakland.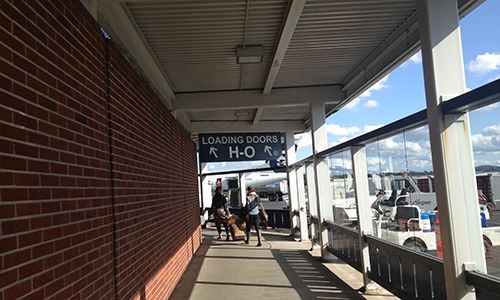 Ladies and gentlemen, we went the route of the H-O loading doors. Again with my juvenile humor. I'm not sorry.
It felt nice to finally relax on the plane, even though I knew by the time we got back to Oakland an hour and 55 minutes later I would be all cramped up and lucky to walk.
But I kind of feel like, in a way, my luck has returned a little.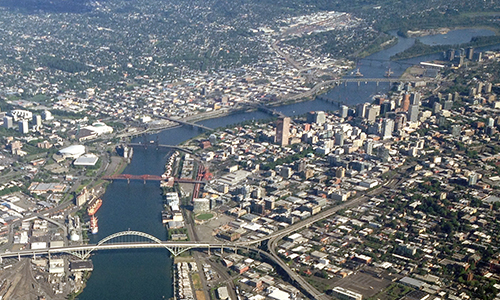 I got to go to a beautiful city for a race. I got to run my first out-of-state race. I got to hang out with a friend. I didn't pay sales tax for more than 24 hours. I ran a solid race. I had an amazing time.
In two weeks I run Rock 'n' Roll San Diego. I'm excited for that one too. Even if I don't PR, I'm excited because lately I've just felt lucky to race. And lucky to run.
Something is definitely happening to me.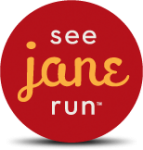 Run with me!
Save 25 percent all See Jane Run races, including the June 21 San Francisco Bay Area run, by using the code SJRAMB243. Use the code to also save 10 percent on online store discounts at seejanerun.com.