Today's the day when running cramps my style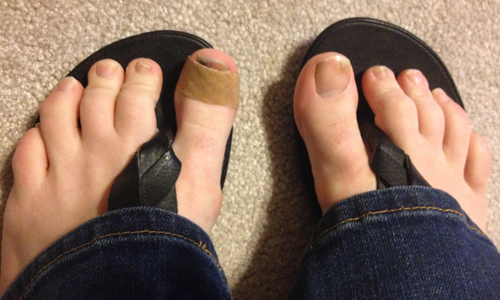 I'm not a fashionista by any stretch of the imagination. I live in comfortable jeans and T-shirts until I have to get dressed up to: 1) Do a presentation to ask for money/equipment/items related to my work. 2) Go to a wedding. 3) Go to a funeral. 4) Go on a fancy date to the ballet. In San Francisco. 5) Need more confidence than I have on any given day.
Needless to say, I don't dress up much. Consider that good, if only because it means I don't go to a lot of funerals.
And I haven't been to a wedding in years. This year, I'm going to at least two.
So I don't do "pretty" well. Laid-back? I do that well.
I'm not going to lie: When I work from home, I'm usually in my running clothes and a big sweater. Who am I going to dress up for? My dogs? If my code was sloppy my boss would care. If I haven't done my hair? Not so much.
My husband once joked that it was good I got accepted into the journalism graduate school at Berkeley and not the program at Stanford because he didn't see me fitting into the private university where everyone wore clothes more expensive than my car.
At J-School, I wore jeans and T-shirts almost every day. Except when I was working on my master's project. If I was shooting video, I'd wear jeans. If not, I'd wear slacks and a nice shirt, even heels.
So today when I declared it "flip flop weather" and threw on my ridiculously durable Target sandals (I don't wear flip flops anymore too much, I always seem to lose one on a street), I realized the dirty little secret that I'd been hiding since CIM was about to be exposed.
I have double back toenails. The one of my right foot isn't nearly as bad as it once was. It can now pass for slightly normal.
The one on my left foot is another story. It won't fall off. It's not even loose. But it's all colors of bloody-black rainbow in the world. And I bet if you got this far into this blog post, you're probably glad I didn't show it, though you can kind of see the nastiness poking out.
I had two options: 1) Find nude-colored nail polish and top it off. 2) Cover that sucker up.
I still wanted to wear sandals into Oakland/Emeryville/Richmond today. So I grabbed a Band-Aid (name-brand, yes, I'm fancy). And, really, who am I kidding? I'm not painting my nails. It's only been since I stopped shooting video regularly that I can grow nails on my hands. I could care less about my feet.
So now I just look like an idiot who is wearing a Band-Aid over her toenail. At least I feel better about it.
I'm getting ready to head into the Bay Area today for packet pick-up for the Oakland Half Marathon. I'm even meeting my husband, who works in Richmond, for lunch in that neck of the woods. A trip to Ikea might happen. Or maybe UC Berkeley's student store (I get a discount! Cal Alumni Life Member!). I'm not sure. I don't drive in the area as much as I used to. I'm wearing contacts for the occasion, if only because I also declared it "sun glass wearing" weather. And I'm taking the sports car.
I'm totally pulling out all the stops today, to impress no one at all. Just because. Actually, it probably has something to do with confidence. And needing more of it. Maybe I should have pulled out the red patent heels instead.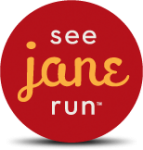 Run with me!
Save 25 percent all See Jane Run races, including the June 21 San Francisco Bay Area run, by using the code SJRAMB243. Use the code to also save 10 percent on online store discounts at seejanerun.com.