When Oakland actually became my 'A' race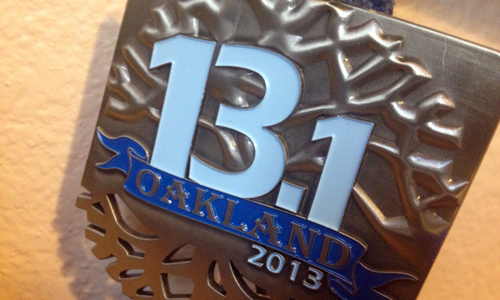 When I decompressed from running a ridiculously soggy California International Marathon last December, I realized two things:
I was overcoming the anxiety that had paralyzed me and all but taken away my voice and confidence
I was gunning for the Oakland Half Marathon to be my "A" race
Two very different realizations, yes.
But running CIM a second time, during one of the worst periods of my life, made me think that if a marathon could make me overcome something so seriously wrong with me, maybe gunning for a new "A" race would continue to promote that healthy perspective. It matters, though, that Oakland was my first-ever half marathon in 2011. CIM was my first marathon the same year.
I have sentimental attachments to both.
And after emergency gallbladder surgery, a broken arm and an incredibly messed up training cycle, today, Oakland actually became my "A" race.
I'm not afraid to admit, there were some tears. There were also exasperated sighs. The moment after I finished, all I wanted to do was collapse into a ball and scream. I can't relate the feeling any other way. It wasn't anxiety, though this is the biggest race I've done since crap went down last October. (Confession: I had my first panic attack since last October this week. It wasn't as traumatic as that one, but it took me right back to THAT day. And it kind of ruined my week and made me feel fragile again. The trigger was a very similar, hopeless situation like what happened to me last fall.)
Today, I felt pure bliss. I haven't felt that in more than a year. My heart sang and danced. I felt more free than I ever have before.
That bliss came in an official time of 2:20:52. Nearly a two-minute better than my August PR time.
My husband called it, as if he knew I had it in me. Though he was a couple minutes off.
"I should expect you around 2:18, right," he said as we circled Lake Merritt to go to the start.
I laughed.
"You're out of your damn mind if you think I'll be that fast," I responded.
He wasn't far off.
Last night, I was considering not even going to this race. I was throwing in the towel before I even started. The panic attack did that too me. It, again, made me doubt everything I knew. It paralyzed me with fear. I even offered my very-tired husband, who has worked six days a week at his engineering job since last fall for a rebuild project, an out. I told him we didn't have to go. Fine by me. He could sleep.
I'm thankful he's a man smart enough to know I was looking for an out. He wasn't giving me one.
I also knew that on my list of consistent things that pulled me out of the darkness last year, running was at the top. With each run, the confidence came back.
Two years ago, this half marathon made me feel like I could do anything the moment I finished. Last year, I suffered through physical and emotional pain, doubting myself every step.
Today, it made me fearless.
I feel like I've been cheesy on a lot of my posts lately, but I can't help but feel liberated these past couple months. Something in me has changed. And it's not just the gallbladder being gone.
It means today I gave Oakland the race it deserved. More than anything else, those streets defined who I became as a person during my two years of graduate school at UC Berkeley. I became "me" in Oakland, away from my family, my now husband and my life before that point. That race deserved a better performance than I had given in previous years.
More importantly, I gave myself the race I always knew I had in me.
I hang my PR medal right in front of my computer in my home office. It's to remind me of what I can accomplish. Right now it's also reminding me of how far I've come.
And that PRs are made so that we can break them.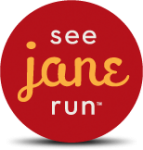 Run with me!
Save 25 percent all See Jane Run races, including the June 21 San Francisco Bay Area run, by using the code SJRAMB243. Use the code to also save 10 percent on online store discounts at seejanerun.com.