An inspiring 13.1 with See Jane Run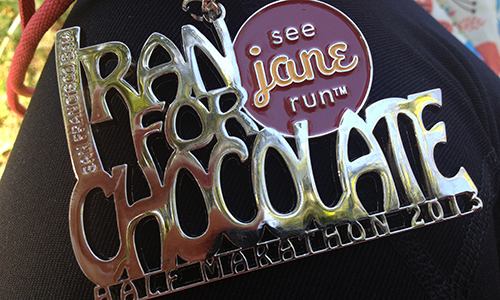 That moment when you realize that you're going to have to go out of order on your race reports because you're just so excited about the half marathon you did today? That's happening now. Never happened to you? Too bad.
Today, I ran the See Jane Run Half Marathon in Alameda. My PR streak is now officially over, standing at my 2:16:41 half from last weekend, but that's OK. I had business with this specific Bay Area race course. I had a score to settle. For chocolate. And champagne.
In 2011, I ran See Jane Run as my third half marathon.
If I'm counting right, today marked my 19th try at the distance.
That first See Jane Run experience wasn't exactly what I'd hope for. It wasn't because the race was bad. Or the people. All of that was great. Amazing even.
I was just very ill prepared for my third half marathon. That was around the time I discovered moisture-wicking socks. And started wearing running clothes that weren't made out of cotton. It was basically around the time I started taking running more seriously.
And you know what? I learned a lot of lessons that day. But I ended up walking most of the end of the course and being near tears at the finish. My official time was 2:42:16.
Yikes.
So I had a score to settle.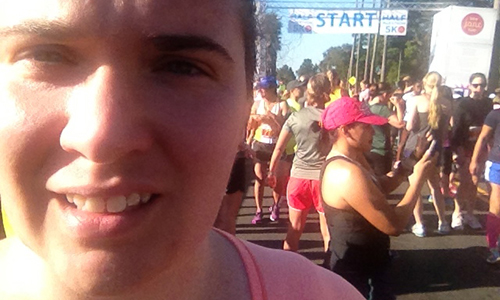 Note: The face of a woman with a score to settle. And a really bad selfie. You get my point.
I also knew two things: 1) It was going to be hot day. As in, an hour into the run it would be creeping into the 80-degree range. As in, I should run faster to avoid being struck down by the sun. 2) My legs were tired. After two record-setting half marathons in two weeks, they were, essentially, out of juice.
So what did I do? I lined up with the 2:15 pacer hoping for the best.
Probably not the greatest idea.
Let me go back to the beginning of the day.
My husband dropped me off at Washington Park around 7:15 a.m. I'm kind of a pro at this race, since I'd done it in 2011. And I don't like to wait forever for bathrooms, plus I like my privacy, so I remembered the finish line wasn't too far from the start. So I headed to the row of toilets I knew would be there.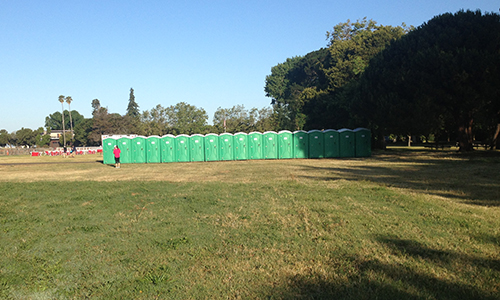 Behold: Glorious portable toilets and only ONE person in line. This would change later when it seemed other ladies caught on to my clever "avoid the lines" plan.
Ten minutes before race start, I wandered back up to Washington Park where the pre-race aerobics were already in full swing. This is one of my favorite parts about the See Jane Run race.
Because you CANNOT go wrong with Cyndi Lauper-fueled warm ups. It was nearly time to start the race, so the half marathoners headed over to the corrals. I found myself way to close to the start, so I meandered my way back to the 2:15-2:20 groups.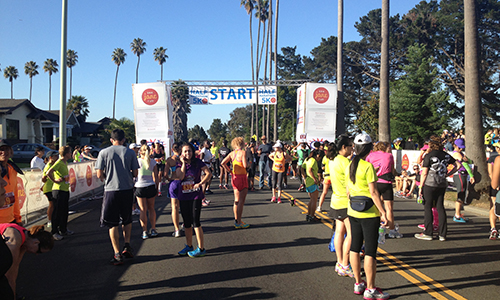 Once there, I lined up the aforementioned 2:15 pacer. The race started promptly at 8 a.m. And we were off, with a slight downhill on the street toward the bay-front trail that would lead us around Alameda.
Mile 1: 10:06 — I could already tell it was getting warm. I was wearing a lightweight Lululemon shirt and my MPG capris (from See Jane Run in Oakland). No heavy clothes. I hung in with the pacer.
Mile 2: 10:37 — I literally got to the end of the second mile then my leg cramped up. My first thought: This is the end. I'm going to bonk this course again. I can't bonk this course AGAIN!
Mile 3: 11:23 — Up and over a walk bridge leading to the second island. We hit a congested path, but it's not too bad. I think the heat was more than anyone expected. "OH MY GOD, WE'RE RUNNING STRAIGHT INTO THE SUN," a woman next to me said to her counterpart. Yes. It was going to be a hot one.
Mile 4: 10:33 — Gu. Feeling a little better. My left IT band, which I swear hates me with a passion lately, starts to show signs that it's going to be fussy. Of course it's going to be fussy on a day I have something to settle on a course. OF COURSE.
Mile 5: 10:57 — Then I made the conscious decision to slow it down. The 2:15 pacer was nowhere in my sight. This would not be the day to PR. I was going to make the most of this experience. And you know what? That's when it started getting fun. I started chatting with women along the course. This is also where there were some trees…beautiful, amazing shade.
Mile 6: 10:49 — Picking it up again. Feeling a little better. Again, slowing it down.
Mile 7: 11:15 — I started walking more slowly through water stops. And pouring cups of water on my head. I would grab two cups of water just to throw on my head, then a cup of water to drink. And a Gatorade.
Mile 8: 10:40 — This was one of my favorite miles. It's right along the shoreline. The air comes at you in a nice breeze. And you get an amazing view of San Francisco, the city I'll be running 26.2 in next week barring my IT band doesn't decide it really hates me. More Gu here.
Mile 9: 10:53 — Making our way back to the bridge crossing. I started talking to a couple women running their first half marathons. They said they weren't prepared for the heat. I told them I wasn't either. By now, even though I was hydrating well through the stations and hydrated well the day before, I was feeling really, really parched.
Mile 10: 11:30 — Back across the bridge, into the neighborhoods. I'm feeling better. Then I see the 2:20 pacer pass me. Yikes, I think. In March I ran Oakland in 2:20. I did another Gu. I also had a guy refill my water bottle and pour some water on my head again.
Mile 11: 11:15 — I picked it up a little, but by this time, the sun was baking me. I was getting tired. My leg hurt. My body was tired. I was spent. I started walking.
Mile 12: 11:14 — Then I got the greatest pick-me-up ever. The 2:25 pacer started encouraging me. "You're almost there! You have this," she said. Then we ran together for a minute or so. She told me my form was good and that I looked strong.
Mile 13: 11:18 —And those words of encouragement propelled me into the finish. Just like that.
Mile .18: 1.43 — I was exhausted, but incredibly happy. The moment I crossed the finish I was handed a super cute medal that has shoelaces as the band (see above). The actual "medal" is detachable, so you can hook it to your gym or running back, which I definitely think I'm going to do.
Official time: 2:24:11
And I'm honestly, totally fine with that. Because it's a course best. Plus, it was really hot by the time I finished. I was hot nearly the entire way on the course. But I redeemed myself from my ill-prepared first journey on the See Jane Run course.
I also had a really, really good time.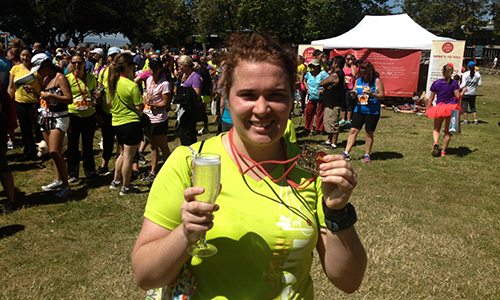 Then I got See's Candy and two glasses of champagne. Who can argue with that?
In case you're wondering, my shirt was so drenched in water (and sweat … gross) that my husband brought me my bag with my race shirt in it. I promptly shed the very wet shirt and opted for the drier version to enjoy my chocolate and champagne.
I've always said I'm not a fan of big races. I've never much loved any race that welcomes more than 9,000 people to it. That's one of the reasons I choose to race smaller ones, including the Oakland Half Marathon, California International Marathon and the San Luis Obispo Marathon.
That's one of the reasons See Jane Run appealed to me when I registered for it in 2011. It's not incredibly small, but it's intimate enough to not feel overwhelmed. It also brings together an amazing group of women with a "go get it" attitude. That's one of the reasons I signed up to be an ambassador this year. According to the results, 1,570 people finished the half marathon. It's kind of like going for a run with a very large group of encouraging, fun friends.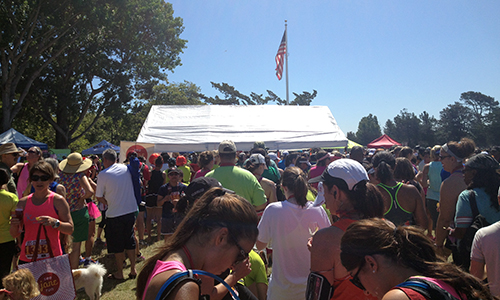 Fun friends who have the same love of champagne as I do, as evidenced by the lengthy (yet quick moving) lines to fill up those awesome glasses that are part of the race rewards at the end. (On a side note, I will again say how impressive the medal is this year. Two years ago I heard women complain about how small the medal was, but I thought it was a more than fair tradeoff for the chocolate and champagne glass at the end. I was extremely impressed by the medal/glass combination this year. Plus the race tech shirt was high quality and well designed. You definitely get your money's worth with See Jane Run.)
Today, I could be dwelling about how I didn't get that 2:15 personal record. Instead, I'm glad to be part of a group of women who pushed through some ridiculous Bay Area heat and battled the sun to have an epic good time. (And women who pushed me to the end when I was ready to give up and walk it in.)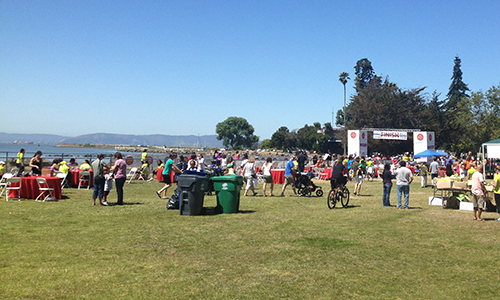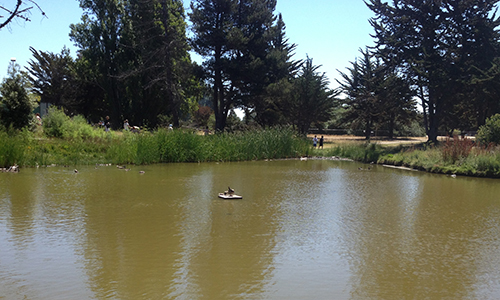 I also got to partake in the views, minus the trash cans in the first image, before heading home. Today was a good day. It was a win in my book.
Even better, my race bib scored my husband (and race driver) a buy one, get one deal at Chipotle, one of the race sponsors. You better believe we took advantage of that.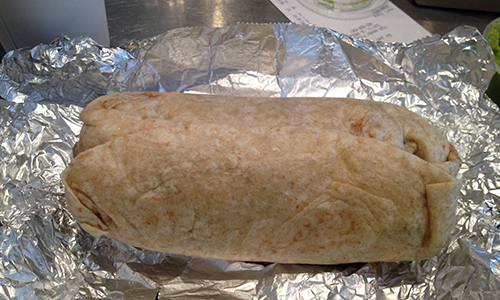 Chicken burrito. Yum.
See Jane Run's manifesto states that one person finishes…everyone else should have a good time. I don't think that's anywhere more obvious than on the course with 1,500-plus other women who are helping push each other to their goals. So to celebrate, I bought myself a "course PR" shirt. Or at least that's how I justified it. (I don't really NEED a reason to shop, but it's good to have one.)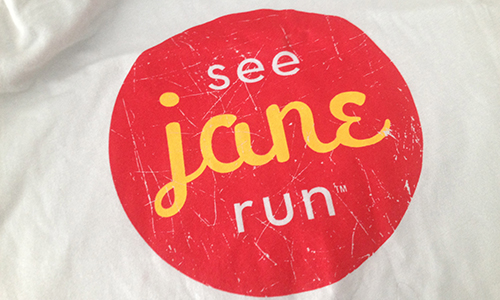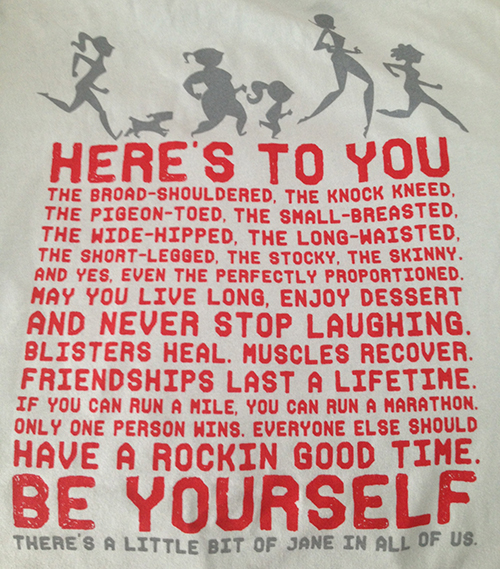 I'm wearing it now — proud to be a part of what happened in Alameda today, proud of myself for hanging in there with tired legs under a sweltering sun and proud to be am ambassador for an organization that promotes running for all types of women. Especially all the women I had a "rockin good time" with today on the 13.1 mile course.
(Disclaimer: As a See Jane Run Ambassador I was given free entry to this race, but the views reflected in this blog are my own.)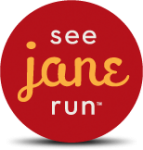 Run with me!
Save 25 percent all See Jane Run races, including the June 21 San Francisco Bay Area run, by using the code SJRAMB243. Use the code to also save 10 percent on online store discounts at seejanerun.com.