Reppin' the East Bay at the Let's Go 510K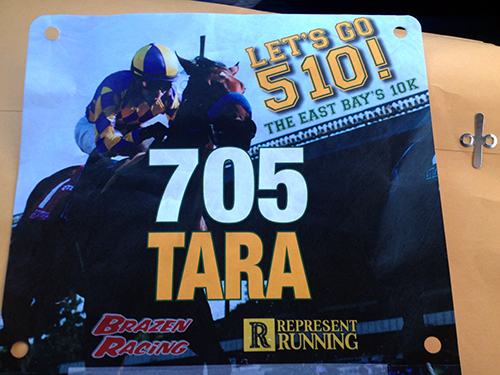 I don't hide my love of the San Francisco Bay Area at all. After two years of living in Oakland for graduate school, I found it hard to come back to the valley after spending a summer doing an internship, after graduation, in Dallas. Everything just seemed to slow. I went from areas where there were 100 things to do each night to an area where there were limited opportunities after 8 p.m.
I've adjusted better in the past couple years to suburbia. A move to a neighborhood where there were more commuters than not helped. What's also helped is having easy access to the East Bay, including my favorite haunts in Oakland and Berkeley. My husband works in Richmond every day, so if I really, really need to do something, I can meet him in the East Bay.
I'm more connected to that area than I am my own some weekends. That's probably why I consider Bay Area runs my "home" races. I know I work in Stockton, and have since I took my first job years ago, my most the races I sign up for and run are close to home the opposite way.
I run the East Bay because I love the East Bay.
That's why it was easy for me to decide to apply to be a race ambassador for the Let's Go 510K on Oct. 19.
I was so excited when I got accepted to be an ambassador with a group of other fantastic runners. I was more thrilled that I got to be part of this inaugural race representing the 510 area code. The race comes from a team sponsorship with Represent Running (which also puts on the 415K and the 408K) and Brazen Racing.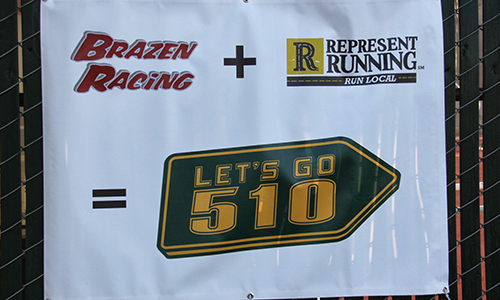 The 10K route is probably the most beautiful one I've ever run. It starts at the back of Golden Gate Fields, in the parking lot right along the waterfront.
My husband dropped me off early to make up some time at work, so I had about 40 minutes to enjoy the scenery.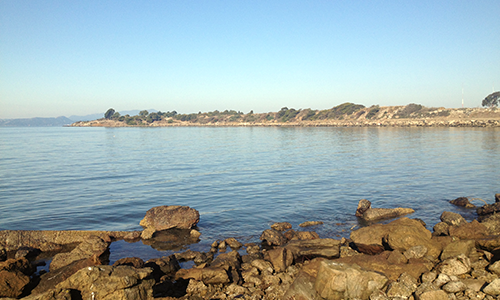 Yeah, my 10K location was probably so much better than other people's that weekend. Not even kidding.
Although a mostly "flat" course, runners go on a significant uphill in the first .20 miles. But that's it.
BUMP ON BOARD
First things first, before I continue my recap, I need to talk about the elephant on the blog: I've been running pregnant.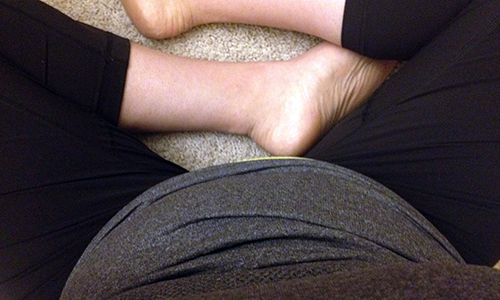 I'm at 14 weeks now. I was at 12 weeks then. I'm still kind of in the "Is she just gaining weight or is she pregnant category?" with my work and home clothes. I've only had to buy a couple maternity shirts because I have a closet of clothes that once fit me when I was 200 pounds, four years ago, that I just couldn't bear to part with.
In my running clothes, though, it's a different story. I've been bumping out for about six weeks now. Spandex doesn't do women any favors in hiding a mini baby bump.
Running pregnant has NOT been easy. I always thought I'd be one of those women who ran through her entire pregnancy. But the first trimester left me so exhausted that I did little running. The one half marathon I did took me 3:21 minutes because of fatigue and injury.
Also not easy? The morning sickness that seems to creep up on mornings when I have races. Imagine how happy I was when the 510K started at 10 a.m. and not only gave me time to sleep in, but also to pull myself together in the morning.
BACK TO THE RACE
One of the biggest selling points of the 510K is the location. It starts and ends, as mentioned before, at Golden Gate Fields. In fact, the finish is actually ON THE RACE TRACK.
The route moves along the waterfront, never crossing over the Eastshore Freeway (Interstate 80) and taking runners around Cesar Chavez Park in Berkeley. This inaugural race had about 1,000 people sign up for it, which I learned at the volunteer shift I did the day before the run.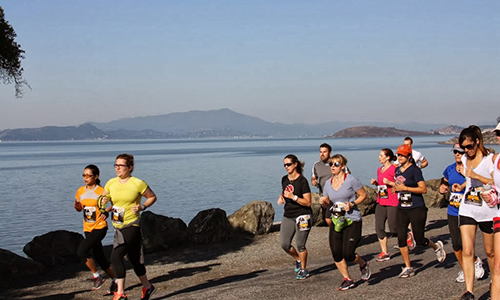 That meant that there were always a good amount of people around during the run, even though I was a little slower than my fastest 10K time. I was glad too, if only because I've been very cautious about racing since finding out baby is on the way.
The first two miles were a little too fast for me right now: I ran a 10:00 and a 10:07. Yikes. It was already an odd warm day in the Bay Area, so I was starting to overheat a little pretty quickly. I carried my water bottle with me, which I normally don't do in 10Ks, but figured with extra blood pumping through me I would need it, I was right.
As we made our way into the park, I started to slow and take some walk breaks. I probably should have went out at an even 11 pace and then worked my way down and pushed it at the end if I felt good. Instead those two 10-minute miles, which are pretty common for me in 10Ks, were kind of killer.
My next two miles were reflective of that: 11:46 and 11:32.
I definitely went out too fast and buy the time we were working our way back up along the scenic San Francisco Bay, my heart was beating a little too heavy and I was fading fast.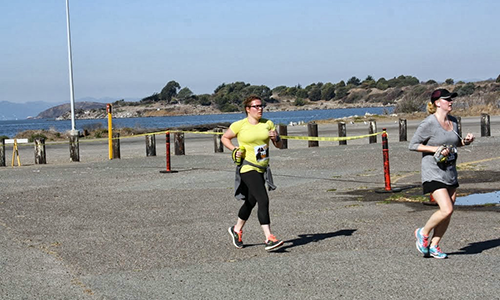 I may look strong in the photo above, but by then I was dying. At the second water station, I chugged down two cups of water and two cups of electrolyte. I was also sipping from my bottle more frequently.
My last two miles were similar: 12:38 and 11:42.
That said, I wasn't disappointed by my finish time. I ran a solid 1:09:17, averaging 11:11 miles.
The best part, though, was finishing along the race track. The material on the track was interesting, to say the least. The last .20 included something of a single-track finish-area as people didn't want to carve out new tracks on the track.
I actually ran ahead of quite a few people and kind of created my own path. I don't want to say it was hard, just weird. I'm definitely not used to running on that sort of surface.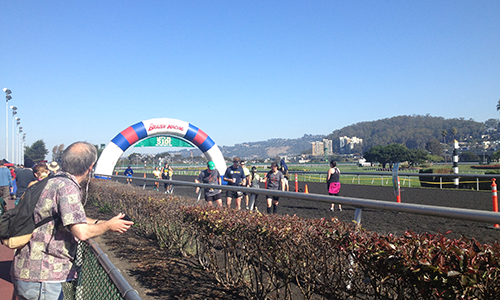 Represent and Brazen had a great finish-line festival after that included the typical Brazen set up of food and refreshments. And the medal was ridiculously awesome.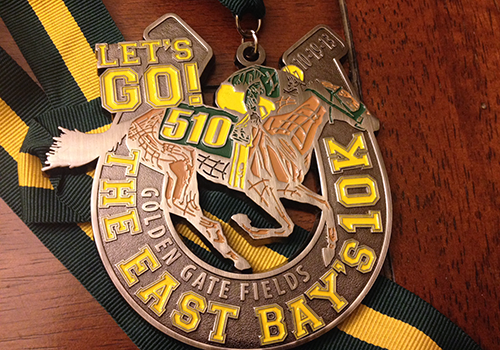 It's bigger than some of my marathon medals!
Since my husband was still at work, I stopped by the Represent Racing booth and said hi. I also sat down for a little bit and took in the scene. The race track was a vastly different environment than I'd ever finished in.
The best part was the interaction with betters.
Case in point was a man who stopped me to ask what was happening.
Him: "Did you get in free? What was happening here?"
Me: "The runners got in free. It was for a race."
Him: "Was there betting on it? Did I miss it?"
Me: "No. There was no betting. At least not that I know of … "
Awkward. When I mentioned it to my husband, he laughed for a good while.
LASTING IMPRESSION
The Let's Go 510K quickly became one of my favorite races this year. I was actually excited to run a 10K instead of a half marathon. I was happy for the 10 a.m. start time and more excited for the course that kept it close to the bay.
The aim of Represent Running is to showcase different parts of the Bay Area by offering races in each of the area codes. Runners can get a "Run the Bay" medal if they complete all three races in a year period.
I would be all over the challenge, because the medal is pretty sweet, but I haven't registered for any races after the Nov. 24 Berkeley Half Marathon. I think I'll still be running, but not racing into my mid second trimester and my third trimester.
This is a GREAT race, though. And the first year event went off so well. I haven't seen a first-year race so organized in a very long time.
Overall, the 510K was an amazing experience. It is definitely a race I'll sign up for next year.
Disclaimer: I was given a free race entry as part of the Let's Go 510K ambassador program, but the thoughts and race report are my own opinions.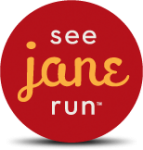 Run with me!
Save 25 percent all See Jane Run races, including the June 21 San Francisco Bay Area run, by using the code SJRAMB243. Use the code to also save 10 percent on online store discounts at seejanerun.com.