Prepping for the streets of San Francisco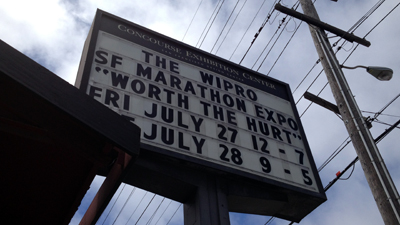 About a year ago this time, I was toying with the idea of starting a blog. I kept thinking to myself that I should write about all the races I do and the expos I attend. I didn't want to because I wanted to brag. I did so because I kept wondering, when I was going to all these things, what I should expect. I wanted to know how long waits at expos were. I wanted to know if certain races were worth he money. I wanted to know how difficult courses were from honest people, as opposed to race organizations.
I found all those things on blogs. I started reading more and more running blogs over the past year. I remember walking through the San Francisco Marathon expo, picking up my bib and shirt for the second half marathon, thinking it was time. By September, I had started a blog. That half marathon would the last I'd run without "documenting" it.
So today I found myself coming full circle as I waited in line at the expo for the 1st Half Marathon that I'll be running. I immediately started taking photos of everything, as I've done for the past year or so.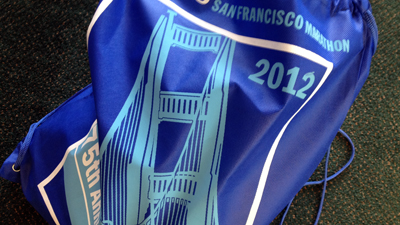 I was near the beginning of the line as the expo opened at noon. My husband went in to work in Richmond, across the bay, today so I took a ride on BART over and did a little shopping before doing the 1.1 mile walk to the expo. It's kind of off the beaten path, accessible by public transportation, but just as easy to get to by walking.
In the line, I was in front of a guy complaining about the line being long and a "six-hour wait." The expo wasn't even open yet. Dramatic much dude? Yes, yes he was. More annoying was that he was talking about topics that just seemed like he was bragging to everyone around him.
After only about twenty minutes waiting, including about 10 when the expo wasn't open, I was within the first three batches of people to go inside.
This expo is held in probably the biggest location of all expos I've been too. The SF Design Center is a long hall, which makes it easy to navigate through if people don't stop right in front of you. (That happens. A lot.)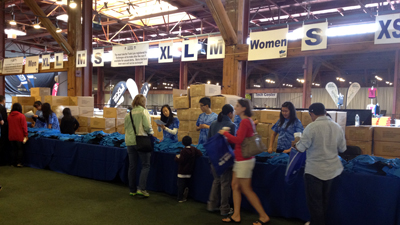 The first thing was bib pickup. Because the expo had just opened, I forgave the girl who told me I was in the wrong line when I wasn't. She fumbled through the bibs and took awhile to finally get mine. No big deal. Then I headed over to the shirts.
I hate to say this, but shirts are always a point of contention. They can often be the reason people don't sign up for a race the next year. I'm not even kidding. I've seen people post comments on Facebook pages saying they wouldn't be back the following year because the race shirt had "cheapened" the experience. Do those people follow through? I don't know. But they sure make a fuss.
I'll be honest: I'm not in love with this year's shirt.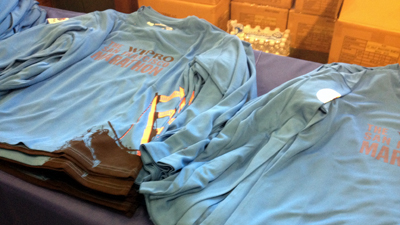 That's what I saw when I first walked up to the shirt table. The shirt is a nice blue color, but has huge writing on the front. It also has the lead sponsor's logo, big, on the sleeve.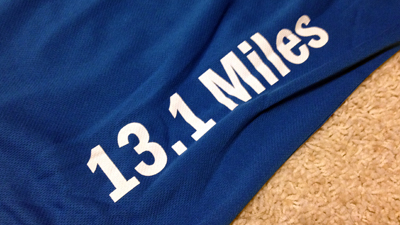 You can really see the deep blue color of the shirt in the above photo. The "13.1 miles" is printed on the back, right-hand side. I don't have a qualm with that, not at all. I also like the wraparound graphic with the Golden Gate Bridge, which I'll be running this year for the first time ever.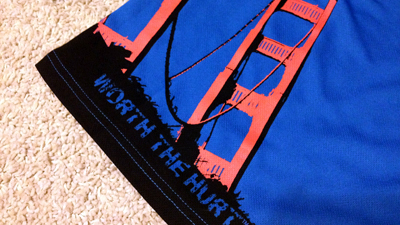 But it's kind of busy. I'm a fan of simple lines, something well-designed and not an overt advertisement for a specific race. That said, I was a HUGE fan of the 2011 design.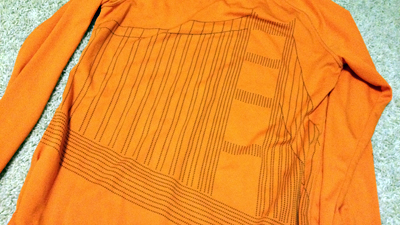 I still wear it all the time. I'm actually planning on wearing it as an upper layer for the race since we'll be starting before dawn. I liked it because the print was simple. Plus, the race organization's imprint was small on the back while also being specific to the 13.1.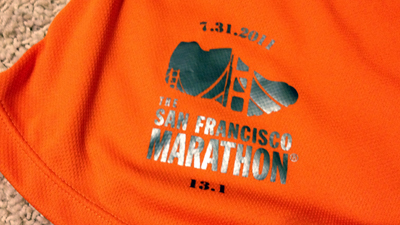 My phone is obviously showing the colors a little off. The orange shirt is more like the color of the first than the close-up shot. In any case, I love that shirt. I love the color. I love the print. I'm probably in the minority here, though. A lot of people commented immediately after the race last year that they hated the shirt.
When voting opened this year, people actually said they wanted blue or something closer to the previous colors. They also complained about the long-sleeved aspect.
The biggest difference this year is branding. Last year's marathon and half marathons didn't have a sponsor until nearly the end. That's likely the reason for the increased sponsor-name everywhere. In any case, I likely won't be ordering a second shirt this year. Does that mean I won't sign up next year? Of course not. Race shirts are hit and miss. You can't please everyone. And I'll wear it. It just won't be my go-to shirt during the winter.
I walked around the expo after picking up my reusable race bag. This year, organizers made a good change by moving the official race merchandise to the end of the level with bibs and race shirts. Last year, it was incredibly close to the rest of the goods. It made for a cramped, uncomfortable experience.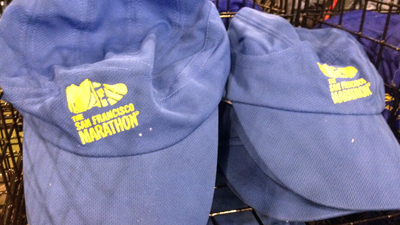 The problem with all the "official" merchandise is that there's not a lot of half specific stuff. I don't like wearing a race shirt if I didn't actually "run" what it says on it. Even my Brazen shirts that say 5K/10K/half marathon are a little weird to wear. I often feel the need to tell people which I actually ran. (I do this ALL the time with my Nike Women's Half zip up, which I still want to get embroidered to say "13.1.")
I did pick up a pricey, but nice water bottle.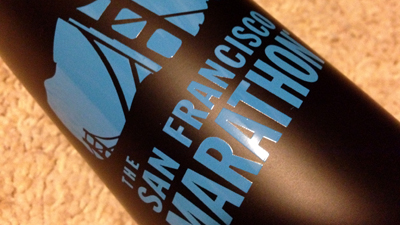 I then walked the concourse a little bit, but didn't really go crazy. I tried some Clif Bar samples. I chatted up some race officials from various races. I was tempted to sign up for Oakland Half Marathon on the spot, but there's also a code to do it in the virtual race bag. I'll likely sign up using that over the next couple weeks.
I stopped by the Sweaty Bands booth and picked up two new ones: a sparkly black one and a light green one.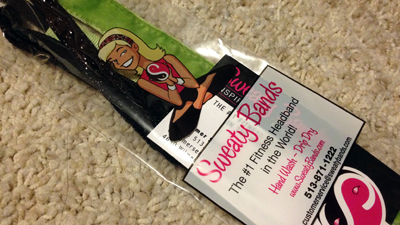 I really like the ones I bought last year, even though I don't wear them often.
Then I came across a booth for a product I'd seen reviewed on some blogs lately. The Clean Bottle is a cool concept. Both the top and bottom screw off. I scored four today for $20. (Compare that to the $24 I paid for the official race water bottle that I can't even run with and will likely be bottle for work.)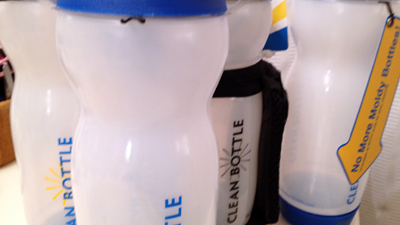 One of the bottles is the "in hand" model that I can put my iPhone in and hold while I run. Like my Amphipod bottles, the bottles can be used interchangeably with the others. I'm looking forward to trying it out on a run next week. I won't be using it for the half marathon, if only because I don't want to try something new on race day.
I know one thing: It's likely this will be my treadmill running bottle.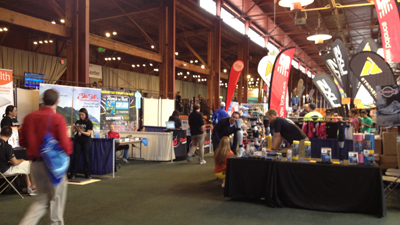 I didn't spend a lot of time at the expo this year. I looked at some Nike clothes. I was tempted to try on some shoes, but after what my feet went through with the Sauconys earlier this year, I didn't want to go there.
Overall it was a quick trip in and out of San Francisco. The lines weren't long, only because I went early. I wasn't easily tempted to buy anything. The things I bought I needed. I head back the the Market Street area and the BART station to meet my husband back in the East Bay.
But not without stopping for some pre-race fueling with cupcakes.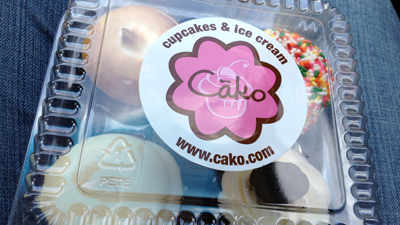 I think it's a little dangerous to have a cupcake stand right next to the entrance to the BART station. I was doing so well and then I saw that. And they had S'more cupcakes. And ones with sprinkles.
At least I'll burn it off (kind of) at the race, right?
I'm a little scared of the hills, but have been doing resistance training this time around. I'm more scared of running across the bridge because of my fear of heights (yep, even on a bridge), but I'm ready to get up and get going for this one. I'm even more ready to be done running before it's even 9:30 a.m.
Here's hoping for a good race.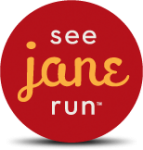 Run with me!
Save 25 percent all See Jane Run races, including the June 21 San Francisco Bay Area run, by using the code SJRAMB243. Use the code to also save 10 percent on online store discounts at seejanerun.com.