Last-minute improvising
Ever think you packed everything in your gym bag and you realize, a little too late, that you forgot something important?
Yes. It's happened to all of us.
I usually double and triple check things to make sure I have everything. But I've forgotten by Garmin multiple times. I've left my sports bra at home and ended up having to run back and get it before a run after work. I've forgotten Gu in my hotel room too, leaving me running on an empty stomach.
Today, I forgot my Amphipod handheld in Tracy. I didn't realize it until my running buddy was already in Mountain House and we were ready to start our run.
Great. Six miles on a mildly warm day without water. Then I saw a disposable bottle in my care, full.
And I had an idea.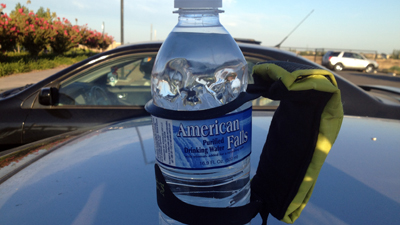 I actually shoved the top band down around the bottle, bending it a little. The bottom band only stayed because of its rubbery material.
But it worked. And well too.
I ran six miles with it. It wasn't a burden. It wasn't annoying. And it didn't slip.
The only bothersome thing was having to screw the cap off when I wanted to drink, especially since we were picking up the pace and trying to run faster than usual. A win for last-minute improvising.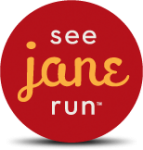 Run with me!
Save 25 percent all See Jane Run races, including the June 21 San Francisco Bay Area run, by using the code SJRAMB243. Use the code to also save 10 percent on online store discounts at seejanerun.com.