Not a best, but a good time nonetheless at CIM
I finished my second California International Marathon yesterday. It was a blast through the first part, with crazy weather and 40 mile-per-hour wind gusts for the first 13.1.
I was doing really well. But battling the elements took more out of me than I thought it would. I finished in 5:24:53. Four minutes more than my time last year, but 10 better than my San Diego run in June.
It was a wild, crazy run. I'm disappointed that I didn't make my goal of finishing in 5:15. But I sloshed through very wet streets in pouring rain.
I'm planning a full race report, but with a Garmin malfunction (it stopped for more than a half time only 20 minutes in!), a face reddened by windburn and my quads burning from my great first half, I'm still recovering.
It's too bad I don't have any photos of that morning. I was trying to stay dry as long as possible (that didn't happen). But it will be a fun race report.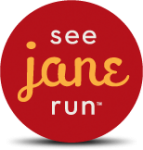 Run with me!
Save 25 percent all See Jane Run races, including the June 21 San Francisco Bay Area run, by using the code SJRAMB243. Use the code to also save 10 percent on online store discounts at seejanerun.com.