Battling the elements at California International Marathon: Part I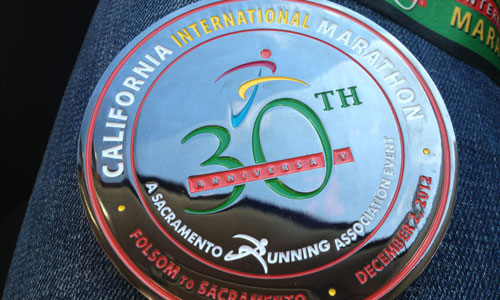 I'll be honest, I'm not even sure where to begin this race report. In many ways, California International Marathon should have been a better run for me. It should have been the race where I recorded a new personal record, after months of solid training runs. It should have been where I finally felt as if I was ready to run 26.2 without problems.
Unfortunately, the weather had other ideas.
ying it wasn't fun. Not at all.
But the elements took everything I had out of m
For the first 18 miles of the run, it was pouring rain. There were wind gusts up to 40-miles per hour. At one point, I swear the rain was coming at me horizontally. I'm not sae. And it sucked.
Let me rewind, though, to the day before. My husband and I left for Sacramento when the sky was overcast in Tracy. It was actually present until we reach the county line.
Then we saw ominous foreboding of what was to come.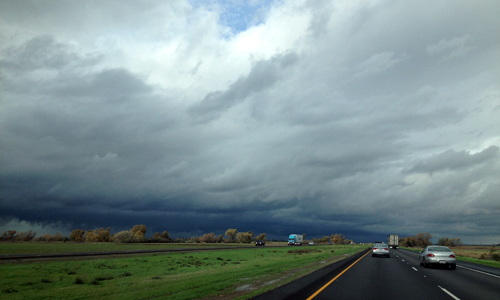 And we knew that was only the beginning of what was coming. Forecasters projected up to an inch of rain during the morning hours on Sunday. It was to start raining the night before.
It was going to the rain. No matter what. No doubt about it.
The forecast couldn't get much worse than that, right? Then it did. Suddenly the wind speeds were projected to be higher. Add to that a possibility of thunder storms and it's every runners dream to tackle a marathon in.
Or not.
We made it to Sacramento around 3 p.m. and made our way to the expo. It was already pouring down rain then. Plus, the streets were flooded in most directions. To get to the convention center, we literally had to jump over puddles that were more than six inches deep.
Needless to say, my shoes got wet.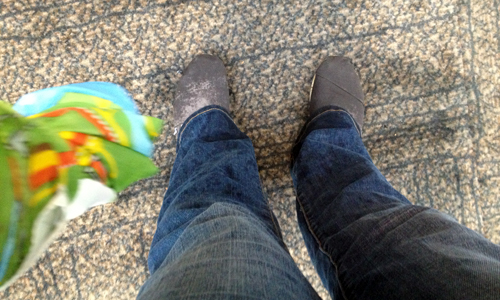 My jeans were also wet up to my knees. The expo was, just like last year, quick to navigate. I picked up my packet and Jennie's, again without needing an identification, and we wandered around for a couple minutes. I picked up a $5 poster commemorating the 30th anniversary of the event in addition to the race swag.
Let's talk about the swag for a minute folks.
The marathon runners were given some extra prizes this year in addition to a nice green long-sleeve shirt.
Each runner received a reusable bag, a nice one not one of those cheap ones the Rock 'n' Roll series gives out, a pair of gloves and a neck gaiter with custom CIM logos.
The items were pretty nice.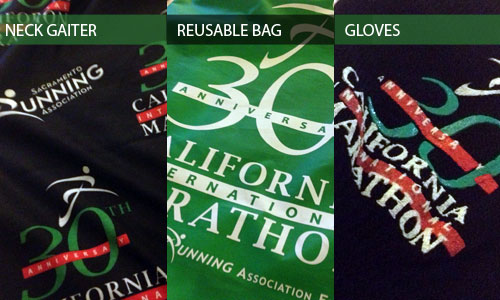 I'm especially excited about the neck gaiter. It can be used as a headband, or a neck wrap or a cap. Lots of uses, definitely an awesome addition to the swag bag.
Now I know it was raining and people tend to be cranky when it rains, but the complaints from the relay teams about not getting the extra swag was ridiculous. A guy in the line behind my husband and I was getting angry with the volunteers. Angry. With volunteers. Really?
"When we registered it didn't say anything about NOT getting this stuff," he complained.
The timid teenager who was opening up the swag bags just kept telling him that the items were for "marathoners only." The guy kept getting more and more upset.
Wow. Calm yourself dude. Seriously. Sure, the website didn't say anything about relay runners not receiving the goods, but at the same time it's not the volunteers who made the decision. Don't yell at them. OK. Rant over.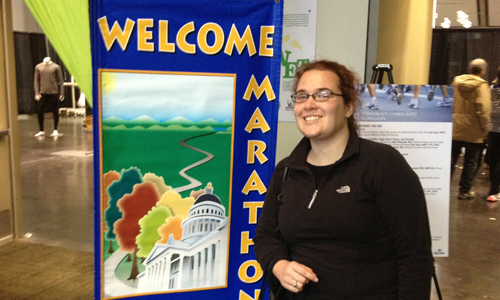 We didn't stay at the expo too long if only because I was wet and tired. Instead, we headed to our Sacramento hotel. It wasn't one of the shuttle hotels, but my husband would be driving me to the start.
After check in, we decided to head downtown, as we kept checking the weather reports, for dinner. The problem is we didn't have reservations so our first attempt at a pasta dinner was thwarted.
We ended up getting a nice pasta, chicken mix at the 4th Street Grille, where other marathoners were also eating. Our waiter was awesome, despite teasing about the weather for the next day. I know, I told him. It will be bad.
Just then, it really started raining.
The storm system had come in. It was bad. Awful. Buckets upon buckets of rain.
Not really buckets, but it was pretty bad.
We watched the rain out the window as the television showed a storm tracking into the area that would likely deliver the brunt of the storm at the beginning of the race. So. I've never run a race in the rain before. Never. There have been times where the rain threatened a race, but in the end it only rained for a couple minutes or not at all.
I was going into this blind. With a rain poncho. And lots of Body Glide.
I kept telling myself I would be fine, just fine. The poncho would keep me dry. Right? The Glide would make sure I didn't get blisters anywhere. Yes? I had no idea what I was in for the next day. Not at all.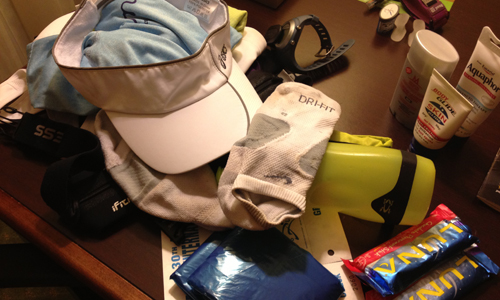 See all my anti-chafe stuff? Little did I know it wouldn't be enough when my feet were soaking in my shoes for more than three hours. It was going to be a wet and wild run, that's for sure.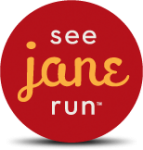 Run with me!
Save 25 percent all See Jane Run races, including the June 21 San Francisco Bay Area run, by using the code SJRAMB243. Use the code to also save 10 percent on online store discounts at seejanerun.com.