Harnassing the power of algae: An Energy Bits review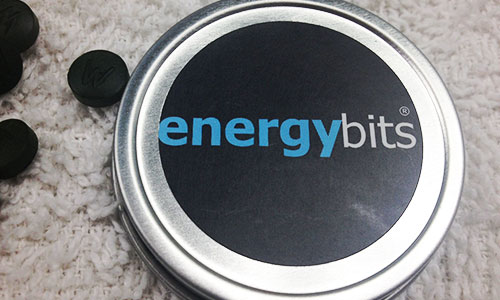 We know algae as the gross green stuff that sits on the top of pools, collects along unclean patios and, generally, causes even the less squeamish of us all to make a contorted face when thinking about it.
It's kind of gross. A microscopic view of it, as seen below thanks for Wikimedia Commons, doesn't help the organisms case at all.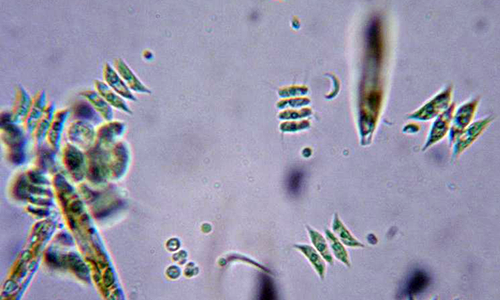 So you can imagine my trepidation when I started seeing my fellow running bloggers, particularly in my Fit Approach Sweat Pink group, talking about the wonders of Energy Bits, an algae-based fuel source. Then I got interested. Because it just seemed so bizarre.
I mean, for real? People are eating algae? This can't be right.
Doesn't it taste bad? Make you gag? Upset the stomach?
So I did what I do when I'm interested in something, but not quite sold on the idea: I stalked the Energy Bits Twitter account. I'm not even ashamed.
The things I learned:
The Energy Bits Twitter account and social media crew is VERY responsive. It's probably the most responsive Twitter account I've ever seen in all of the running-related Tweets I've done over the past couple years.
The bits are RAVVED about. People seriously love them. And swear by them.
Probably the most important of all: The bits don't taste gross.
Now the last one I didn't believe. I mean, this is a type of algae. It HAS to taste bad. Nope, I was told. If I swallowed them down with water, I likely wouldn't taste anything at all.
That's when I was offered a sample trial of Energy Bits by the Twitter-handler and Energy Bits Director of Social Marketing Jonathan. I jumped at the chance, especially because I've have stomach issues all summer that have caused me to rethink my fueling strategies in general.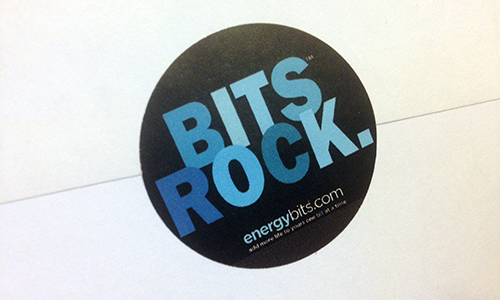 So I was really excited when I received a package from Energy Bits. I opened it up and looked through all the informational material, which included a breakdown of the Spirulina algae that makes up the 100-percent natural, one-calorie per tab product.
"Run better with bits" a postcard in the package said, saying each tab is all vegan, all raw, all non-GMO, all Kosher and includes more than 40 vitamins and minerals, as well as 64-percent protein and antioxidants.
So much stuff. Such a small little tablet.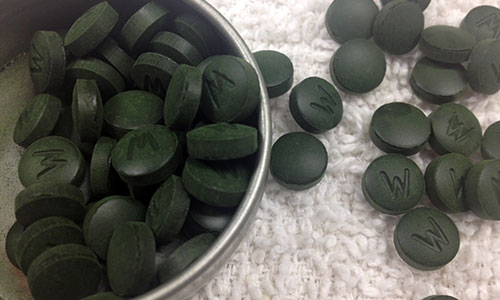 And yes, the tabs are green. They have a bit of a "fishy" smell to them. I guess it's less "fishy" more "aquarium." That's part of the reason Energy Bits actually recommends swallowing the bits since, according to the literature, they "taste very green."
Since I didn't want to taste anything green, I did as told.
I put the bits to the ultimate test. About a month ago I had a VERY LONG day ahead of me that included an early-morning run with friends, teaching, meetings and evening code work. They are "Energy Bits" I figured, so I was hoping that instead of turning to a Diet Coke or a Five-Hour Energy boost, I'd try this.
The makers actually suggest using Bits to "jump start" the day to keep hunger and fatigue away. Sold. Let's do it, I figured.
I downed the recommended 30 bits, which took a good-sized chunk out of my tin. I'll admit that it took me awhile. I've never been good at taking more than one pill at once, so this was a challenge. I had the Bits with orange juice because I was really afraid of tasting the "green." I never did.
Here's a look at how Energy Bits got me through a very long day:
SIX-MILE RUN WITH FRIENDS
My 4:45 a.m. wake-up call is always hard. About 10-minutes after taking the Bits, I left the house and headed out to a neighboring community for a run. I was running on tired legs. Ten minutes into my run, I felt different. I was increasing speed. I wasn't sluggish. In fact, it was one of the best runs I've had in a very long time.
At the end, I honestly felt like I could add on another four miles and still feel great … but I didn't have the time.
MEETING WITH STUDENTS
After running home and getting cleaned up, I rushed to school for a meeting with my editing staff. After an early-morning run, I'd usually need a caffeine pick me up to get me through. But I was really active and energetic as we discussed possible stories for the beginning of the semester. By 11 a.m. I'm usually downing a Diet Coke or searching for something surgery.
I didn't have one of those "craving" moments.
LUNCH
I've readily admitted that I overeat at times. But on this day, after a quick snack in the morning and a large bottle full of water (I'm always hydrating), I didn't feel the need to scarf down my lunch. In fact, I ate slower because I wasn't as hungry. Still no cravings for something sweet.
AFTERNOON/EVENING ACTIVITIES
I was probably more awake than I've been all semester so far that day. By the time I left campus, after another meeting, I was starting to think I could chalk it up to a good night's sleep. But it was definitely the Energy Bits. I was still feeling energetic by the time I got home and made dinner. I even slept better at night.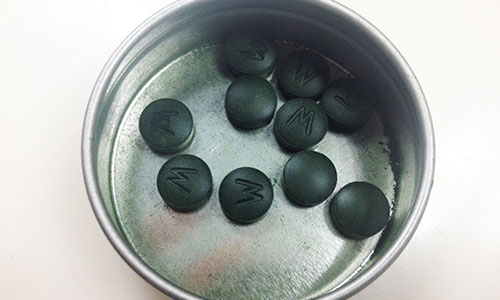 I'm a big "I'll believe it when I see it person," so I can truly say that Energy Bits are for real. Not only was I propelled through my morning run, but also through the rest of my day. The best part is that Energy Bits are all natural, so there was no "crash" at the end of the day. But the bits were also kind to my very cranky stomach.
I took them down in the morning with no issues during the day. My only regret is that I kind of "wasted" them on a day I only had a six-mile run. I would have loved to see how they preformed on a longer run, maybe even a 15-miler. But by the time I tested them out, my stomach issues had already made me decided that I wouldn't be running a marathon at the end of this month.
Now for the fun part: You can enter for a chance to try Energy Bits.
The folks at Energy Bits are offering a sample of one of my readers so that you, too, can say to your friends: "Oh, don't mind me over here. I'm just taking some algae!" And then get interested and amazed looks. That's the truth. My friends thought I was nuts.
Enter below. And earn more entries by liking Energy Bits on Facebook or Twitter. I'm closing the giveaway on Oct. 2, so enter now!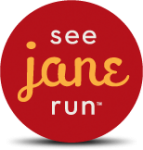 Run with me!
Save 25 percent all See Jane Run races, including the June 21 San Francisco Bay Area run, by using the code SJRAMB243. Use the code to also save 10 percent on online store discounts at seejanerun.com.