Halving it for Half Moon Bay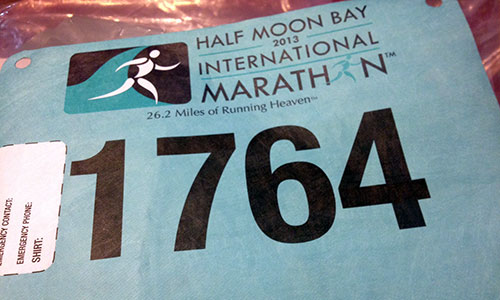 As of 11 a.m. today, I am officially no longer running a marathon in a week. I traded in my dark-blue bib with my name emblazoned on it for a teal replacement that signifies the switch to 13.1.
I had a moment, as I was walking in to Sports Basement in Walnut Creek, where I asked my husband if he just wanted me to try and run the marathon so we could get our money worth. We both agreed that with the stomach issues and training changes over the past couple months, it would be best to not go that route.
So I walked it, turned a corner and found my way to packet pickup. I went through pickup for the full, with my number 344 being assigned to me. I grabbed the shirt and headed around to the answers desk. The race director was cordial about everything and got me switched out really, really quick.
Part of me wants to be sad. I wanted to finish 2013 with six marathons under my belt.
Instead, I'll be running 13.1, likely slowly, and adding another half marathon to my list.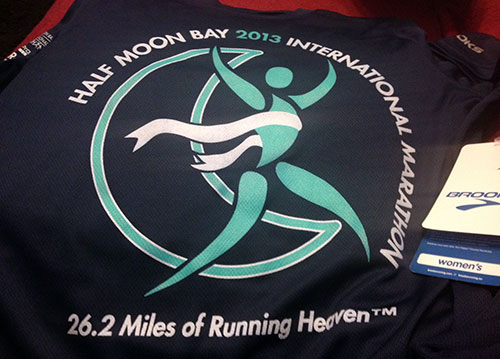 Speaking of that shirt, I love it. All the shirts are the same, saying "26.2 Miles of Running Heaven" so I didn't have to switch my full marathon shirt for a half shirt. It's a large Brooks shirt, so it's good quality. This will be my first of two Brooks shirts in the next couple weeks. The Rock 'n' Roll Marathon series also has Brooks shirts. I love how durable they are.
I don't know much about this race, but I'm already liking what I see. The Half Moon Bay International Marathon has only been around three years now. It seems to have gathered some great traction, though, with a hefty list of sponsors.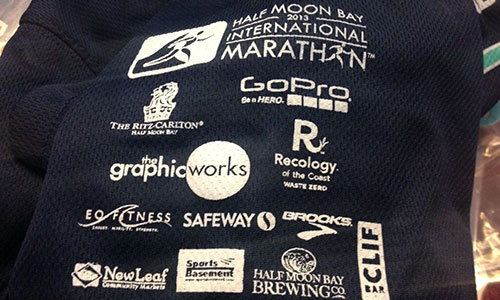 When I first found out about it, I was excited because it sounded exactly like a Big Sur race without the need to travel a long distance and book an overnight hotel room. (It's about an hour and 15 minute drive early in the morning from where we live.)
Big Sur, though, is a very well established race that splits its main event into two: An April marathon and a November half marathon.
I actually first ran the Big Sur Half Marathon in 2011 on suggestion from my mom. She had a friend who had run the marathon. I, without really looking into the run, decided I wanted to do the 13.1. The full marathon included way too many hills. I found out later, during my 21-miler along the coast there, that it was a tough one.
But the Big Sur Half happens in Monterey and in nearby Pacific Grove before finishing near downtown. It's not exactly the same as running along Highway 1. That said, I love the Big Sur Half. It's one of my favorite races. I've already told my husband I hope to be back to it in 2014 as I ramp up for California International Marathon next year. Schedule conflicts have prevented me from doing so many of my favorite races this year.
That said, I'm hoping I enjoy Half Moon Bay just as much. I love the feel of smaller races. And I love that more and more are popping up in coastal areas. One of my best experiences in running was at the San Luis Obispo Marathon this year. That route doesn't run along the coast, but it is beautiful.
So as much as I'm upset that I won't be tackling the full 26.2 next week, I have a lot of reasons to be really excited about taking on 13.1 along the California coast. I just hope my stomach and body cooperate.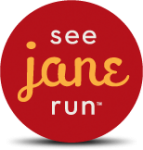 Run with me!
Save 25 percent all See Jane Run races, including the June 21 San Francisco Bay Area run, by using the code SJRAMB243. Use the code to also save 10 percent on online store discounts at seejanerun.com.