A colorful 5K in San Jose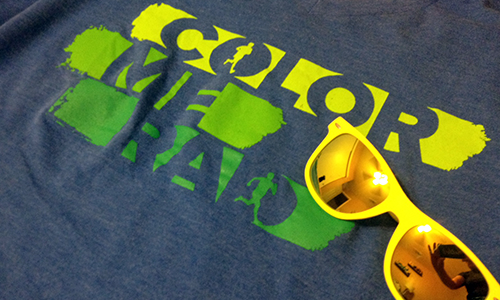 Today my morning run was a lot more colorful than it typically is — and that's saying a lot because I love wearing neon running clothes.
I ran my first color-type run today in San Jose with the Color Me Rad 5K. After walking around at a local festival for about three hours last night, I was thanking the race gods for a 9:40 a.m. wave start. It meant my husband and I could get on the road from our home, 60 miles away, later than a normal race. It also meant I got to sleep in some.
After an uneventful ride from Tracy to San Jose, the first major obstacle hit us: parking.
I had read reviews, and heeded the advice of the Color Me Rad website, to arrive early, especially since I was unable to attend an early packet pick up.
The problem wasn't the organizers, though, in this case. Instead, it was the venue's parking attendants. My husband was concerned I wouldn't be able to get my packet, so he literally forced me out of the car as quickly as he could before driving off to pay $8 for parking.
But he literally sat in a traffic jam, only about a quarter-mile long, for 40 minutes. Why? Apparently one of the attendants kept having conversations with every driver coming in. Seriously.
My husband texted me that is was "awful" with an expletive in front of it. Yikes.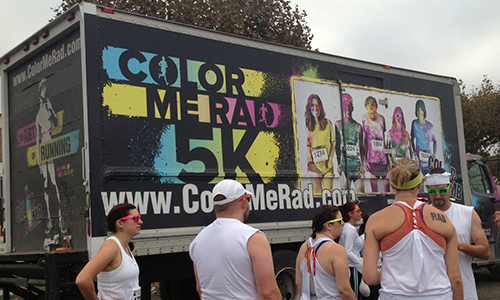 Thankfully, inside the Santa Clara County Fairgounds, everything was moving much more smoothly for me. When I got at the venue at around 8:45 a.m., there were very few lines leading up to race-day packet pick up.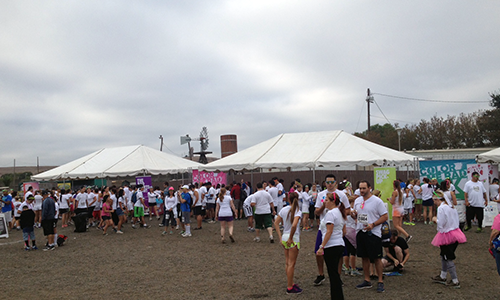 I walked right up, picked up my bib, then got my sunglasses and race T-shirt (see above). The race T-shirt is one of the best ones I've received from a race and, hands down, the best from a 5K. It's a cotton-blend shirt, but it's also a fitted tee. And it runs true to size. When I took of my color-covered shirt today, I wore it home and then changed back into it after my shower.
After packet pick up, I had a lot of time to kill. Unfortunately I also had a lot of swag and wasn't too sure my husband was going to make it into the venue before I started. He was still battling parking.
Two or three phone calls later and I was heading back out to where I entered the venue and waiting for him. After I handed over all my swag, I decided to go line up.
I didn't know what time it was, but when I got over to the start, it was WAY before my expected wave start. No one checked my bib, and I was a single runner, so I figured I'd just start with the next wave.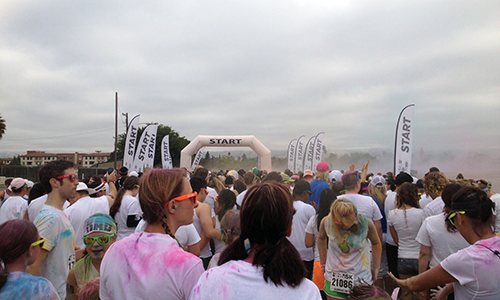 That scene is about 10 minutes before the wave I started with. I figured there were still more people coming in the gates, so some people were probably late. I also heard a woman outside the corral area say she was just going to start at the 10 a.m. wave because she wanted the course to be less impacted.
It all worked out.
After some fanfare that included the emcee's microphone cutting out, we were off.
Except there was a snag nearly immediately.
No one was along the route to direct the massive group of runners out. Instead, everyone just kept following the wave before the others. The problem was, it significantly cut the 5K down. It wasn't until other runners mentioned the error that people started turning around.
It was then a woman asked me if I was going back. I wasn't using my Garmin or anything, but I would have missed the first color station if I had kept going. So the woman and I turned around and started running back.
Her name was Darlene. She was from San Jose. And we started running together.
For awhile, we were the ONLY ones along certain parts of the course. Then we were behind all the walkers. Toward the end we made our way up to the runners again. With the detour and the backtracking, we probably logged about four-miles today instead of the 3.1.
The color stations were split between cornstarch color being thrown at some and color being sprayed at others. The color spray didn't get nearly as much of the runner's clothes, but covered brighter. The course, in this specific location, kind of zigged-zagged through the fairgrounds. We crossed over ourselves numerous times before coming to the finish line.
And the finish line was confusing for me. As someone who had NEVER done a color-themed run, I threw up the "color bombs" as soon as they handed them to me near the end. Actually Darlene and I each snagged two, so I threw them both up.
Apparently I was supposed to wait until the end. Oops. Rookie mistake.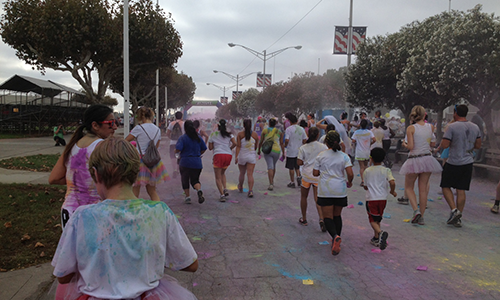 I haven't run a 5K in so long I forget how quickly they go by. As soon as we started, and just when my legs were really starting to come alive, we were heading in toward the finish line.
Darlene and I had kept a conversational pace throughout the run. As someone who came to run without any "crew," it was nice to stumble upon someone who wanted to run the complete course and was willing to backtrack. I enjoyed the conversation.
Darlene said she is running the Rock 'n' Roll San Jose Half in a couple weeks, so I'm hoping I can catch up with here there too. It will be her first half marathon.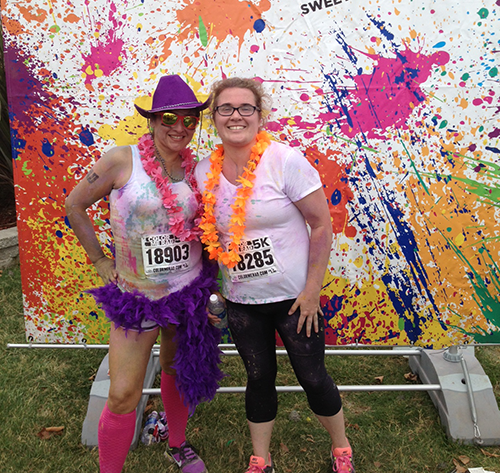 That's Darlene and I, post race. Excuse my bed-head. I didn't exactly get myself all dressed up for the run. And thanks to the LaraBar crew for being kind enough to take our photo post-race.
Despite missteps in parking, course routes and knowing what to do with a color bomb, Color Me Rad was actually a really good time. I enjoyed seeing new runners and families spending time together on the course. The great thing about themed runs is that the events attract a diverse range of runners, but usually newer runners gravitate toward them.
The runs are good ways to get runners hooked. I'm all for more people getting in shape and living healthier lives.
It's a bonus that the events are also a hell of a lot of fun.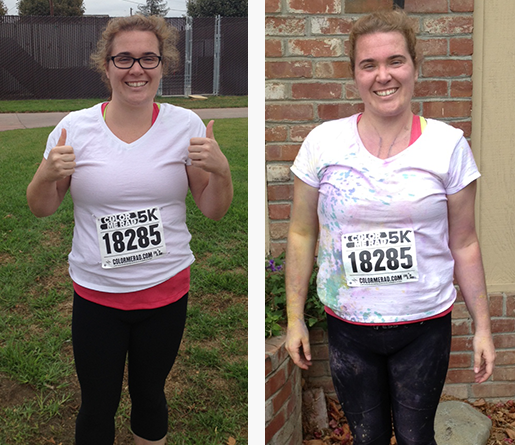 Too bad I don't look as "colorful" as I actually was. Hours later I'm still trying to get the color off my skin. I haven't even washed the running clothes yet. I'm soaking them in some stain remover beforehand. I purchased the white shirt for $5 at a discount store when I was scheduled to do a different color run with friends this summer that I ended up not going to.
I'd definitely recommend this run, particularly with Color Me Rad.
Not only is the swag superior to other 5Ks (shirt, sunglasses, temporary tattoos), free Larabar samples were offered, bottles of water were handed out at the midway point and, overall, the organization was good. Color Me Rad runs are also very reasonably priced, starting in some cases at $35. There are also frequent discounts codes given.
If I was on a timed course, I would have been more upset about the course mishap. But I rolled with the punches today and was glad I did.
Not only did I have a good time, I had a great conversation and run with a complete stranger who just made the experience that much better.
Disclaimer: I was provided a free race entry as a Color Me Rad Ambassador as part of my affiliation with Fit Approach's Sweat Pink group, but the thoughts, opinions  and newbie mistakes are my own.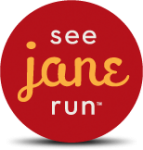 Run with me!
Save 25 percent all See Jane Run races, including the June 21 San Francisco Bay Area run, by using the code SJRAMB243. Use the code to also save 10 percent on online store discounts at seejanerun.com.