Brazen bookends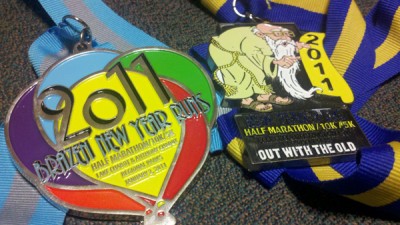 I ran my second 10K on Jan. 2. It had a huge hill. I vowed to NEVER, EVER do it again. That day, though, I fell in love with the racing company.
Despite the fact that I had another runner grab my back and nearly pull me down (nice running etiquette lady) and there was mud everywhere, I managed to finish in 1:34:18. I literally got to the finish line, ate only half of an It's It and told my husband to take me home. Brazen Racing, though, found a place in my heart.
The race director and his wife are good people. They are prompt in replying to email. They are responsive to every question. They make each and every racer feel as if they are a winner. I'm not kidding. This race was the first race I'd ever received a finisher's medal at. I ran a 10K and got a beautiful medal (pictured above, left).
But I hated the run. With a passion.
I put the Lake Chabot route, with it's 600+ rise in elevation over one mile, on my "no go" list.
Then midway through the fall I decided to run a half marathon on New Year's Eve, which put me out of consideration for any Brazen New Year's runs. Unfortunately, the half was canceled.
I haven't been in top shape to run over the past month. I was told to expect that as a first-time marathoner. Confession: My legs were thrashed for three weeks post marathon. I'm just getting my running form and want to run back. I knew Brazen was offering back to back days of racing. I also knew that after the past year of putting down an average of $70 a race, I didn't want to do two back to back right after Christmas (I forgot I had a credit from the race I couldn't do in August because of the strained Achilles).
So I hemmed and hawed about signing up for even one. Finally I saw on the Brazen Facebook page that there were only 41 spots left for the 10K on New Year's Eve. I signed up.
I knew what I was in for.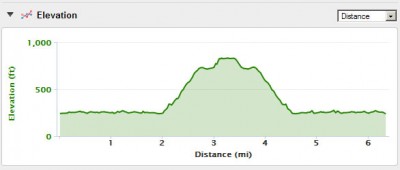 Yep. All uphill between mile two and three. And it burned.
And so it began.
Mile 1: 10:48 — Oh hey legs, remember when I told you we'd never do this again? Apparently I lied, don't worry, let's just get going.
Mile 2: 12:54 — Where did the hills come from? I'm not even warmed up yet. Oh and a backup at the single-file bridge. "This is totally going to mess up my time!" said one woman. Eh, whatever.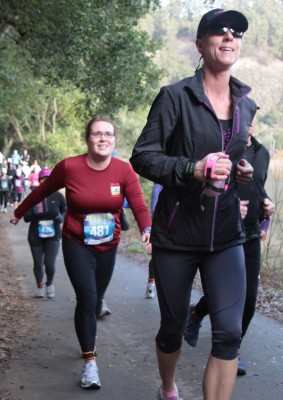 I don't even look like I'm running here. Plus, there's pain on my face already. To be fair, I don't even remember this photo being shot, but it was before the bridge, so somewhere going into mile two.
Mile 3: 18:57 — OH. MY. GOD. WHY. AM. I. DOING. THIS? Yes, I said that over and over again. I'm surprised it didn't take me longer.
Mile 4: 13:22 — Uphill continues, congestion at aid station. Lots of people finally turning around.
Mile 5: 12:12 — Down, down, down. I'm being careful because I don't want to topple to my death.
Mile 6: 12:33 — Keep it classy rolling hills, make me work for it. My legs are completely dead at this point. I just want to see the finish line. COME ON FINISH LINE.
Mile .36: 9:49 — Seriously? Why did this take so long? What was I doing? I have no explanation for my slowness here. I was whipped.
Chip time: 1:24:04
I was more than 10 minutes faster than my previous time. Go me. Seriously. That is awesome.
Cross the finish line, grab five cups of water. I'm not kidding. I run 10Ks without my Amphipod bottles. I didn't even have my iFitness belt. I was crazy thirsty.
I was handed my medal with an old man on it, part of the "out with the old, in with the new theme" and was done. I had no cell phone reception to call the fine gentleman I call my husband.
Instead, I ran into this fine group of folks.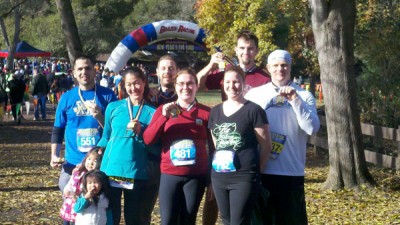 The Mountain House Runners were out in force at this event. (Though I'm pretty sure we missed one or two here?) I live in Tracy, but run out in Mountain House more than I do in my own city limits. I like it better out there. And these folks are really nice. I'm glad they haven't kicked me out or anything for living in Tracy.
Corey let me borrow his phone. Thomas didn't answer. But we could send texts. He was actually still waiting for me on the trail. He thought I was slower than I had been. I finally found him.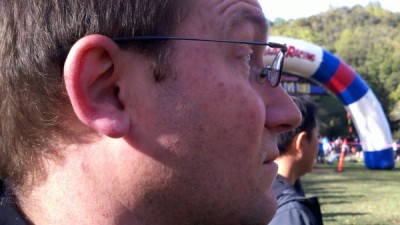 I think that's his excited face. He's really thrilled to be up at the crack of dawn waiting for me to finish a run. He does because he loves me. Plus I'm really at driving with other people. I always freak out a little bit. Then have to go to the bathroom. It's just better if he takes me.
Brazen is also hosting New Year's Day races. I'm not heading back. I like my 2011 Brazen bookends, as I call them. Plus I've learned enough about this racing company to know I always want to spend a couple extra bucks getting an awesome tech shirt.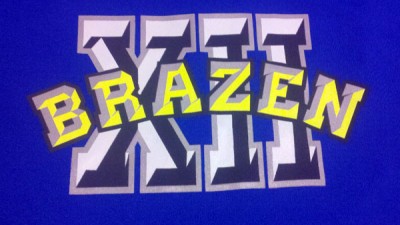 When I finished the race, I thought I'd finished my 20th race this year. Turns out I forgot about my Turkey Trot 10K PR. Oops. The last Brazen race of the year marks my 21st run of the year. And because it's Dec. 31, I figured I should tally it all out in this blog post as well before the New Year happens.
Total miles: 930
5Ks: 1
5-miler: 1
10Ks: 9
12K: 1
Half marathons: 7
Marathon: 1
Team events: 1
All for a total of 21 races.
I started out 2011 with hopes of running a half marathon. Running a full 26.2 was never on the agenda. I'm glad, too. I think I would have psyched myself out a bit too much.
So, with that knowledge I make no projections for my running in 2012. I hope to make it over 1,000 miles this year. I ran probably closer to 400-500 in 2010, so this year's progress is huge. I also want to get back on track for losing some weight. I need to eat better. I need to cross train. And, at some point, I'm planning a sprint triathlon.
We'll see how far the feet take me next year.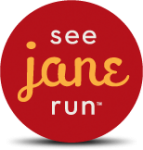 Run with me!
Save 25 percent all See Jane Run races, including the June 21 San Francisco Bay Area run, by using the code SJRAMB243. Use the code to also save 10 percent on online store discounts at seejanerun.com.