A runner's Christmas
I'm posting this five days later than I wanted to. That's mainly because I'm tired. I've been swamped at work most of the week. And I have a 10K tomorrow morning I've been thinking about a little too much. (As in, am I ready for a 10K less than 30 days after a marathon? I'm crazy.)
Christmas was awesome, though.
Consider my presents started collecting earlier in the month with these beauties: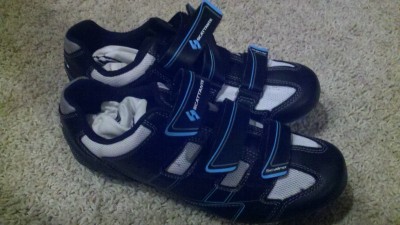 No, not running shoes. I do need a new pair of those, but that will have to wait. These are bicycle shoes. Score one that they match the bike. Score two that now I can clip in and get going.
I also got a wonderful trainer for the bicycle from my husband.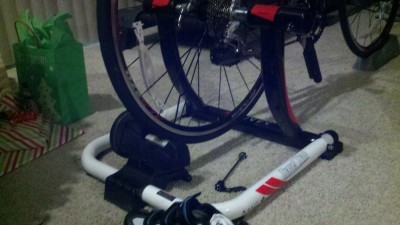 I didn't think I needed this. I do. My butt hurts nearly immediately when I start riding. I can't go for more than a couple minutes. This baby will be my cross-training device starting next week. Running every other day with an alternating swimming + biking day here and there. To accomplish this, I'm going to need a cadence sensor for the bicycle too.
My husband got it together for me and got it mounted. I think he may have enjoyed it too. Just a little.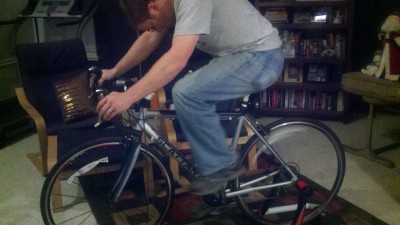 And now I'm ready to go. This is good for several reasons.
I'm having a hard time getting going on the bicycle. I'm blaming fatigue and the fact that I've been overindulging on EVERYTHING food related lately. Why? I'm in a slump. I've come to the conclusion that there are a lot of things I'm not happy with about my life/professional/personal situations right now.
I'm making an effort to change those things in 2012.
I also am still experiencing some fear when it comes to the bicycle. It's fast. Ridiculously fast. I'm scared of it. There, I said it.
So while I'm making changes to my life in 2012, I'm hoping to also be less afraid of my bicycle.
Maybe it I name it, we'll develop a greater kinship? That helped with the uber-intimidating Garmin, who is now Gertrude II or Gert-II.
We'll see.
I'm going through a bit of a frustrating patch with an injury from shooting video as well. I'm planning to blog more about that soon. I just don't want to rehash it because it's really bothering me. It's a tendon strain in my right thumb. It hurts. A lot. I can't even begin to describe how much pain something so small can be to someone.
Which brings me to another one of my favorite gifts: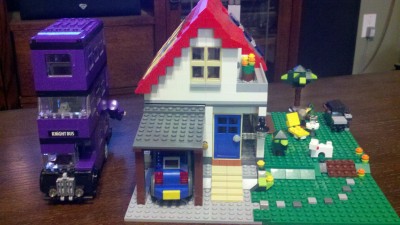 Oh yeah, I'm a 27-year-old woman who got Legos from her husband and parents for Christmas. Why? Playing with them helps me increase dexterity in my bad thumb.
I don't care if when I get better they won't be nearly as useful. Legos are awesome.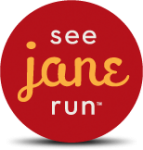 Run with me!
Save 25 percent all See Jane Run races, including the June 21 San Francisco Bay Area run, by using the code SJRAMB243. Use the code to also save 10 percent on online store discounts at seejanerun.com.